FCA To Invest $4.5 Billion In Michigan Plants – Miami Lakes Automall Dodge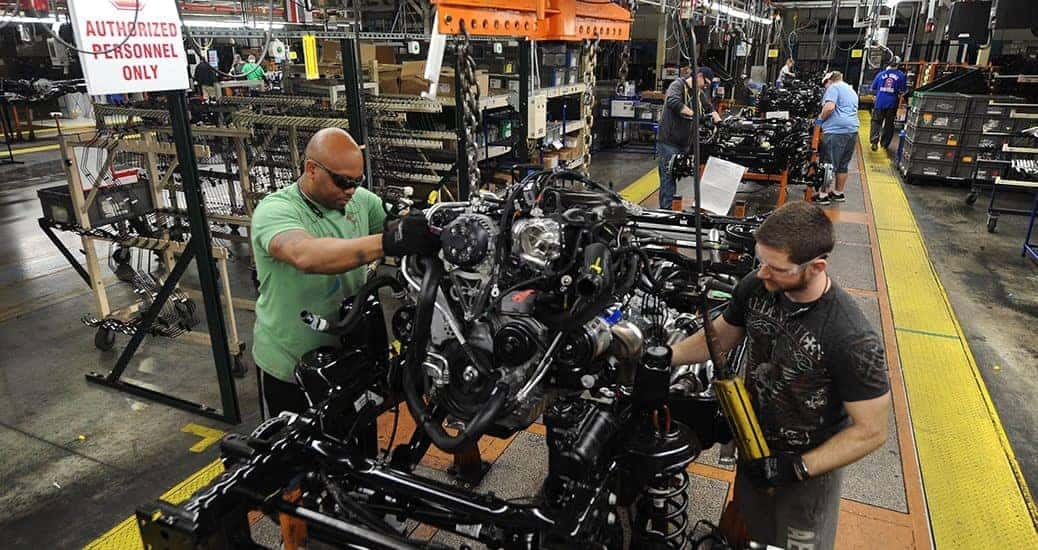 Photo credit: FCA
Fiat Chrysler Automobiles (FCA) is ramping up production plans in Michigan with a phenomenal $4.5 billion investment. The purpose for the investment is thanks to the two upcoming Jeep vehicles set to debut in early 2021. The first Jeep vehicle, a 3-row full-size SUV and the return of the Jeep Wagoneer and Jeep Grand Wagoneer. FCA knows all too well about the success of the Jeep brand in 2018 and they have wisely invested in extending the brand with an upcoming all-new pickup , named the 2020 Jeep Gladiator, and have started on creating the resurrection of the Jeep Wagoneer and Grand Wagoneer. We're excited to share all the details for this expansion of the Jeep line-up and future FCA plans.
How Will the Money Be Spent?
The creation of nearly 6,500 jobs is expected along with the construction of a brand new production plant in Detriot, Michigan. The $4.5 billion will also be used to expand up to five facilities currently running in Michigan. About a third of the investment, approximately $1.6 billion will be used to convert the Mack Avenue Engine Complex in Detroit to a manufacturing site for the upcoming next-generation Jeep Grand Cherokee. This huge task will add 3,850 jobs.
"The move would increase capacity to meet the growing demand for its Jeep and Ram brands, including the production of two new Jeep-branded white space products, as well as electrified models," according to a statement by FCA.
More Utilization of Funds
This large program will provide $1.5 billion of funds to help the Warren Truck Plant be able to ramp up production of the Jeep Wagoneer and Grand Wagoneer, as well as the assembly Ram 1500 Classic. This move is expected to bring 1,400 new jobs. Exactly $900 million will go into the Jefferson North Assembly Plant to help bring new and modern equipment to produce the next generation Jeep Grand Cherokee and the current Dodge Durango, adding another 1,100 new jobs. All of these assembly sites are expected to create plug-in hybrid versions of their respective Jeep vehicles. FCA expects to have new fully battery-electric models in the near future. A total of $405 million will be used to support further production at the Sterling Stamping and Warren Stamping planets with over 80 new jobs to be made at the Sterlign Heights plant.
New Production Placement For Trusted FCA Engine
One of the most popular FCA engines, the Pentastar 3.6-Liter V6 powertrain, will be relocated to the Dundee, Michigan plant. Moving from the Mack 1 plant in Detroit will cost $119 million and should not affect the current employee and production team at the Trenton Engine Plant. Both of those plants work specifically on the legendary engine that can be found in many Jeep, Dodge, Chrysler, and Ram vehicles today. Speaking on behalf of FCA, CEO Mike Manley had this to say about all the upcoming changes and additional funding given to the Michigan plants.
"Three years ago, FCA set a course to grow our profitability based on the strength of the Jeep and Ram brands by realigning our U.S. manufacturing operations. Today's announcement represents the next step in that strategy. It allows Jeep to enter two white-space segments that offer significant margin opportunities and will enable new electrified Jeep products, including at least four plug-in hybrid vehicles and the flexibility to produce fully battery-electric vehicles," FCA CEO Mike Manley.
Come For A Test Drive With Us
Miami Lakes Automall makes it easy for customers to find what they want and our professional team is happy to show off our entire lineup. From our newest Dodge vehicles to our pre-owned Dodge vehicles , there's a large selection. If you're looking for pricing options to allow you to buy what you want, our financing team can support you for any buying or leasing needs. If you need to sell or trade-in your current vehicle, that's all possible at Miami Lakes Automall, too.
Visit even if you didn't buy from us and allow our friendly service team to help with an online service appointment . We're located at 16600 NW 57th Ave in Miami Lakes, Florida. Our Chrysler, Dodge, Jeep, and Ram sales and service departments are open seven days a week to better serve you. Visit Miami Lakes Automall today!
Previous Post Dodge Has Big Electric Plans Next Post Muscleville: The Time to Buy Muscle Has Arrived