Dodge Unveils 50th Anniversary Edition Dodge Challenger – Miami Lakes Automall Dodge Dodge Unveils 50th Anniversary Edition Dodge Challenger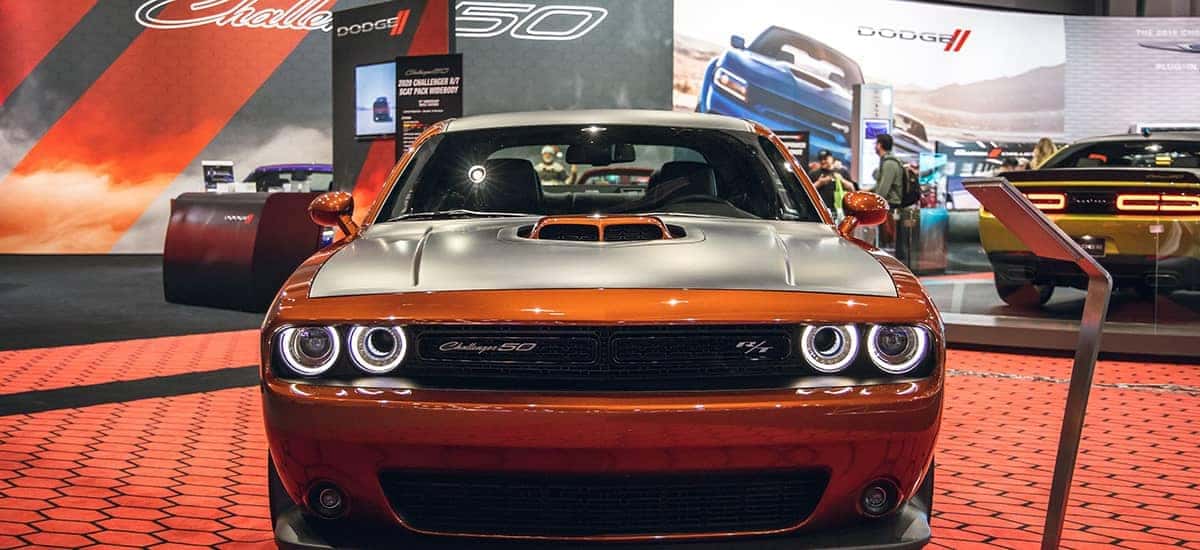 Photo credit: Dodge
An illustrious fifty years of the Dodge Challenger muscle car is in the books and in many garages today. For the half-century mark, the Dodge brand has made its special 50th-anniversary edition for the Dodge Challenger available for customers to purchase. Revealed at the 2019 Los Angeles Auto Show. Available in seven distinct body colors including the new "Gold Rush" color, unique "Gold School" 20-inch wheels, a sleek Satin black hood, roof, and deckled, and four trims to choose from. Owners are going to receive quite the special Challenger to enjoy as a unique, prized-possession.
All the Perks of the Special Edition Challenger
Customers can choose between the GT rear-wheel-drive version, R/T Shaker, R/T Scat Pack Shaker, and the R/T Scat Pack Shaker Widebody trim options. Between all these options, the actual combinations that buyers can select from are set exactly at 1,960 variations for the 50th-anniversary edition. Dodge dealerships will be receiving this special edition Challenger in December 2019. While there have been 50 years that have passed since the inception of the Challenger, the modern-looking Challenger built with the same unibody used today began back in 2008. Dodge has only improved the Challenger muscle car both inside and out. The fastest and strongest muscle car in the Dodge line-up is the Challenger!
"A half-century later, Dodge Challenger still leads the pack with the most powerful muscle car powertrains in the industry, ranging from the Pentastar V6 engine to the fastest, most powerful muscle car, the 797-horsepower Dodge Challenger SRT Hellcat Redeye." -Dodge statement
Dodge Has Become More Reliable Than Ever
Today, Dodge owners know not only will their muscle car deliver on excellent horsepower and resell value, but they will also be satisfied with the reliability as well. According to a new Consumer Reports Auto Reliability Survey, Dodge has earned for the first time a Top 10 finish on this list. The above-average rating for the Challenger as well as the Dodge Grand Caravan has helped Dodge jumped 13 higher spots than the 2018 survey. The survey focused on the 2000-2019 model years based on data from over 400,000 vehicles. Thinking about more reasons to own a Dodge vehicle? Find out why we help make it happen for customers every day!
Drive Home New Dodge Vehicles From Miami Lakes Automall
Looking for the latest Dodge Challenger muscle cars ? We have them as well as a wide variety of quality pre-owned vehicles for our customers. At Miami Lakes Automall, our pricing options are low and we can help with our financing team to ensure our customers get what they want to drive home. If you hope to sell or trade-in your current vehicle, we're ready to help as well.
Have a fixer-upper? We can repair your ailing ride with a simple online service appointment to visit our knowledgeable service team. Miami Lakes Automall is located at 16600 NW 57th Ave in Miami Lakes, Florida. We're open seven days a week across our sales, service and parts departments to help out with any of your automotive needs. Come over today!
Previous Post Dodge brand's Horsepower Challenge Contest Enters Week Three Next Post The New 2020 Dodge Durango SRT Will Move You In More Ways Than One