Dodge Muscle Owners Are Youngest In Muscle Car Segment – Miami Lakes Automall Dodge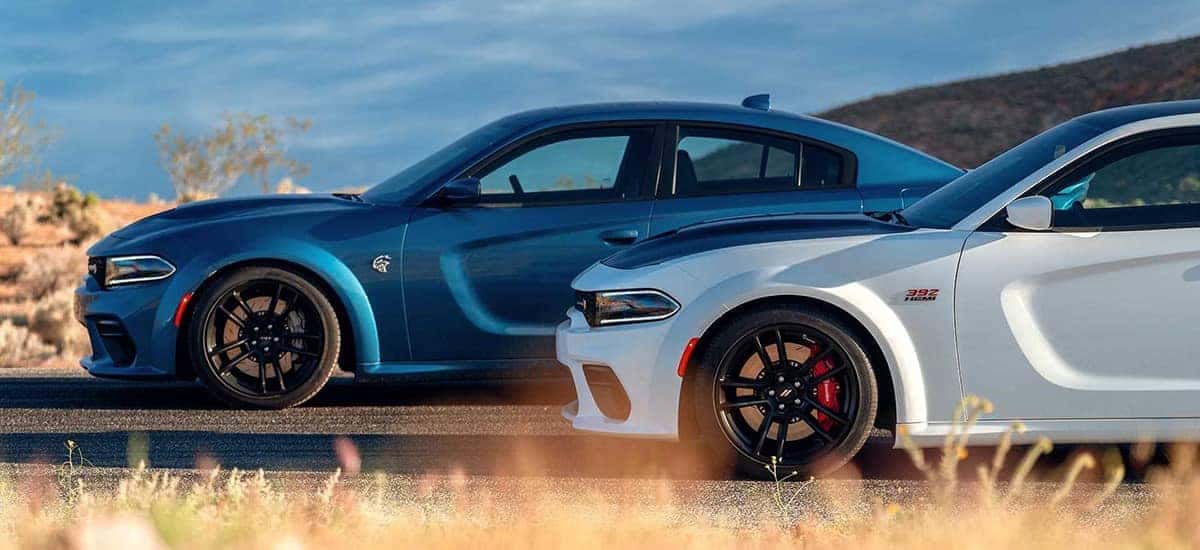 Photo credit: Dodge
The landscape of muscle cars attracts many drivers from every age group. However, recent insight has highlighted buyers of various muscle car brands. Speaking candidly about the average age of the Dodge muscle cars, owners, Kevin Hellman, Dodge Challenger brand manager, had some new information. Curious to learn more about the future of the Challenger and what the "the youngest buyer in the segment" is?
Dodge Has Youngest Age of Muscle Car Customers
According to Hellman, the youngest age group between all major muscle car companies is not as youthful as some would guess at 51 years young. The rival Ford Mustang has an average buyer age of 55 years old, and the Chevrolet Camaro has an average customer age at 53 years old. With people living longer in more recent generations, of course, the age of drivers on the road has increased. Since 2000, the number of car owners over 55 years old has gone up 15 percent. The rush of driving a muscle car is not lost with time, especially since the Dodge muscle cars have become better.
If It's Not Broke, It Doesn't Need to Be Fixed
Speaking of age, the Dodge Challenger and Charger have aged gracefully despite not having a massive overhaul in over a decade for each car. The Dodge Challenger is currently the second-best-selling muscle car in the United States. Dodge has continued to pull away from the Chevrolet Camaro boasting over 4,000 more units sold through just over two-quarters worth of sales. Through July 2019, Dodge has moved 28,668 Challenger vehicles while the Camaro sold 24,516 vehicles. The appeal of the Dodge Challenger remains, and Dodge will continue pushing their prized muscle car. Head of design for Dodge, Chrysler, and SRT, Mark Trostle, remarked the design of the Challenger will not change any time soon. The change to the appearance won't happen despite the latest safety regulations and fuel economy standards, making it made it harder to keep the current design. Dodge has found creative ways to improve fuel economy over the years and enhance the vehicle to be even faster and more powerful.
Find All-Ranges of Power With Dodge
Looking to drive a muscle car from Dodge? Dodge has a wide variety of trims with its Dodge Challenger. From the base Challenger trim, the SXT gives drivers a 3.6-Liter V6 engine that delivers 305 horsepower and the highest-trim, the 2019 Challenger SRT Hellcat Redeye trim hits a remarkable 797 horsepower. Want to see what a Dodge muscle car would look like on a test-drive? Come to Miami Lakes Automall .
Drive Dodge With Our Help
Looking for the newest Dodge Challenger muscle cars ? We have them as well as a wide variety of quality pre-owned vehicles . If you're looking for pricing options to take home what you want, our financing team is here to help. If you want to sell or trade-in your current vehicle, we're here to help with those needs as well.
Even if you didn't buy with us, we can fix up your current ride with a simple online service appointment to see our knowledgeable service team. Miami Lakes Automall is located at 16600 NW 57th Ave in Miami Lakes, Florida. We're open seven days a week across our sales, service and parts departments to help out with any of your automotive needs. Rush over today!
Previous Post 2020 Dodge Charger Daytona 50th Anniversary Edition Announced Next Post Dodge Durango Among Digital Trend's 2019 Best Family Car Award Winners