Dodge Durango Among Digital Trend's 2019 Best Family Car Award Winners – Miami Lakes Automall Dodge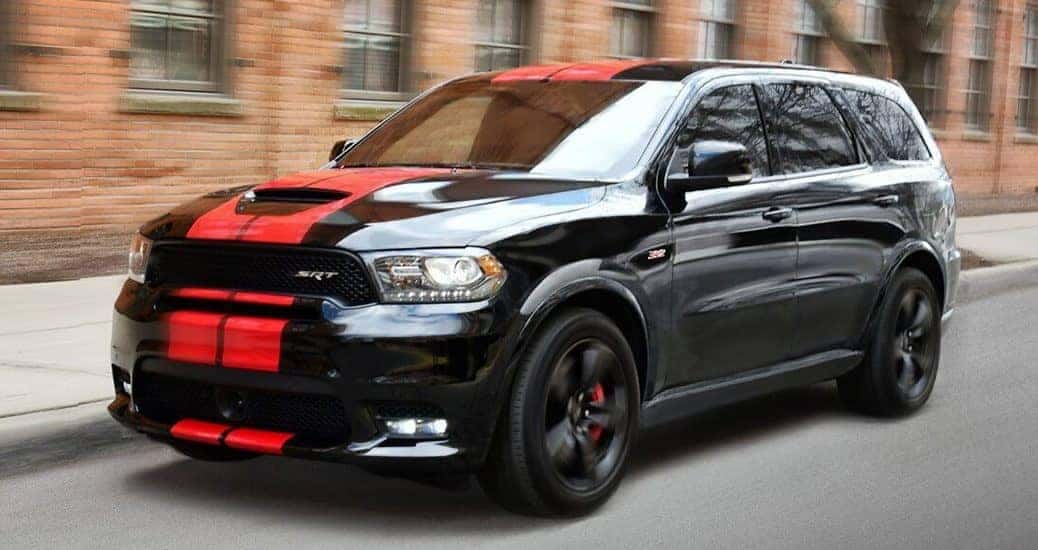 Photo credit: Dodge
Digital Trends has put together a list of their favorite vehicles for their 2019 Best Family Cars, which included the Dodge Durango. The 2019 Dodge Durango has been viewed as the total package for customers looking for a sizable vehicle option, fast and comfortable for the driver and passengers alike. Digital Trend also measures the driving enjoyment and technology, as well as performance. These are items the Durango offers in spades across each trim. Let's look at everything that made the Durango stand out.
More Digital Trend Testing
When taking a look at each vehicle, the Digital Trend automotive team follows its guidelines with a long process that measures the interior and exterior thoroughly. They will test and examine the safety of the vehicle in various controlled environments. Drivers go on real-world driving tests on highways, small roads and even off-road as well as race tracks to determine the overall feel of the vehicle. Among the options for families, few vehicles have the pedigree the Durango has earned with its performance and quality materials.
"The Dodge Durango SRT shows that family cars can be fun and quick. Aside from its awesome HEMI® power, the Durango SRT also ticks practical family-car boxes," Digital Trends wrote.
Drive Our Favorite Durango Trim
The 2018 Dodge Durango was the first to introduce the Street Racing Technology (SRT) Durango trim. Today, this version of the Durango has improved. For customers looking for the most out of this premium trim, we say opt for the 2019 Dodge Durango SRT. Experience all that FCA and Dodge can offer with the "Charger of the SUVs". What will customers find in the latest Durango SRT? The fastest quarter-mile time for any SUV at just 12.9 seconds! We can't say enough good things about the 6.4-Liter V8 engine that hits 475 horsepower and offers drivers a strong, bold appearance. The sleek look matches the immensely stout Best-in-class torque and towing of 470 lb-ft and 8,700 lbs respectively. America's fastest and most capable three-row SUV has never been better. To celebrate the long run and success the Durango has had, FCA and Dodge introduced a new special anniversary edition earlier in 2019.
Celebrating the Longevity of the Durango
The 35th Anniversary Dodge Durango is an available option for customers. The debut of the first Durango was back in 1984 and today the Durango is the top-selling Dodge vehicle. The 35th Anniversary edition adds a badge logo on the floor mat, grille and one on the liftgate. For owners, the 2019 Dodge Durango 35th anniversary edition offers six colors including Black Onyx, Granite Crystal, IndiGo Blue, Octane Red, Billet Silver Metallic and White Knuckle. Looking to see which Durango fits best? We have choices at Miami Lakes Automall.
We Are Ready To Help At Miami Lakes Automall
Looking for the newest Dodge Durango? Come in for a test-drive today and find out how well you like this award-winning vehicle. We also have a wide variety of quality pre-owned vehicles. If you're searching for pricing options to drive what you want, our financing team is here to help our customers every day. If you want to sell or trade-in your current vehicle, we're here to help with those needs!
Just know, even if you didn't buy with us, we are able to provide maintenance to your current ride with a simple online service appointment. Come see our knowledgeable service team for your next repair or tune-up. Miami Lakes Automall is located at 16600 NW 57th Ave in Miami Lakes, Florida. We're here and available seven days a week across our sales, service and parts departments to help out with any of your automotive needs. See you soon at Miami Lakes Automall !
Previous Post Dodge Muscle Owners Are Youngest In Muscle Car Segment Next Post There's No Stopping the Upcoming 2020 Dodge Charger