2020 Dodge Charger Daytona 50th Anniversary Edition Announced – Miami Lakes Automall Dodge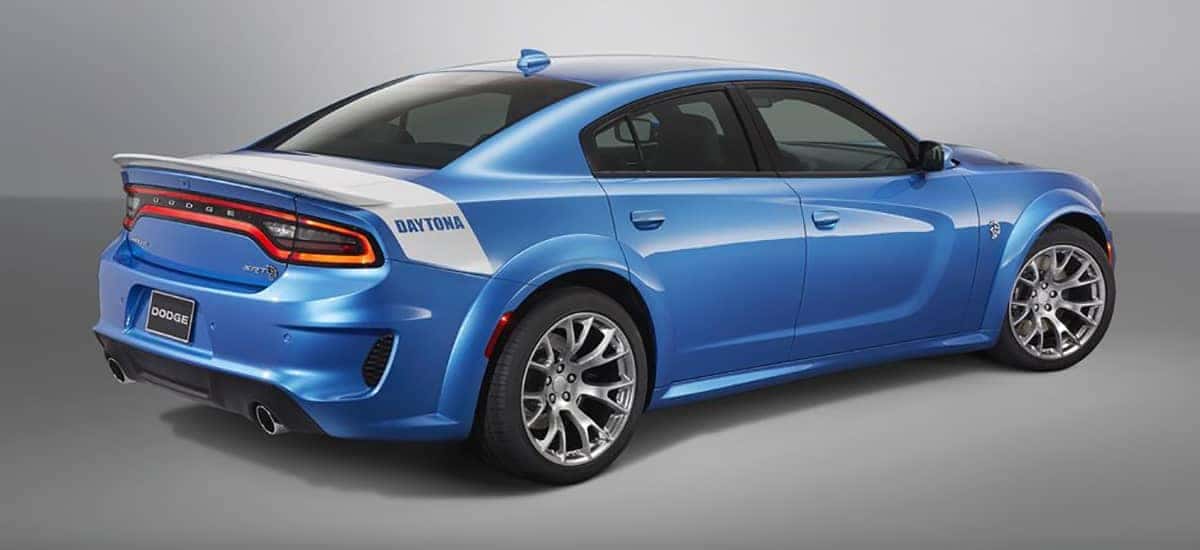 Photo Credit: Dodge
The Dodge Charger Daytona will return with a limited 2020 production run to celebrate its 50th Anniversary. Since the birth of the Dodge Charger Daytona in 1969, this has been one of the flagship packages of the more modern Dodge Charger vehicles. The vehicle had a long hiatus that stretched 27 years till in 2006. The return of the popular HEMI engine helped sales for a five-year run until 2009. The past few years have seen the return of the Dodge Charger Daytona, starting again each year since 2017. The 2020 Dodge Charger Daytona is way more than an appearance package, however. There will only be 501 of these Special Edition Charger models made. Want to know what to expect in this latest special-edition Dodge Charger?
More Horsepower Than Any Daytona Ever
The powertrain will be none other than the remarkable supercharged 6.2-Liter HEMI V8 that supplies 717 horsepower and an intense 650 lb-ft of torque. This is more horsepower than ever offered in any Dodge Charger Daytona. Drivers will have the premier braking power with black Brembo six-piston front and four-piston rear brakes. The Dodge Charger SRT Hellcat Widebody will be transformed with the pattened Daytona rear-quarter decals, matching lip spoiler and hood. This is one unique and sweet looking muscle car that will allow the 50th Anniversary Edition to stand out from the crowd.
Interior Choices Galore
Are there more options for Charger Daytona owners? Of course! There are four body color options including B5 Blue, Triple Nickel, White Knuckle, and Pitch Black. The Triple Nickel and B5 Blue are unique to the Charger. The Daytona decals will be white on the Pitch Black, B5 Blue, and Triple Nickel. The blue is the lone choice for the White Knuckle option. A sleek looking muscle car looking as hot as summer, owners also get the enhanced performance of Street Racing Technology (SRT) complete with 20×11-inch wheels that are finished with satin carbon. Feeling the need for speed in a new 2020 Dodge Charger? Opting for the Charger Daytona is a truly special choice.
Enjoy More Classy Daytona Styling
More goodies inside include the Daytona named that is sewen into the black Nappa leather seating. Alcantara suede performance seatbacks with blue accent stitching are noticeable on the armrests, dashboard and apart of the shifter. The debut of the 2020 Dodge Charger Daytona will appear on Saturday, August 17th, 2019 at Woodward Dream Cruise in Pontiac Michigan. This stunning muscle car will appear of a larger Dodge set-up known as the Dodge Display at the Modern Street HEMI Shootout Lot. For those who can't wait to get their hands on the latest Dodge vehicles, come to Miami Lakes Automall .
Miami Lakes Automall Has You Covered For Dodge Muscle
From our new Dodge vehicle inventory to our pre-owned Dodge vehicles , there's a large selection of vehicles we have ready to go. But, we know you're looking for the newest Dodge Charger vehicles available today. If you're looking for pricing options to allow you to buy what you want, our financing team can support you for any buying or leasing needs. Try us out!
From our friendly sales team to our entire staff at Miami Lakes Automall , we welcome you to our business with pleasure. Located at 16600 NW 57th Ave in Miami Lakes, Florida. Our Chrysler, Dodge, Jeep, and Ram sales and service departments are open seven days a week to better serve you. We can't wait to help you out!
Previous Post Special Edition Dodge Muscle Cars Add Remarkable Value Next Post Dodge Muscle Owners Are Youngest In Muscle Car Segment