Dodge Has the All the Holiday Cheer Ready For Customers – Miami Lakes Automall Dodge Dodge Has the All the Holiday Cheer Ready For Customers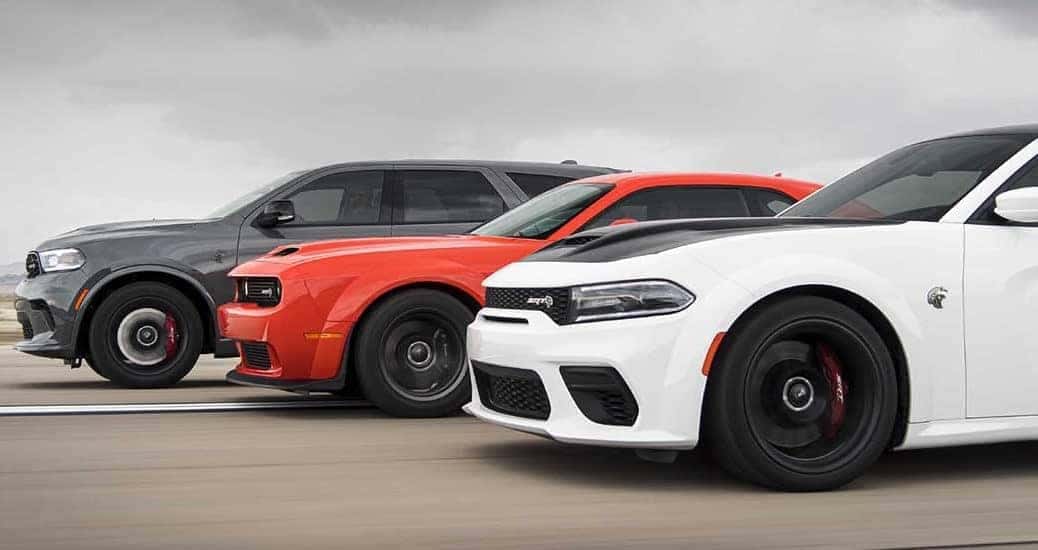 Dodge//SRT Performance Lineup: 2021 Durango SRT Hellcat, 2021 Challenger SRT Super Stock, 2021 Charger SRT Hellcat Redeye (left to right)
There are many ways that buyers looking for can decide on what vehicle they want to drive next. They can ask their friends, they can ask relatives, they can think back on previous cars they might have driven, they can check out a neighbor or co-workers vehicle, but truly the best way to know for sure is obvious. We recommend coming in for a test drive to experience what a brand new vehicle provides. At Miami Lakes Automall , we also carry quality preowned vehicles for those looking for hey reliable vehicle that has already received some love and experience on the roads. Whatever the case may be, we recommend customers two join us in seizing the moment. This holiday season, find out firsthand what owning a Dodge vehicle represents.
Which Dodge Vehicle Fits Best?
Join the brotherhood of muscle with a new 2021 Dodge Charger or 2021 Dodge Challenger . For those who want to have extra space for the family, there's quite a punch packed in the Dodge Journey . And of course, there is no faster three-row SUV on the market than the 2021 Dodge Durango . We love the vehicles we offer through the Dodge brand and can't wait to show off the perks and high-octane fun that comes with these vehicles. Modern technology, high-quality parts, and some of the most powerful engines on the market are assured for the whole Dodge lineup. That's what the brand represents for its customers since the Dodge brand came out way back in 1900 when the Dodge Brothers Company was formed.
Discover New Dodge
Discovering the magnificent and bold products provided by Dodge engineers is half the fun of enjoying this holiday season (For buyers and for us that are here to enjoy the test drives through our customers). 2020 may have not been the year that we all expected it to have been, but we know that we are more tight-knit than ever as a community, despite not being able to have been as close as normal. We practice social distancing, but we definitely embrace the smile that goes on the face of our customers. Whether we are hoping with a buying or leasing experience. With helping with any purchase, assisting with any repair, for helping buyers receive a little bit of extra support and financial help.
Consider This An Invitation
We invite all our readers to join us for some holiday cheer and start the new year right with a vehicle that will be beloved by the owner and passengers alike. With the holiday season upon us, we are more excited than ever for our customers to help them drive the vehicle of their dreams. Making an upgrade? Allow us to help with your trade-in. For more information on any of the newest Dodge products, count on us at Miami Lakes Automall to share the news. Come in for a test-drive to experience Dodge muscle today!
Rush To Drive New Dodge Muscle With Our Help
We want to help our customers get ready to drive off in brand new Dodge Charger and Dodge Challenger muscle cars. Come to Miami Lakes Automall to get started where our professional team is here to make your muscle car dream a reality. Our sales staff is ready to help with any leasing, buying, or trade-in options.
Are you experiencing some vehicle issues with your current ride? Not sure how to handle the repairs? If your vehicle isn't running properly, let us help keep it going. We're here to help with a simple online reservation and a trip to our service center. We're open every day to assist our customers to find everything they need. We hope to help you today at Miami Lakes Automall !
Previous Post New 2021 Dodge Challenger Goes Back To Gold Next Post Dodge Muscle Cars Now Carry 20-Inch Wheels For First Time Ever