Dodge Dart is the Safest Compact Car | Dodge Dealer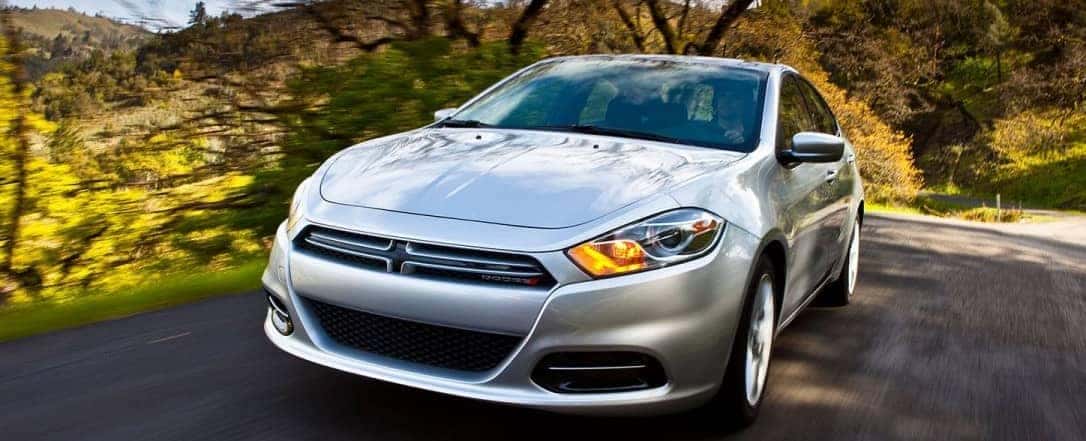 At our Dodge dealer , we offer a wide selection on Dodge Dart models, both new and pre-owned. Since its resurrection in 2012, the Dodge Dart is bringing compact sedans to new heights. Sales for the vehicle have recently skyrocketed, and we'd like to think it is due to the Dart's superior safety features.
The Dodge Dart is perfect if you're a first-time car owner looking for a reliable vehicle that offers up the perfect blend of performance and perfection. We'd like give you some insight into this vehicles.
Not 1, Not 2, But 10 Airbags
Yep, that's right: all Dodge Dart models contain an amazing 10 airbags, proving that when accidents do happen, the Dart will always be there for you. This includes adaptive front driver and passenger seat airbags, front-seat driver and passenger pelvic and throrax airbags, two rear-seat pelvic airbags, knee airbags, and side-curtain airbags.
Five-Star Safety Rating
The Insurance Institute for Highway Safety (IIHS) test drove the 2015 Dodge Dart and gave it a five-star safety rating due to its frontal offset barrier and impressive performance in rollovers and side impact crash tests. The 2012 Dodge Dart also won the IIHS Top Safety Pick of the Year. With such accolades attached to its name, the sky's the limit for the future of the Dart's safety features.
Quality Blind-Spot Monitoring
Monitoring blind spots can be a pain, and the Dodge Dart understands this and does its best to keep you protected during these tricky situations. The Dart's superior blind spot monitor will provide you with guidance whenever you need to detect blind spots, locating cars that may be near the Dart's side or rear. The Dart also includes rear cross path detection to help back out of parking space in the safest way possible!
Great Brake Support
The Dodge Dart ensures you get the brake support you deserve and will come in handy no matter if it's rain or shine. With its rainy brake support, the Dart will help bring the vehicles to a complete stop when the roads are slippery and hazardous. It's brake assist will also help you in any emergency situation with forceful braking that will prevent you from danger.
With the Dodge Dart, your safety concerns will be put to rest, so come to our Dodge dealer to purchase one today! When it comes to ensuring safety, nobody does it better than the Dart!
Previous Post 3 Reasons Why the 1992 Dodge Viper is Still Super Cool Next Post Best Dodge Vehicles for First-Time Car Owners