The Dodge Challenger Engines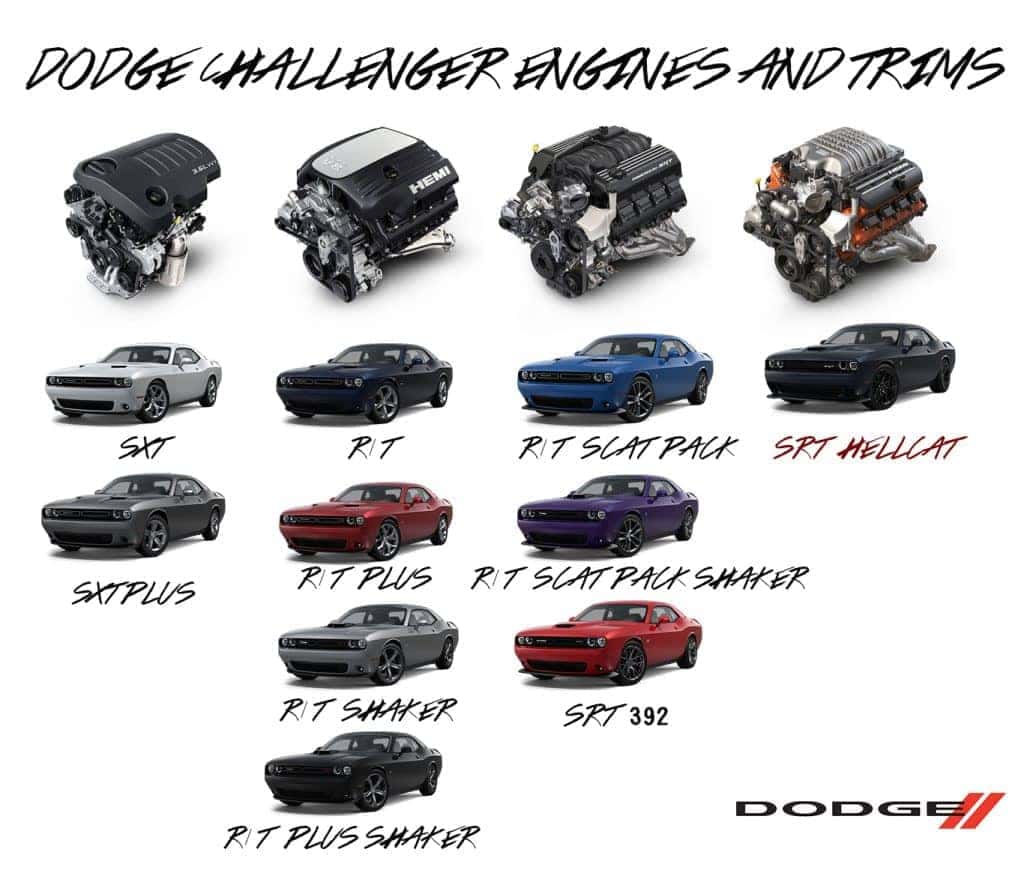 The Dodge Challenger has a significant history as an evolving muscle car. Since the Challenger was first released in 1970, there have been many changes made to its exterior, like the shaker hood and flip headlights. Not only that, but through the years, Dodge has made stronger, more powerful engines to increase performance and satisfy people's need for speed.
With the 900HP SRT Hellcat coming out, we thought it would be best to give an overview of all of the standard Challenger engines that are currently available on the 2016 Challenger lineup.
3.6-Liter V6 24-Valve VVT Engine
To start things off, the 3.6-liter V6 engine is the standard engine on the Challenger SXT and SXT Plus trims. "VVT" stands for "Variable Valve Timing" a process that alternates how often the valve in an engine lifts to improve performance and fuel economy. This engine generates 292 horsepower and 260 lb-ft of torque. This engine gives the Challenger its Best-in-Class fuel economy of up to 31 highway mpg.
5.7-Liter V8 HEMI VVT Engine
Next up, is the 5.7-liter V8 HEMI VVT engine, the first HEMI engine used on a Dodge Challenger. The 5.7-liter engine generates up to 370 horsepower and 395 lb-ft or torque. This is the same engine that was said to put the Challenger's close kin, the Dodge Charger, on the map as a real street performance car in 1966. This engine is standard in the R/T, R/T Plus, R/T Shaker, and R/T Plus Shaker.
6.4-Liter V8 SRT HEMI Engine
The second most powerful engine on the Challenger lineup, the SRT HEMI has been one of the most popular engines of the times. The first to wear the "SRT" name, this engine has been designed with speed in mind, given that "SRT" stands for "Street and Racing Technology." This is the standard engine on the Dodge Challenger R/T Scat Pack, 392 HEMI Scat Pack Shaker, and the SRT 392. The engine produces 485 horsepower and 475 lb-ft of torque.
6.2L Supercharged HEMI V8 – SRT Hellcat Engine
The 6.2-liter supercharged HEMI V8 SRT Hellcat engine is the most powerful engine on a muscle car today. Clocking in with a record-breaking 707 horsepower and 650 lb-ft of torque, it the SRT Hellcat easily surpasses the powerful 485-horsepower 392 HEMI engine. Since it was introduced to the Challenger and Charger lineup in 2015, both vehicles have broken speed records; the Challenger goes from 0-60 in 3.7 seconds and the Charger beats that record by 0.3 seconds faster.
---
Eventually this Challenger SRT Hellcat will out done by the 900HP SRT Hellcat, but until that time comes, the 707-hp 2016 Dodge Challenger SRT Hellcat is still king of the street.
Photo Source/Copyright: Dodge.com
Previous Post Dodge Family Cars and Specialties Next Post Comparison: Dodge Journey and GMC Acadia