Bondurant Racing School Now Open to the Dodge SRT Demon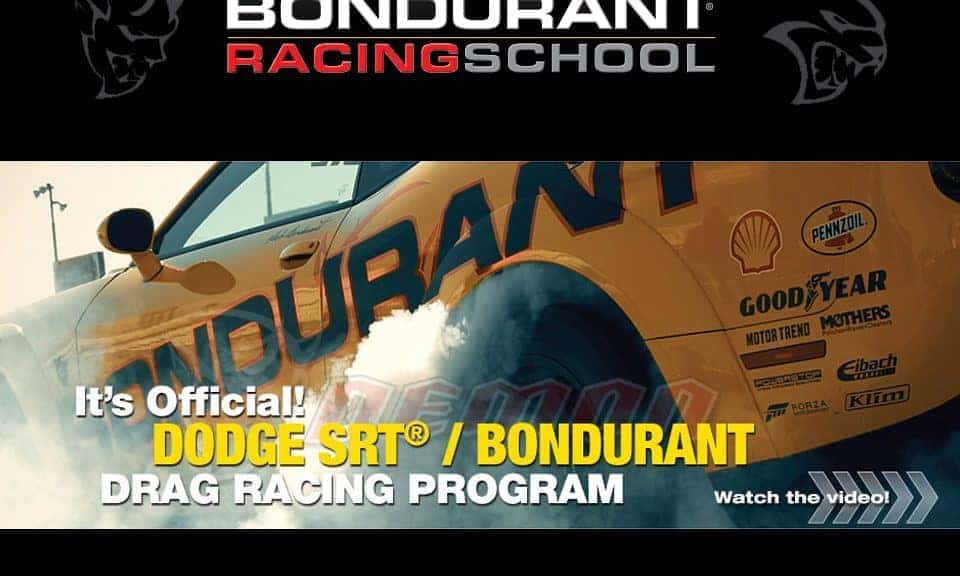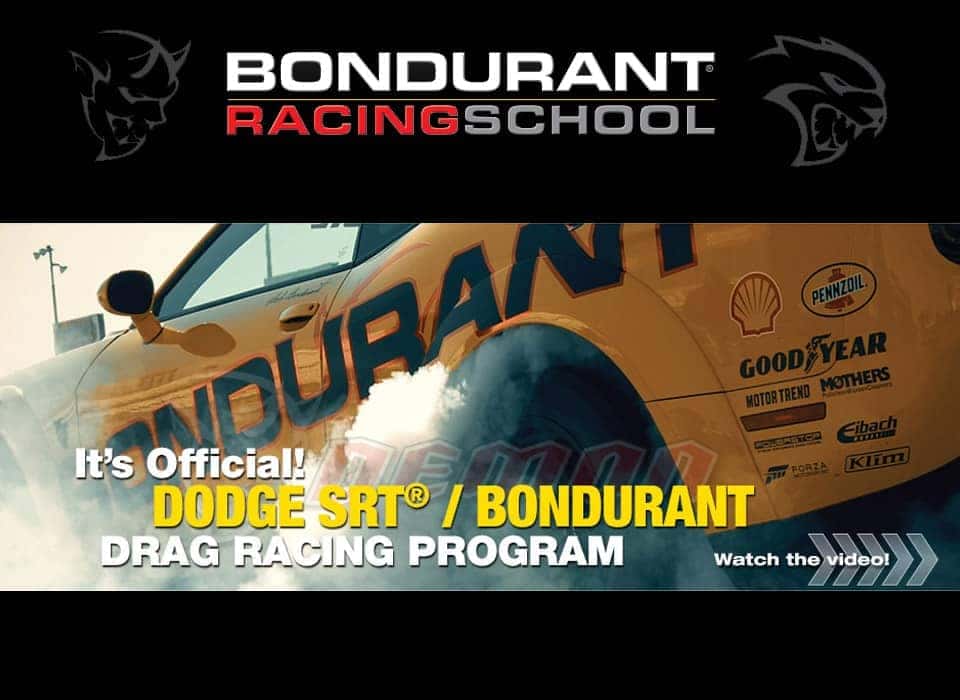 Remember back when we discussed the Bondurant Racing School ? It's the driving school that partnered up with Dodge/SRT to deliver the education and skills necessary to not only handle the power of Dodge muscle cars and SRT vehicles, but also gives them a chance to do a little drag racing. Well now that the 2018 Dodge Challenger SRT Demon is making the rounds and orders are being delivered, Bondurant has opened a new program designed specifically for the Dodge Challenger SRT Demon. Strap into your racing harness, because you're going to need it when this beast goes from 0-60 mph in 2.3 seconds.
How to Get into the SRT/Bondurant Racing School
Is your adrenaline pumping already? Settle down, cowboy. There's a few requirements before one can get behind the wheel of the 2018 Dodge Challenger SRT Demon. All automotive enthusiasts that wish to participate and attend classes at the Bondurant Racing School need to be of 18 years old or more to be eligible. Second, only drivers can attend the school, it's not a place to socialize and take pictures.
There's a third pseudo-requirement if wanting to take classes for free. If having purchased or leased a US-market SRT vehicle with a VIN from 2015 – 2018 (or the present) after April 1, 2015 will immediately have the fee for the classes waived. Meaning the cost of the classes are included in the vehicle, but owners or lessees of an SRT vehicle produced after 2015 only have a year to redeem the free day at school. Otherwise, they, and those who have not purchased or leased an SRT vehicle, will need to pay the standard price of admission – $699.
Classes at the Bondurant Racing School
When attending the Bondurant Racing School for Dodge and SRT vehicles, the entire day will be filled with four driving modules intended to teach SRT owners and enthusiasts how to control their vehicle in a number of situations. These modules consist of:
– Accident Avoidance: Ride around a course designed to test reaction time and handling in prospective auto incidents while driving an SRT 392 HEMI Challenger.
– Skidding Car: Learn how to regain control of a vehicle that's lost its traction in an SRT 392 HEMI Charger.
– Autocross: Drive through a cone-avoidance mini course and test your skill behind the wheel of an SRT Hellcat.
– Lead-and-Follow: Follow an instructor around a race track while driving the now discontinued legend, the Dodge SRT Viper GT.
– Ride Along: Ride with a trained instructor.
All courses are designed to be performed with an SRT vehicle.
---
Drag Racing Course
Ride alongs with drivers are now performed with either the Dodge Challenger SRT Hellcat or Dodge Challenger SRT Demon. Both should prove to be pretty crazy. Aside from horsepower and speed, it'll sure feel different driving or riding in both, the SRT Hellcat and SRT Demon. After all, the Dodge Challenger SRT Demon may have a similar engine, but 97 new parts have been integrated into the Demon's engine, along with the SRT Power Chiller that makes all that racing possible.
To include the new Dodge Challenger SRT Demon into the program, and having developed a new drag racing course specifically for the SRT Demon, NHRA Top Fuel driver Leah Pritchett consulted with educators on developing the program.
"Bondurant and Dodge's drag racing school will give Demon owners and enthusiasts the skills they need to be competitive during quarter-mile runs … I'm excited that so many drivers will get to experience that shot of adrenalin that comes at max speed for 1320-feet." – Pritchett.
* Well there it is. Now, it doesn't matter if raceways around the globe are banning Dodge Challenger SRT Demons from their track. Anyone can go to Chandler, Arizona and attend the SRT/Bondurant Racing school and experience the power for themselves. Making any plans to attend? See if you can get one of your races on video, and we may upload it to our Miami Lakes Automall Dodge Facebook page . Looking for a Dodge or SRT vehicle to waive the fee? We have plenty of new Dodge Challengers , Dodge Chargers , and other SRT vehicles for purchase or lease in our inventory. *
Photo Source/Copyright: Bondurant.com
Editing by Jordan Rodriguez
Previous Post What Makes Dodge Vehicles Unique? Next Post 2018 Dodge Challenger SRT Demon Wins Roadshow Driveline Technology of the Year Award