2018 Dodge Challenger SRT Demon Wins Roadshow Driveline Technology of the Year Award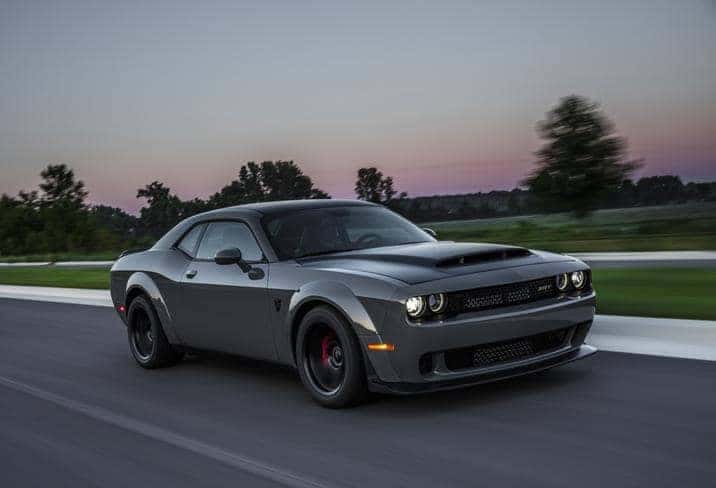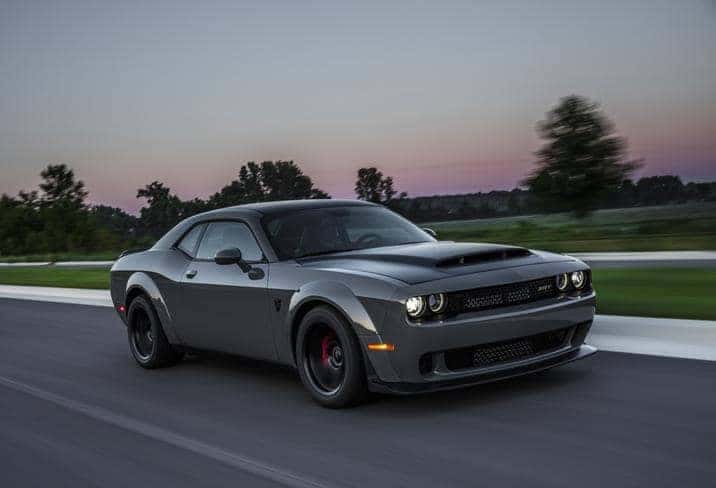 Though the Dodge Challenger SRT Demon was introduced to the public a little less than a year ago, it's still owning the spotlight among car enthusiasts and being awarded by auto professionals for its prowess. The Dodge Challenger SRT Demon is the world's fastest factory production car. It produces 840 horsepower, accelerates from 0-60 mph in 2.3 seconds and finishes a quarter-mile in 9.65 seconds.
While the Challenger SRT Demon's track numbers are the winning point for most car enthusiasts, the winning point for car professionals is its original, innovative and meticulous engine design, and it just snagged another award for its engineering brilliance. "Roadshow by CNET" awarded the Challenger SRT Demon with the 2018 Roadshow Shift Award in the Driveline Technology of the Year category.
Roadshow Shift Awards
The Roadshow Shift Awards highlight the technologies and products in the automotive world today and each year, the Roadshow Shift Awards measure how innovative and important developments in the car industry are. Those that win an award aren't just setting a standard, they're leading the industry in a better direction for a smarter, more sustainable, and entertaining future.
2018 Roadshow Shift Award for Driveline Technology of the Yea r
This year, the Challenger SRT Demon was recognized by Roadshow Shift Awards for its driveline technology.
"Our performance-minded designers and engineers worked tirelessly to shake the foundation of the entire performance car industry with the 840-horsepower Dodge Challenger SRT Demon … In the quest for domination at the drag strip, Dodge//SRT engineers reviewed and strengthened every piece of the drivetrain to ensure it provides the ultimate in performance and durability." – Tim Kuniskis, head of passenger cars, Dodge//SRT, Chrysler and FIAT, FCA North America.
The team definitely delivered on that one. At the moment, the powertrain isn't the only system shining this year, but let's first look at what makes the Challenger SRT Demon so desirable. There were a ton of updates, such as Bilstein Adaptive Damping shocks, factory-installed, 315/40R18 Nitto street-legal drag radials, the award-winning and factory production car first SRT Power Chiller™, an After-Run Chiller (a production car first) to help with cooling it all down, the first-ever, factory-production car with TransBrake combined with Torque Reserve, the Air-Grabber™ induction system, and of course Drag Mode Launch Assist (a factory car first) for deliverance of power that causes the Demon to pop a wheelie. All of that, combined with the supercharged 6.2-liter HEMI Demon V8 engine, results in a muscle car that produces 840 horsepower and 770 pounds-feet of torque (when equipped with available Direct Connection engine controller and fueled with 100+ high-octane unleaded fuel).
To keep control of that kind of power, a vehicle needs a great drivetrain to handle it. That's why the 2018 Dodge Challenger SRT Demon was named for the 2018 Roadshow Shift Award in the Driveline Technology of the Year category. Check out what makes it so special.
Making up the driveline of the 2018 Dodge Challenger SRT Demon is an upgraded prop(drive) shaft, made of high-strength steel, and heat-treated for enhanced durability, to not only increase the Demon's torque capacity, but also not fall apart when it hits all 770 lb-ft. That upgrade adds 15 percent more torque, but new rear differential housing adds another 30 percent more torque capacity. That's thanks to the housing the differential is made from – heat-treated A383 aluminum alloy. The gear set was also made out of new material that has a higher fatigue strength, with a deeper case hardening depth and two-step shot-peening manufacturing process to increase compressive residual stress. In addition, the rear half shafts are larger in diameter, also made with a high-strength but low-alloy steel. With an increase in splines (grooves in the hub and shaft of a wheel), from 38 to 41, this also adds another 20 percent increase for torque capacity, handled by eight-ball joints.
It's a good thing Dodge has an engineering team working on this, because the average consumer probably has no clue what any of that means. What consumers do understand it the ability of the 2018 Dodge Challenger SRT Demon to accelerate from 0-60 mph in 2.3 seconds. Recently, the Dodge SRT Demon was granted access to several South Florida raceways for racing , and for those unable to get their hands on a Dodge Challenger SRT Demon, the Bondurant Racing School opened an SRT Demon racing program recently. So there's still a chance to experience this kind of power for oneself.
* What do you say? Does the 2018 Dodge Challenger SRT Demon deserve such recognition? Tell us your thoughts on the Miami Lakes Automall Dodge Facebook page . *
* Photo Source/Copyright: FCAMedia.com *
Previous Post Bondurant Racing School Now Open to the Dodge SRT Demon Next Post No Production Car Has Ever Been Built Like the Dodge Challenger SRT Demon