2 Crazy Custom Dodge Challenger Interiors + Factory Options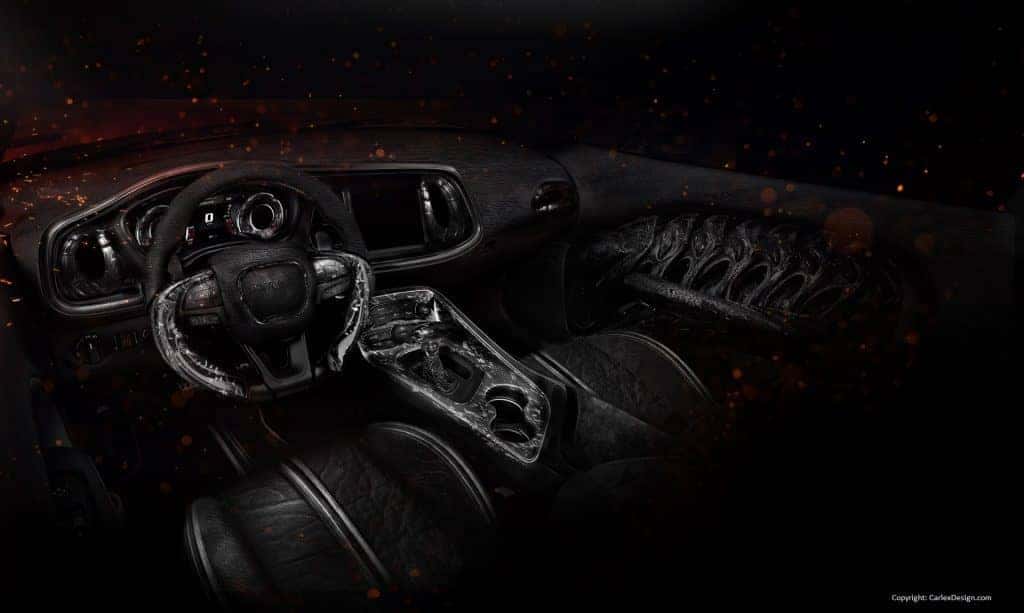 The Dodge Challenger has got to be one of the coolest vehicles out there. The smooth handling, the feel of the engine accelerating, the sheer, ferocious look some of them obtain (here's looking at you, SRT Hellcat). But two organizations have made it even cooler with their extreme custom interiors.
Though Dodge offers many factory styling options that make for a very, very nice cockpit, one-of-a-kind interiors are always inspiring. Here's a look at two crazy custom Dodge Challenger interiors we found on the Internet and the factory options available to buyers.
The SRT Hellcat from Hell
Let us just say the interior of this Dodge Challenger SRT Hellcat is pretty wild — no pun intended. The Poland-based international custom interior company, Carlex Design was behind this custom interior job that has customized every interior surface of the car. The steering wheel is handcrafted and covered in steel to give it an absolutely devilish look, and the the center of the steering wheel is designed to look like cracking cooled magma is seeping from the horn.
It doesn't stop there though. The seats are trimmed with exotic leathers and have a hasty stitch design to ramp up the feeling that this car isn't from the worldly plane. The door panels are made out of charred wood and stylized to look like the skeletal frame of something you would see in Ridley Scott's _ Alien _ . The gearshift knob and surrounding surfaces are also covered in similar material, giving the entire interior a very foreign look. It was also designed as a special project by Carlex Design, and just looking at it gives us chills.
For those of you that first noticed this car due to a viral internet post about elephant skin interiors, you may be pleased to know Dodge wasn't in on it. The elephant skin was obtained and installed by third party Carlex Design; this fact and the rumor that Dodge was behind it was already discussed on Snopes.com, debunker of the Internet.
Challenger Vapor Fighter Pilot
If Batman wanted a new Batmobile, we think he would choose this specially-crafted Challenger 'Vapor.' Galpin Auto Sports collaborated with the United States Air Force when designing the black Dodge Challenger 'Vapor,' one of the muscle cars specially designed for the U.S. Air Force.
From the inside out, the Challenger 'Vapor' is stealth. The Challenger 'Vapor' has a matte black radar-absorbing coating exterior, carbon fiber rims, thumbprint access, and Lamborghini scissor doors that open up like wings extending from an aircraft.
The interior of the Challenger 'Vapor' is literally a fighter jet cockpit. Inside is a single-driver ejection seat in the center of the vehicle, complete with aircraft style controls and an advanced instrumentation panel. How advanced? Internet access, GPS tracking, and exterior proximity sensors advanced.
The Air Force also has a specially-designed Ford Mustang X-1, another Air Force-inspired car design, both of which are traveling cross-country to educate young people on the mechanical and technical career opportunities available within the Air Force.
Dodge Factory Options
When it comes to the options offered by Dodge for interior styling and customization, the choices tend to be a wide array of luxury. There are five seating material choices ranging from premium cloth to Nappa leather with perforated inserts. In addition, if a driver wishes to install sport seats with large side bolsters into their interior, trim choices range from Nappa and Laguna leather to Alcantara suede and ballistic performance cloth. Leather trims can also extend to the gearshift knob and other surfaces inside the vehicle.
Dodge may not go as far as customization as the two we mentioned earlier, but it's clear they do offer a variety of options that allow the driver to customize their ride. It doesn't end at seating though – there are also tech options that drivers may choose and customize to their liking. For one, a 7-inch configurable driver information digital cluster display can be customized to show the driver the stats they want to know the most, including various vehicle diagnostics.
Being an FCA brand, the Dodge Challenger has Uconnect, making it easy for drivers to access popular multimedia apps and wireless connectivity. The entertainment just starts there though. Depending on the trim, drivers may have the option of a 6 speaker, 6 Premium speaker, or 18 speaker with two subwoofers audio system, plus a Harman Kardon GreenEdge Amplifier (also depending on the trim).
It's a shame these custom projects aren't available – who wouldn't want to feel like they're driving through air space and beyond? Regardless, Dodge still has plenty of options to give drivers a sense of sophistication and luxury.
Previous Post Dodge Durango SRT in 2017 or 2018 – Is It True? Next Post Best Tailgate Vehicles and Tips for Spirited Pre-Gaming