The 2021 Chrysler Pacifica's User-Friendly UConnect 5 System Is The Best Yet – Miami Lakes Automall Chrysler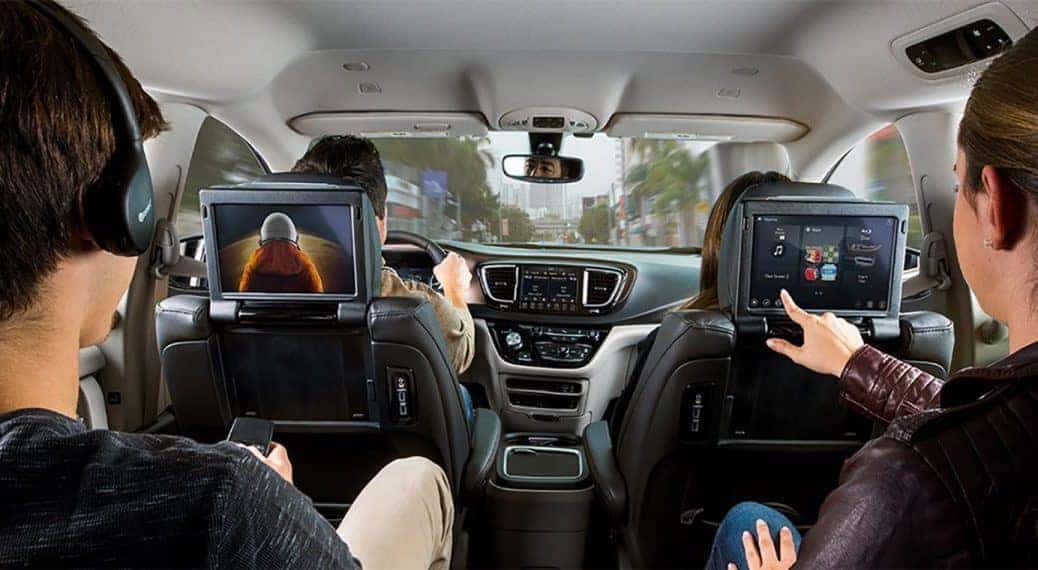 For a long time, SUVs and minivans have encompassed a trend of turning their vehicle interior's into a sort of home away from home, and not just with their chic designs and comforts but their advanced technology. Chrysler is perhaps one of the most notable brands to adopt this trend, particularly in its Pacifica models, and year after year it wins accolades and awards for being a vehicle that is very suitable for families.
Just when it seems like Chrysler has reached its peak, the company introduces its new center infotainment screen on its 2021 Pacifica minivan. Its enhancements show that it intends to evolve with the times, as it has features that are compatible with mobile devices.
Fiat Chrysler statistics state that 51 percent of buyers of new cars specify interior-tech as one of their determinants. Bearing in mind buyers who are cultured with different types of technology, the number is likely even greater, as 64 percent of rerun buyers claim the interior technology made them want to come back.
Car reviewers and even some automakers frequently make the assumption that when car buyers say that they prioritize interior technology that this means including a lot of gaudy features in the center console with entertainment features and other conveniences, while that can certainly be a plus, what most buyers really mean by _ value _ is a system that is user-friendly and not this flashy and complicated system they have to work with while trying to maintain control on the highway. Those who opt for a Chrysler vehicle will have hit the jackpot based on their tech needs since the company's UConnect system is often favored for its ease of use.
The newest UConnect is 5 times faster than the previous generation. This takes care of the issues of earlier systems, as it would take a few seconds too long after the driver pressed a button, which really doesn't help the issue of short attention spans during the digital age and can also prove to be very dangerous. For the first time, the system also includes wireless connectivity with Apple CarPlay and Android Auto.
Another improvement of the UConnect 5 includes bigger fonts and buttons. As great as it is for automakers to add more features, it becomes more of an inconvenience if they start jamming all of these features in places where they cannot be located easily. Chrysler's designer made sure that this doesn't happen for next year's model by making certain configurations that make buttons easy to spot by drivers, this is especially important since many studies have shown that drivers taking their eyes off the road even for a few seconds can increase the chances of a crash dramatically.
The latest UConnect still has some familiarities that aids in accommodating all of the main features while reducing the number of digital knobs on one screen, like having more than one monitor to work with. Ultimately drivers can simply configure their most practiced functions onto the home screen, as well as other drivers in the household. The new Pacifica will also receive a bigger 10.1-inch, horizontal center screen.
Another first for the new UConnect is the ability for the car to collaborate with Smarthome features in the driver's house like the thermostat or garage door opener. This system provides even more versatility now that it's Android-based, which means owners will have possible admission to the largest third-party apps in the world.
While we are waiting for the 2021 Pacifica to be released, there is still another option. The 2020 Chrysler Pacifica provides comfort and ease for both drivers and passengers alike. Miami Lakes Automall has a plethora of different Chrysler models to meet and your families needs, feel free to check out our new online car inventory and chat with an online representative for more assistance.
Photo Source/Copyright: Chrysler
Previous Post Fiat Chrysler Gains Another Autonomous Partnership, This Time With Udacity Next Post 2020 Chrysler 300 Highlights