Family-Sized Hybrid Coming Soon! Meet the Pacifica Hybrid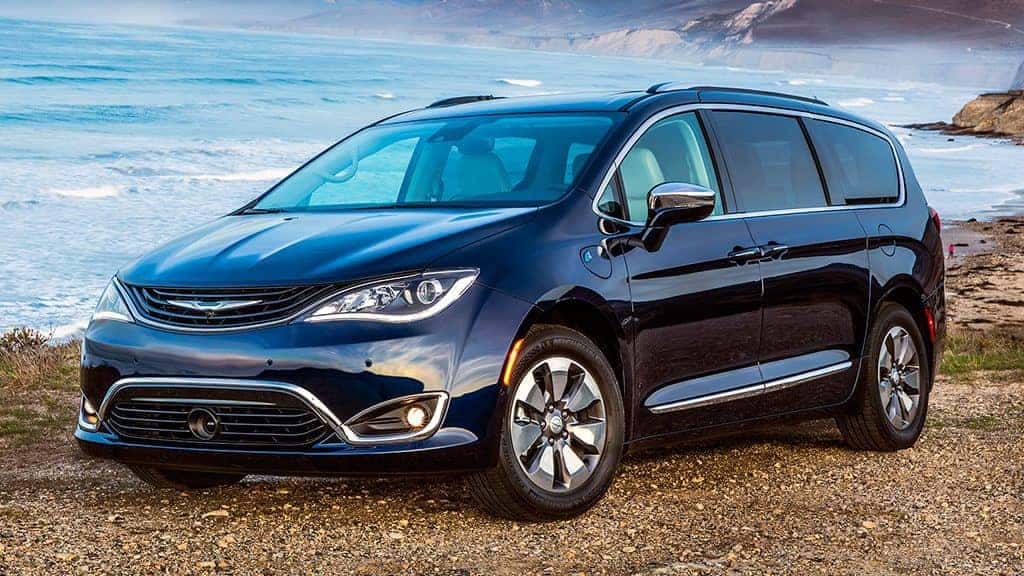 Shopping for a more fuel efficient vehicle for the family? Well, thankfully Chrysler has created the Pacifica Hybrid, a vehicle for parents that want a "green" vehicle, but need space for the family, too.
Chrysler released the Pacifica in April 2016, Chrysler is gearing up to release the Pacifica Hybrid, the first hybrid minivan! So, if you want to save money on gas, reduce your carbon footprint and have plenty of space for the whole family, the Chrysler Pacifica Hybrid is an excellent choice.
Interested in a hybrid, but don't know much about hybrids? We've got you covered.
The Chrysler Pacifica Hybrid is technically a plug-in hybrid electric vehicle (PHEV). PHEVs can run on pure electricity from their battery, purely on a gas engine, or both of those systems can work together. PHEVs are a step-up from hybrid vehicles because they have a larger battery that allows them to run on pure electricity for longer, but the battery is so big it needs to be plugged-in to fully recharge.
In comparison to hybrids, PHEVs have a better fuel economy, they are eligible for the federal tax credit and they release fewer emissions. And unlike electric vehicles, which are only powered by electricity, PHEVs have an alternative power supply because there is also a gas engine. So feel free to roam, however far you want.
Understanding Fuel Economy
Unlike hybrids and EVs, PHEVs have a few different numbers to consider when understanding the vehicle's fuel economy — MPG, MPGe, and total electric range. Like usual, MPG is the vehicle's fuel efficiency based on miles per gallon.
PHEVs and EVs both have an average MPGe, or miles per gallon equivalent. Basically, MPGe is the fuel economy of the vehicle when the gas engine and battery are being used simultaneously. The 2017 Chrysler Pacifica has a fuel economy of 80 MPGe in the city.
PHEVs and EVs also have a full electric range, which is the distance the vehicle can travel when only powered by the battery. The Pacifica's full electric range is 30 miles.
Regenerative Braking
PHEVs like hybrids and electric vehicles use regenerative braking. Regenerative braking recycles the energy used to stop the car when braking and charges the battery, thus extending the vehicle's range.
About the 2017 Chrysler Pacifica Hybrid
The Chrysler Pacifica Hybrid is a three row seven passenger minivan. It is loaded with cargo space and entertainment features to keep the little ones busy.
The Pacifica Hybrid is equipped with a modified 3.6-liter Pentastar V6 engine, a 16 kWh lithium-ion battery and a dual-motor electrically variable transmission (EVT). The Pacifica Hybrid uses a one-way clutch which allows the motor to deliver more torque to the wheels. The minivan can detect when the battery is running low and it will automatically switch to hybrid mode or only gas mode when necessary.
As mentioned earlier, the Pacifica Hybrid has a fuel economy of 80 MPGe, and on pure electricity it is able to go 30 miles. You may also be wondering if a hybrid means low horsepower, valid question, but the answer is no. The Pacifica Hybrid produces up to 260 horsepower, which is excellent!
As a plug-in electric hybrid, the Pacifica Hybrid will be eligible for the federal tax credit, but since the minivan still hasn't been released, we aren't sure of the total amount!
Keep a look out for the Pacifica Hybrid at Miami Lakes Automall over the next few months. Follow our blog and/or Facebook page for updates.
Photo source: Shutterstock
Previous Post New Chrysler Pacifica Named IIHS Top Safety Pick+ Next Post The Chrysler 200's Short and Sweet Life