Why the Chrysler 200 is the Midsize Car of 2015

2015 wasn't exactly a banner year for midsize sedans. (You remember midsize sedans, right? The cars that aren't crossovers.) Sales in the SUV and CUV market have risen so dramatically it feels as though they have taken over the market.
Midsize CUVs have seen an increase of 3.6% from last years sales while midsize SUV's saw a 23% increase.
This increase of sales in crossovers has unfortunately had a negative impact on the relatively small 16 vehicle midsize car segment. Sales in this segment have dropped 3.4% from the same period last year.
These numbers mean that competition has become fierce. Miami Chrysler knows all about it. However, among the competition, one sedan has stood out from its peers and has actually seen an increase in sales.
The Chrysler 200 has been experiencing an unprecedented rise in sales.
In just the first seven months of this year, the Chrysler 200 has seen a 128% rise in sales. Given the competitive climate, why would only one car be experiencing this kind of growth?
Let's take a closer look at what Chrysler has offered the market with the new 2015 200.
2015 is a New Generation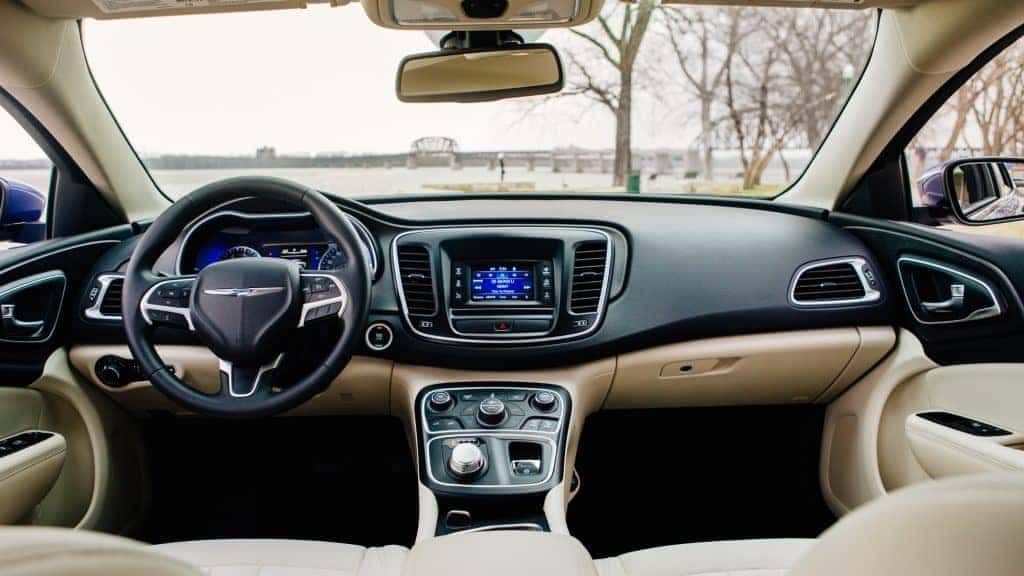 2015 is a good year for Chrysler's 200 as it finally entered a new generation. It's previous generation started in 2007. Given the rate at which technology and style change, 2007 seems like forever ago.
Not to be so dramatic about it, but to put things into perspective consider this: the iPhone had JUST come out, MySpace was the preferred social media and facebook was only beginning to expand outside of the collegiate arena. That was the last time the Chrysler 200 had been redesigned and updated.
Seems sort of ancient now, doesn't it?
Needless to say, Chrysler's 200 was outdated and in desperate need of a full redesign and update. In an effort to spruce up their new look, Chrysler chose the designs of a young Canadian, Jeff Hammoud.
Hailing from Ontario, Hammoud designed the new generation of 200s by applying his youthful approach to his creative mind and came up with a really impressive and gorgeous vehicle.
The lines are crisp and the roofline is windswept. Jewel like tones inspire the body colors as well as the interior lighting. The best part about it is that it drives and handles as good as it looks.
MVP
Basically, the Chrysler 200 became an entirely new car. With such improvements given to everything from the design to the powertrain to the backlit gauges, It should at the very least win the MVP of the midsize sedan section.
Because every other car in this category has remained under the radar, that only helped make the 2015 200 stand out even more.
It's noticeable changes and updates in design extend far deeper than pure aesthetics. Updates on technology, infotainment and comfort also stand out as a win on the 200.
It immediately becomes so easy to see why people were so drawn to the Chrysler 200 and why sales were up in such a high percentage.
Chrysler Knows Its Audience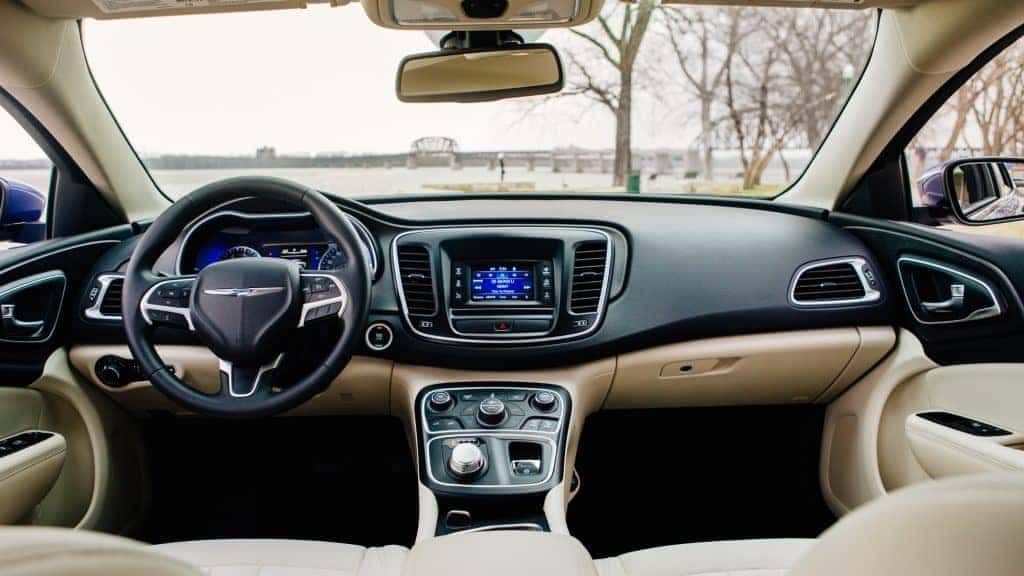 Because Chrysler was able to captivate such a large audience by basically creating a new car, it still wasn't enough. They knew that in order to compete not only within its own section but also with the CUVs and SUVs the 200 would have to do better.
It would have to come up with something to make not only midsize sedan buyers want it, but also midsize crossover buyers want it, also.
In order to capture this market as well, they thought about the specifics of this market. Understanding that the Chrysler 200 driver is going to be one spends a decent amount of time in their car due to long commutes or car rides, they had to ensure the car be fit for such specific occasions.
This vehicle was rebuilt specifically with the driver in mind and that is apparent. Only the latest in technological advances with navigation, and infotainment, safety features and driver enhanced comfortability would suffice.
Awards and Accolades
Normally, this part isn't usually all that exciting sort of like the participation award, everyone gets something, but not the Chrysler 200. The 2015 200 has a list as long as Santa's full of its awards, top picks and "best of's".
The 200 won NHTSA 5 Star Safety Rating as well as IIHS Top Pick in Safety. It received the prestigious Ward's 10 Best for interiors. Texas Auto Writers Association named it the Top Midsize Car of Texas.
The 200 made the Rocky Mountain Car of the Year as well as the Midwest Automotive Media Association's Family Car of the Year. It was awarded a distinction of Best Bets for 2015 by the Car Book and made the list in Consumers Digest Automotive Best Buys of 2015.
So given what we know about the 2015 Chrysler 200 so far, wouldn't you like to now know the details?
We have those also. Without further delay….
Introducing the 2015 Chrysler 200
First thing that happens as you look at the 2015 Chrysler 200 is that you forget that this is the same car as its predecessor. Its sleek lines and smooth curves blend elegant sophistication with smart design engineering.
Exterior
Sitting lower to the ground, the headlamps and grill flow seamlessly into each other while the chrome highlights the even lower blacked out grill leaving a stunning first impression. LED technology is available throughout even while daylight lamps are used.
Interior
The interior console blends simplistic ideal with beautiful convenience. The 2015 200 has a place for everything which every parent will love. There are numerous places to store, hide, keep and charge whatever needs to be grabbed quickly but stored away blending practicality with smart design.
Comfort
With even more front and rear shoulder room provided for all five passengers to spread out, comfortability is key. Heated, ventilated front seats along with lower lumbar support promise to keep both driver and front passenger cozy while commuting.
Engines
Two engines available, a Tigershark multiair 4 cylinder that gets a combined 36 mpg as well as a V6 Pentastar that was rated best in class offering 295 horsepower gives a combined 32 mpg. A smooth ride and responsive handling are guaranteed with the MacPherson front strut suspension.
Safety
Chrysler has made safety as important as their design and powertrain. Blind spot monitoring, 8 air bags, lane departure warning, lane keep assist, adaptive cruise control, parallel and perpendicular park assist, and ESC come standard in base model. Available are AWD, rear back up camera with guidelines and forward collision warning with active braking.
Technology
An 8.4" touchscreen provides the driver with easy access to UConnect infotainment system, as well as bluetooth connectivity and offering Wifi hotspot into your vehicle and drive.
Cost
With all its awards and accolades from dealerships and consumers alike, it should stand to reason that the Chrysler 200 would be easily outpriced for its market. However, its cost is just one more reason why it wins the hearts of all its new drivers.
It's price point is practically perfect. (How's that for some alliteration?) The base model is being offered at $21,995. The fully loaded 200 is at most $37,095 while an AWD 200C, luxury class comes in at 30,825. Unarguably the best vehicle in its class and it is priced under $30K and $40K.
What makes the 200 even more desireable is the fact that its pricing is comparative to the others in its class, but as the standout in style, technology and design makes it the obvious best choice. Chrysler did their homework and figured out the equation and solution.
They got it right and not only are they pleased with it, but the scores of Chrysler 200 drivers now are, as well.
---
Previous Post Should I Buy a Discontinued Car? Next Post 2015 Chrysler 300 Gets a New Look