An Overview of Something New: The 2021 Chrysler Pacifica – Miami Lakes Automall Chrysler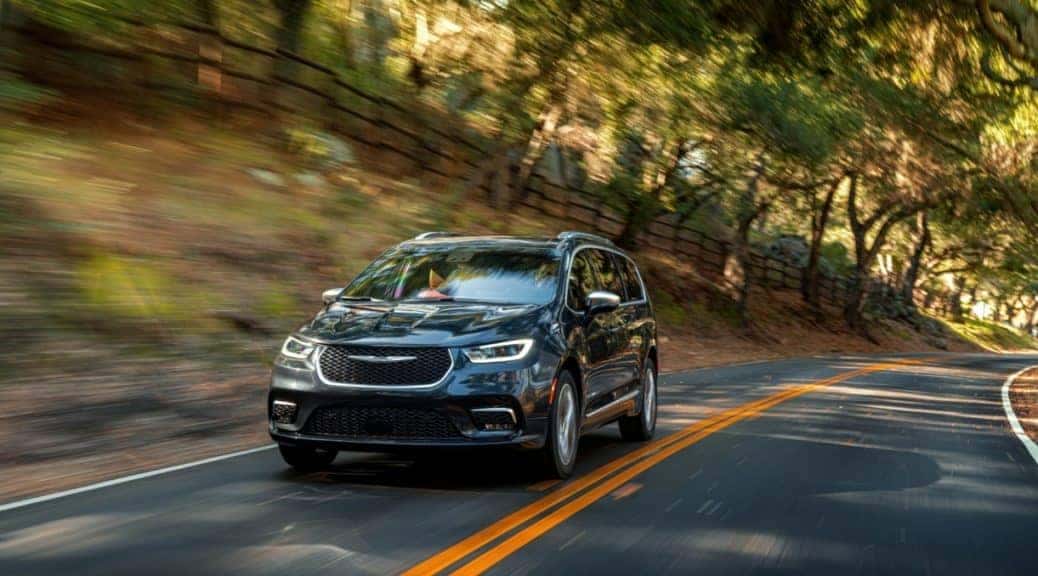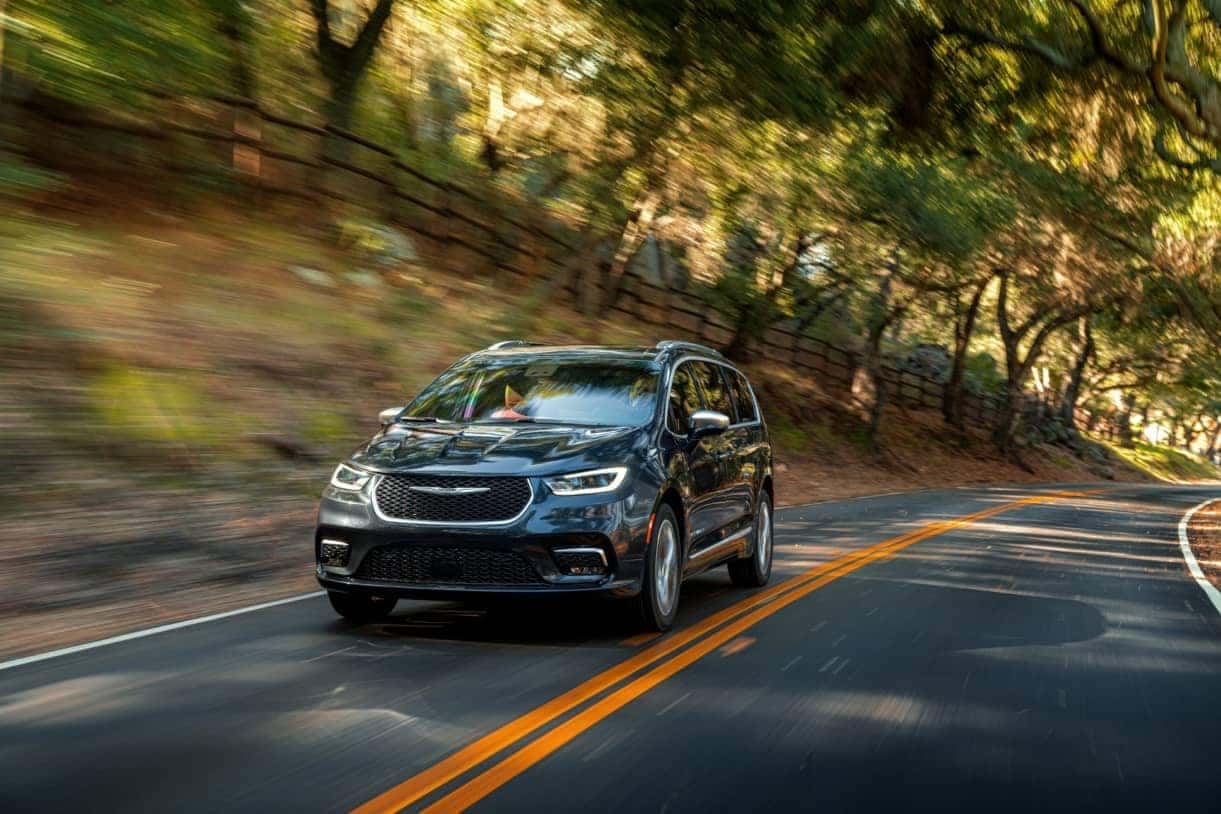 It's an all-out war in the automobile market when it comes to minivans and SUVs, but the Chrysler Pacifica will be damned if anyone even thinks that they can take its crown, especially after the debut of the 2021 Chrysler Pacifica.
As always the Pacifica is tailor-made to accommodate families who value lots of space and ease of access, similar to a compact SUV. The latest Chrysler vehicle can lodge up to eight occupants, and also provides a ride that is stable and comfortable. Furthermore, active safety and driver-assistance features come standard, and all-wheel-drive is optional.
New features include range-dominant Pinnacle trim, revitalized styling, a Fam-Cam interior camera, updated Uconnect 5 with Amazon Alexa, Wireless Apple CarPlay and Andriod Auto, and overall more standard safety features.
Full-Efficient Engines
The gasoline-powered 2021 Pacifica uses an efficient 3.6-liter V6 engine and is paired up with a 9-speed automatic transmission. The newest Chrysler vehicle is one of the most well-regulated minivans, as it saves lots of energy and fuel. Similar to plenty of other new vehicles, the Pacifica includes a stop/start feature that saves energy when the vehicle comes at a stop or other inactive scenarios. However, if one is not fond of this function, they can easily deactivate the system.
However, if one wants to prefers something that is a bit more environmentally friendly, a recommended choice would be the Chrysler Pacifica Hybrid. This drivetrain in particular is accessible on all trims, though without all-wheel-drive. A V6 engine is included and paired with a continuously variable transmission (CVT), it also has a little extra oomph deriving from two electric motors charged by a lithium-ion battery.
The 2021 Hybrid can roam up to 32 miles on just electric power, all before finally switching to its gasoline engine, having a range of up to 520 miles. With the help of the 240-volt charger or the 120-volt charging cable (already included), it only takes a few hours to charge the battery.
A Stable and Centered Drive
Driving the newest Pacifica will prove to be an exceptionally delightful experience, that is almost serene-like. Although it doesn't have the fastest powertrain, it still gives quite a decent kick, with another plus being that it rates to tow up to 3,600 pounds.
As great as the lovely as the driving experience for the standard Pacifica prove to be, its Hybrid version has adds a bit more flavor in its performance. The drivetrain has a much more powerful punch, even when its electric battery is soon set to switch to the gasoline motor.
Simple Exterior Design
The exterior on 2021 Chrysler Pacifica is none too dramatic, but then again it doesn't have to be, it still has the same class and charm that we know and love it for. The updates that it does have includes a look that is a bit sleeker, a new grille, LED headlights, LED taillights, and LED fog lights. Also included are new styles for the alloy wheels, as well as Fathom Blue as a new point choice.
The base Touring trim includes 17-inch alloy wheels, and 18-inch for the Limited trim. The Pinnacle trim, however, gets a couple of extra inches more (20-inches).
Sporty-Like Interior
When a passenger enters the cabin of the 2021 Chrysler Pacifica, without warning they are encompassed by the sleek and sexy design that surrounds the cabin. The overall fit and finish of the materials are well above excellence and has a look to it that is very upscale. This high-end look of the interior is further enhanced with overall advanced technology and connectivity features.
The new ritzy-like minivan can accommodate either seven or eight passengers, depending on whether or not buyers opt for a pair of captain's chairs or a 3-person bench. The Hybrid already includes second-row captain's chairs, therefore making a 7-seater by default.
Drivers will find great comfort in their seats, as well as great viewability. Loyal followers of the Pacifica will find that the Uconnect 5 system has been updated and is compatible with Amazon Alexa, and also comes with a new standard 10.1-inch touchscreen.
Another plus of the interior is the generous cargo space for regular and hybrid versions, starting from 32.3 to 140.5 cubic feet, especially made possible by the Pacifica standard Stow 'n Go seats.
Standard Features
A Pacifica just isn't itself without its wide range of features. Starting with the base Touring trim, it comes with a plethora of advanced features, it comes with powered tailgate, rain-sensing wipers, power-sliding side doors, 8-way power-adjustable driver's seat, tri-zone automatic climate control and a 10.1-inch infotainment touchscreen with Apple CarPlay/Android Auto smartphone integration.
Optional Features
There a few more gifts and prizes on the Pacifica, as long your willing pay of course…don't worry though, it's all worth it. More features on the Pinnacle trim include the self-parking system with a 360-degree camera array, rear-seat entertainment setup, vacuum cleaner, and a 115-volt outlet. These goodies are accessible as options on the lowered trims.
Henceforth, once should consider at the very least opting for the Touring L, since it includes extra standard features like sunshades for the second and third rows, perforated leather upholstery, and heated front seats. It's also entitled to more options.
For a more appeal to the eye, it doesn't hurt to consider the Red S Appearance Package for Pacifica Limited vehicle, which adds on plush red leather upholstery.
Miami Lakes Automall
The 2021 Chrysler Pacifica likely won't reach dealership until the Fall of 2020, but in the meantime, Miami Lakes Automall sells plenty of 2020 models that are also family-friendly and has features that are very up to date. Whether you choose to wait for the new model or opt for this year's Pacifica, chat with one of your online representatives for further information and overall assistance.
Photo Source/Copyright: FCA US Media
Previous Post The Chrysler Brand Stays 6 Feet Away As They Collaborate With Actress Kathryn Hahn For Their New Social Campaign Next Post FCA and Waymo Expand Their Alliance As Their Efforts With Autonomous Technology Increase