Top 5 Road Trip Features On The 2021 Chevy Suburban – Miami Lakes Automall Chevrolet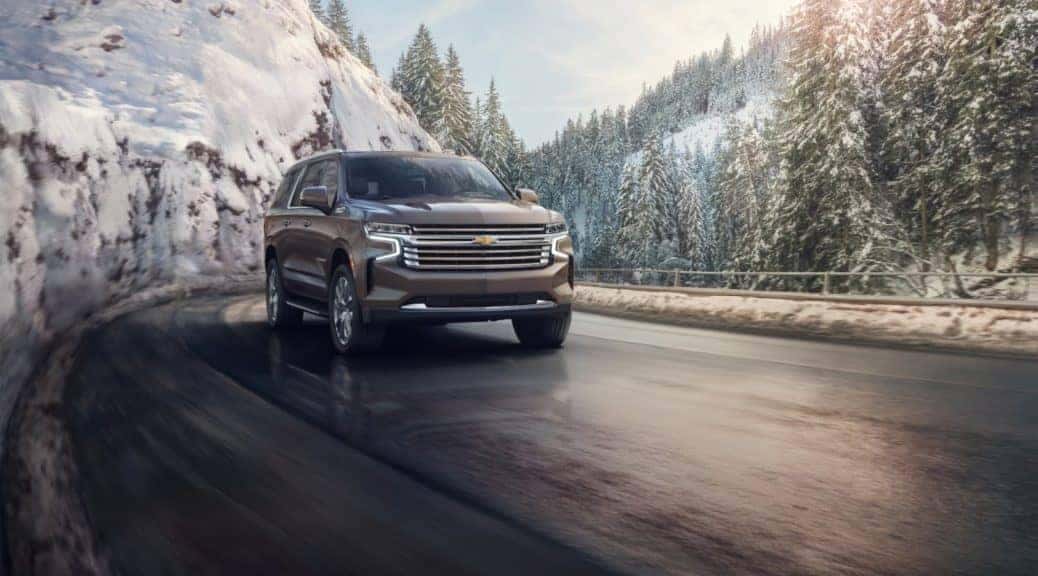 Just because the kids are going back to school doesn't mean that you have to end your summer fun, especially for those of you who are "working from home". The 2021 Chevrolet Suburban is the perfect full-sized SUV for your road-trippin' excursions. It's filled with plenty of features that are guaranteed to augment your getaway experience such as wireless Apple CarPlay and Android Auto, Zero Gravity Seats, Wi-Fi Hotspot, and much more. Here are the Top 5 Road Trip Features On The 2021 Chevy Suburban.
Wireless Apple CarPlay and Android Auto
The High Country trim is best of the best on the 2021 Suburban SUV, and with it includes the brand's Infotainment 3 system paired with Wireless Apple CarPlay and Android Auto. It allows users to make use of features like Waze and Spotify, as well as make phone calls and send text messages. Wireless support is very convenient on longer trips where drivers may switch seats while taking turns driving. The system is also user-friendly and hardly distracting while your hands are on the wheel.
4G LTE Wi-Fi Hotspot
Nowadays, having poor cell service or lack of Wi-Fi is almost considered to be on the same level as losing an arm, you just can't function without it. Luckily, all models on the Chevy Suburban include 4G LTE integration with in-vehicle, ensuring that you and your passengers are always connected. Owners also get to take advantage of the 1-month trial, which involves 3BG of data, and can even opt for an additional plan after this trial ends.
You don't have to worry about hearing "Are we there yet?" one too many times, as kids and teens will be able to stay in touch with friends or see what's trending on TikTok without having to use their data.
Heated and Ventilated Seats
Third on our list are 12-way power front seats with available heated and ventilated functionality. This feature is perfect either for those living in warmer climates like Florida or cooler areas like Colorado. You don't have to worry about making various pit stops to avoid harsh temperatures, because this tool keeps front seat passengers comfortable no matter what condition. Additionally, High Country models also offers this technology for seats in the second row.
Backup and Rearview Mirror Camera
It's safe to say that back up cameras are considered to be a common feature in most new vehicles, however, the Chevy company does it right by inputting a surround view system, which is especially helpful when maneuvering in tight parking spots or avoiding pedestrians. Other camera angles allow one to see the SUV sky-high or how close they are to a curb.
As usual, the High Country trim cranks up the heat by switching to video display by flipping the mirror up, in which you'll see a live feed from the back of you. It allows drivers to see a clear view of traffic behind them while the trunk is stuffed with suitcases.
Lots of Charging Ports
Having LTE Wi-Fi isn't the only way to stay connected. The 2021 Suburban is loaded with charging ports, with access provided in the front and second row. More specifically, front row occupants have access to USB ports on both sides and a wireless charger. Meanwhile, second-row and even third row passengers include USB-C chargers.
Miami Lakes Chevrolet
This only scratches the surface of what the big and bad 2021 Chevy Suburban can do, find out more of what it has to offer by visiting Miami Lakes Chevrolet . We carry a wide range of vehicles from the brand, including their full-sized SUV. If after searching through our new car inventory , you like what you see, feel free to chat with one of our representatives for further assistance.
Photo Source/Copyright: Chevrolet Suburban
Previous Post GM Files New Trademark Application for Grand Blazer Next Post General Motors and AT&T To Team Up For 5G