The 2021 Chevrolet Colorado ZR2 vs. 2021 Toyota Tacoma TRD Pro: Battle Of The Off-Roaders – Miami Lakes Automall Chevrolet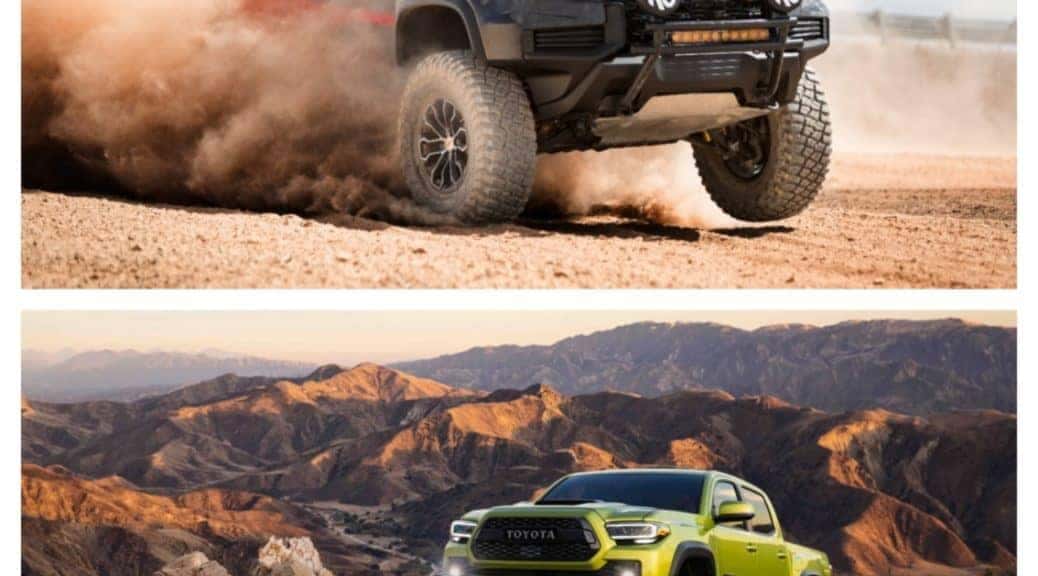 The 2021 Chevrolet Colorado ZR2 and the 2021 Toyota Tacoma TRD Pro are at the top of their game when it comes to highly efficient midsize pickups. The ZR2 is a worthy contender with its thrilling powertrain options, revamped styling, capable ride and handling, as well as it's best-in-class towing. Meanwhile, the TRD gives other pickups a run for their money with its overall durability and off-road capabilities. Let's see how they match up with each other and see who's really leading the pack.
Chevrolet Colorado ZR2
The 2021 Chevrolet Colorado shows no signs of slowing down when it comes to splurging its loyal following of truckers with the ZR2 off-road trim. It's looking fierce and vivacious for the 2021 model year, and according to the automaker, it has improved in its visibility and a new grille design.
The truck shows its hot stuff with its impressive off-road gear, such as ultimate shocks, independently lockable front and rear differentials, and surplus skid plates under components deemed vulnerable.
Along with the refashioning of the pickup, the ZR2 certainly captures the menacing and blood-thirsty look and presents it well. The body looks strong and muscular, but not in the sense where it's too fussy. This vehicle shows you that it's ready to take you on a rock-crawling adventure, while still making it just in time to take you to the office by the end of your weekend. The company's off-road edition involves an elevated suspension, a wider track, revamped bumpers, and an operative skid plate.
Toyota Tacoma TRD Pro
The 2021 Tacoma TRD Pro is the man…well, truck to rely on for jobs that require working in dirt, such as on a worksite on a trail, this pickup can do almost anything. For well over 30 years, the Tacoma has proven itself to be reliable and trustworthy for off-roading activities. Additionally, this truck has a towing capability for up to 6,800 pounds.
Three of the TRD models encompass various levels of off-road capability, with ingenious technology. The regular Tacoma has a 2-speed transfer case, Crawl Control, and Multi-Terrain Select.
The highest-ranking TRD pro truck tacks on Fox internal bypass shocks, a special TRD cat-back exhaust, a TRD Pro front skid plate, and a series of distinct appearance and convenience accessories.
On top of all of these positives and reputation for trustworthiness, The Tacoma's long-lived and recently rejuvenated standing also gives it the best resale value in its segment after 5 years of ownership.
Which One Is The Best Pickup?
The 2021 Chevrolet Colorado ZR2 and 2021 Toyota Tacoma TRD Pro are neck and neck. These two amazing off-roaders are similar in being highly effective off-road trucks with large tires and plenty of ground clearance.
However, the ZR2 outranks its competitor with its available turbo diesel option, more energetic V6 engine, and an array of cabs and beds. We'll give it to the Tacoma for at least having the best resale value, but it just isn't enough otherwise.
Miami Lakes Chevy
Now that you know the truth about who truly has the biggest wheels, you can check out the 2021 Chevrolet Colorado ZR2 at Miami Lakes Automall . This vehicle also involves plenty of interior features like 3 months of satellite radio service, six speakers, USB connection. As well as some safety technologies like traction control, remote anti-theft alarm, and a post-collision safety system.
The MSRP for this pickup is $42,795,(plus destination fee). Those who are interested in any of our vehicles can simply view our online new car inventory and chat with a representative for further assistance.
Photo Source/Copyright: Chevrolet Pressroom; Toyota Newsroom
Previous Post The Chevrolet Corvette Is Ranked As 2021's Fifth Most American-Made Car Next Post The 2022 Chevy Silverado ZR2 May Get Off-Roading Features