The 2019 Chevrolet Silverado Configurator is Completely Customized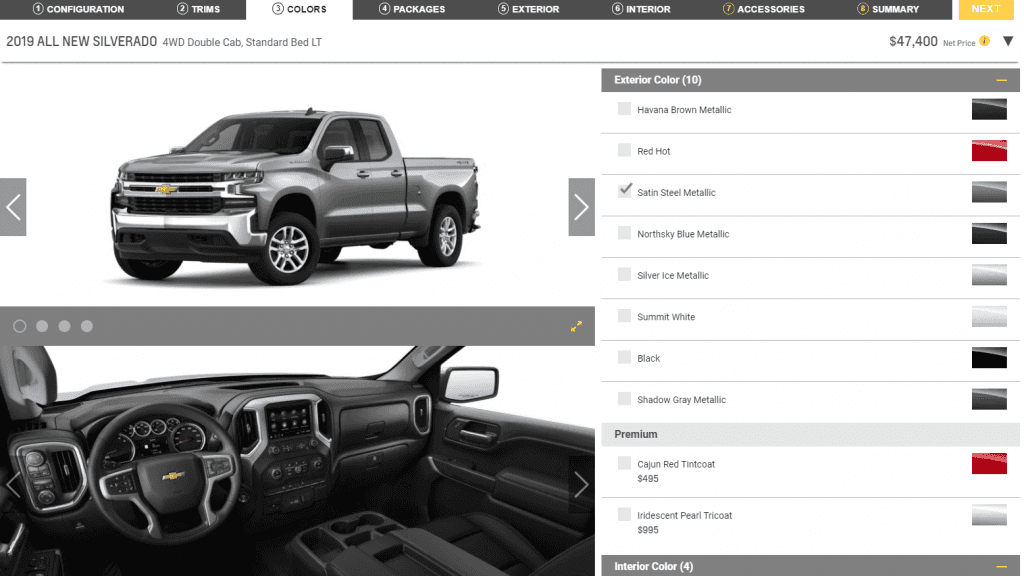 Are you ready for your own 2019 Chevrolet Silverado? An icon of the automaker, this pickup truck has made a name for itself over the last 100 years. The Chevrolet Silverado even got a special Centennial Edition in 2017, commemorating 100 years of Chevy pickup trucks . 100 years, and the good news still keeps pouring in. For one thing, Chevrolet has introduced a special edition for the 2019 model year that literally give us goosebumps – the 2019 Chevy Silverado Trail Boss Z71 turned into the Chevrolet Hennessey Goliath . Now, with the 2019 Chevrolet Silverado heading to dealerships, consumers can finally build their own.
Building Your 2019 Chevrolet Silverado
Although shipped out, the 2019 Chevy Silverado is currently being delivered in low quantity (as of November 8, 2018). Dealership lots will receive more as orders are placed, but for now, enjoy the thought of building one. Known as the "all-new" Silverado, being in its fourth generation for 2019, the configurator (bit.ly/2DtM9y1) has been designed to show off some of the new features and available options, like modern technology or an off-road package.
Although the 2019 Chevrolet Silverado has a starting MSRP of $28,300 (plus destination fee), the first build to pop up in the configurator is for $49,795 (plus destination fee). This will give consumers an idea of the differences something as simple as the cab size, drivetrain, or engine can make, before even a trim is chosen. The default setup is a double cab with a standard bed, four-wheel drive, and the 5.3-liter EvoTec V8 engine with Dynamic Fuel Management (DFM). Changing either of these will show the consumer the new net price in the top right in real-time.
Next is the trims. With eight to choose from, there are a whole lot of options for consumers to go through. In fact, the entire configurator is pretty intimate. Scrolling through a couple of tabs, and it looks like a consumer doesn't even need to go to the usual specs sheet to find what they want. All one needs to do is surf through the building process, and they'll get a quoted price at the top right.
Choices include packages that add-on luxury features like remote start and all-weather floor mats, wheel sizes, performance and capability options, even the type of tech the consumer wants. Plus, with every option that's selected, the consumer will also get a preview of their customized 2019 Chevrolet Silverado, letting them know what they're getting for the price. Perhaps this is why orders are currently limited – Chevrolet is basically offering consumers a chance to fully customize their new pickup truck.
All the Good Things About the New Chevrolet Silverado
While looking through the options, we have some ideas to keep in mind. With all of the new enhancements for the 2019 Chevrolet Silverado , we definitely would suggest looking at the high-end of powertrain options. Thanks to a drop of 90 pounds from the frame and high-strength steel, the engine doesn't need to work as hard to move the truck, and it's more capable than before. We're talking an increase of 500 pounds of towing capacity, bringing the maximum for 2019 up to 12,200 pounds.
In conjunction with the weight drop, Chevrolet also offers that Dynamic Fuel Management system mentioned above. Like a multi-displacement system that shuts off half of the cylinders in a V6 or V8 when cruising at steady speeds, the DFM does the same thing and can shut off as many as seven cylinders. A consumer could get a 6.2-liter V8 engine with start-stop technology and DFM and have amazing fuel efficiency (when paired to a 10-speed automatic transmission).
With all of these options available, it's no wonder why the Chevrolet Silverado is consistently popular. Build yours and then contact us at Miami Lakes Automall to discuss how you can drive it home.
Photo Source/Copyright: Chevrolet.com
Previous Post Introducing the 2019 Chevy Silverado: the Unmatched Pickup Champion Next Post The Previous Generation Silverado Is Sticking Around