Off-Road Adventures Await In the 2019 Chevrolet Colorado Bison ZR2 – Miami Lakes Automall Chevrolet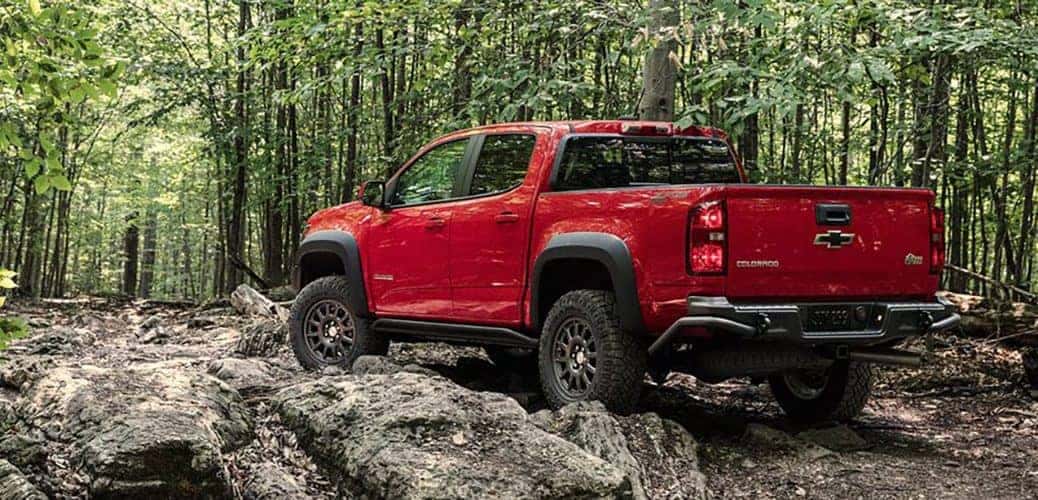 Photo credit: Chevrolet
Chevrolet's 2019 Colorado ZR2 Bison is a new off-road truck that was made in part with American Expedition Vehicles (AEV). This is a vehicle that carries 5 new standard skid plates that offer undercarriage protection to keep the engine oil pan, fuel tank, transfer case, and both differentials. These skid plates are durable because they are made out of hot stamped boron steel. With this protection, owners of the new Colorado ZR2 Bison can feel comfortable going off road like no other pickup is capable of! New front and rear bumpers are made of steel with the front bumper carrying fog lights and the rear lights having attachment points for recovery, in case the vehicle falls into a situation where a driver needs help getting pulled out.
The latest Colorado ZR2 Bison has new larger fender flares, a unique grille that lists Chevrolet, is spread across the grille. The Bison carries style throughout with badges including the ZR2 Bison logo on the sides of the truck bed with the AEV logo on the headrests inside the truck and the logo is on the back of the tailgate. New 17-inch wheels with 31-inch Goodyear Wrangler DuraTrac tires. All the ZR2 Bison pickups are strong and make an impression on anyone looking at one.
Just How Strong Is the Powertrain?
Owners can go with one of two choices for their engines on the 2019 Chevrolet Colorado ZR2 Bison. The first option choice is the legendary 3.6-Liter Pentastar gas engine that gets owners 308 horsepower and 275 lb-ft of torque or a 2.8-Liter Diesel powertrain with 186 horsepower and an impressive 369 lb-ft of torque. This is a very strong vehicle that gets 5,000 pounds of towing capacity. If that doesn't make an owner happy, finding out the perks that come standard will.
Handle the Off-Road Trails With Ease
A remarkable 8.9" ground clearance, this will help make the ZR2 Bison pickup capable of handling any rocky terrain and gives owners confidence when taking roads less traveled. Stay comfortable while driving the Bison ZR2 with a strong suspension that provides a stable feeling on any road. Rock crawling is something that is possible with a 30-degree approach angle and locking differentials that provide a remarkably stable ride throughout. Strong tires like the ones that come standard on the Colorado ZR2 Bison are able to grab the terrain and let drivers feel confident taking their pickup nearly anywhere. Starring in 2019 when the Bison debuts, there's no reason why any one's off-road dreams can't begin!
For those that can't wait that long to get started driving the latest Chevrolet pickup trucks, we have you covered at Miami Lakes Automall .
Come Drive The Newest Chevrolet Pickups
We have all the latest Chevrolet pickups available, including the 2019 Chevy Silverado LT Trail Boss . We welcome you to go on a test-drive to experience all the latest technology and comfort offered in the new Silverado. Our professional sales team is ready to assist you with any selling, buying, leasing or trade-in offers.
Let Miami Lakes Automall be your guide if you're in need of any maintenance or repairs to your current vehicle. We'll happily help you out, even if you didn't buy with us. Our professional service team is ready to bring your vehicle back to life and keep it running smoothly. Stop by Miami Lakes Automall for your complete automotive needs
Previous Post Upcoming 2019 Chevrolet Camaro Is Striking Next Post New Changes To Chevrolet Vehicles Including Camaro and Cruze