General Motors and Chevrolet's EV Plans Continue To Grow – Miami Lakes Automall Chevrolet General Motors and Chevrolet's EV Plans Continue To Grow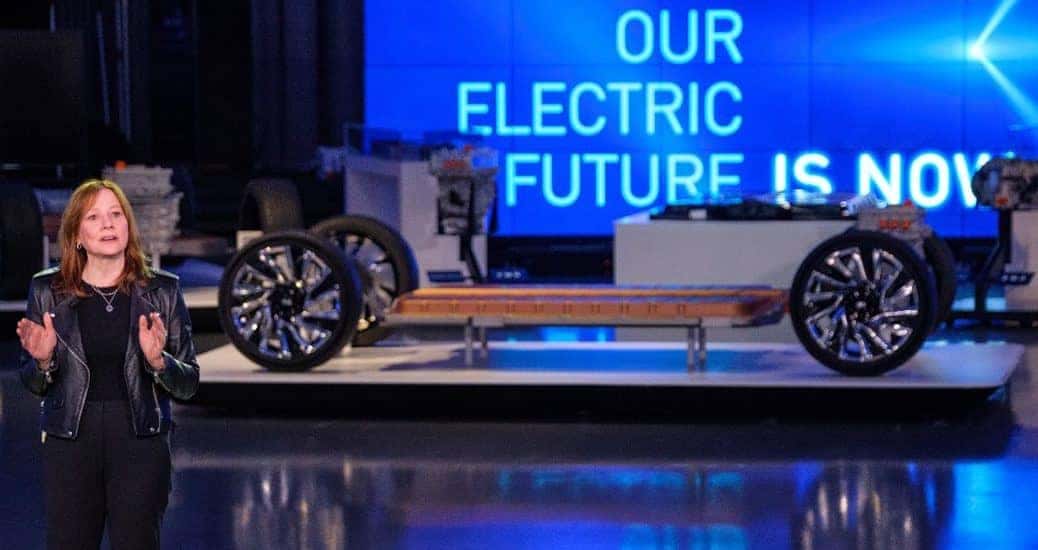 General Motors Chairman and CEO Mary Barra addresses the gathering Wednesday, March 4, 2020 at an event detailing GM's electric vehicle technologies and upcoming products in the Design Dome on the GM Tech Center campus in Warren, Michigan. (Photo by Steve Fecht for General Motors)
Chevrolet has given serious thought to gain an advantage on the competition in the electric vehicle market. Electric Vehicles (EV) are the way of the future and the parent company of Chevrolet, General Motors, has come out and revealed some of their plans. The goal for GM is to offer 20 EVs by 2023. Included in those 20 vehicles will be some impressive Chevrolet vehicles. General Motors is putting a great deal of focus into a new modular EV architecture known as Ultium. While the details are limited currently, we have done the research about where Chevrolet is going to take its electric vehicle capabilities in this decade.
A New Platform Will Advance the Appeal of EVs
The brand new platform GM is creating will allow GM electric vehicles to provide a remarkable 400-mile driving range and fast 0-60 speeds. Not just fast speeds, mind-blowingly fast speeds including a 0-60 time of just under three seconds. Front-wheel-drive, real-wheel-drive, and all-wheel drive options are also expected to be available within this new platform. This move will definitely work to excite buyers and drive interest in EVs. For a long time, EVs had a stigma of being slow and an owner wouldn't see any returns on their investments unless they kept their EV for around a decade; that won't be the case any longer.
Chevrolet's EV Plans Going Forward
Chevrolet is going to be putting into action this platform with a new Chevrolet pickup with a range of more than 400 miles expected to accompany the EV pickup. Of course, Chevy was the brand that first launched GM's debut EV. Updates are coming to the Chevy Bolt with the idea of the Bolt becoming a new SUV. This is an exciting idea for Chevrolet and along with that, there will be another mid-size SUV that will gain the EV treatment as well. All of these vehicles might use the new Ultium platform. The Ultium platform will also offer a remarkable battery life for drivers to enjoy. Everything is tied to the hopes the American car buyer will join the growing industry of EVs.
"Our team accepted the challenge to transform product development at GM and position our company for an all-electric future. What we have done is build a multi-brand, multi-segment EV strategy with economies of scale that rival our full-size truck business with much less complexity and even more flexibility," said Mary Barra, GM chairman and CEO.
Share Your Excitement With Everyone
The feeling of driving a new vehicle is close by for many of our readers. We're here to help our customers and thrilled to offer so many options. Looking for a new vehicle to buy or lease? Take a look at our new vehicle inventory or our quality pre-owned vehicles . We can help sell your current vehicle or bring it back to life like new with an online service appointment to our service center. Allow our professional techs to get started on all repairs or maintenance work.
We're here to help with any financial help, needs, or suggestions to help make paying for a vehicle easier. Stop by today and see what we can do for you today at Miami Lakes Automall !
Previous Post What It's Like To Drive The 2021 Chevrolet Trailblazer Next Post Cool C8 Features To Look Forward To