Forget a Minivan, Get a Chevy Traverse or Chevy Tahoe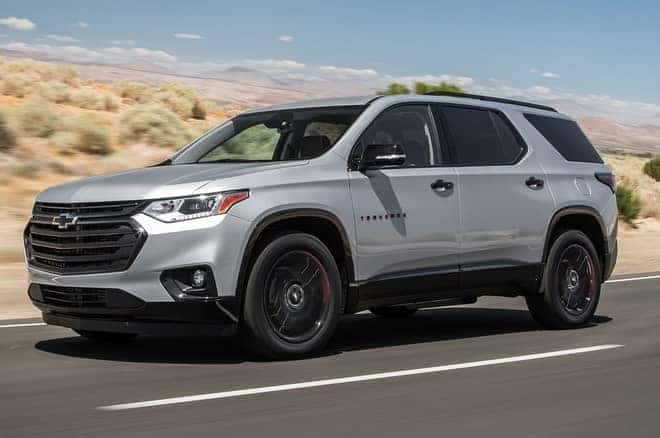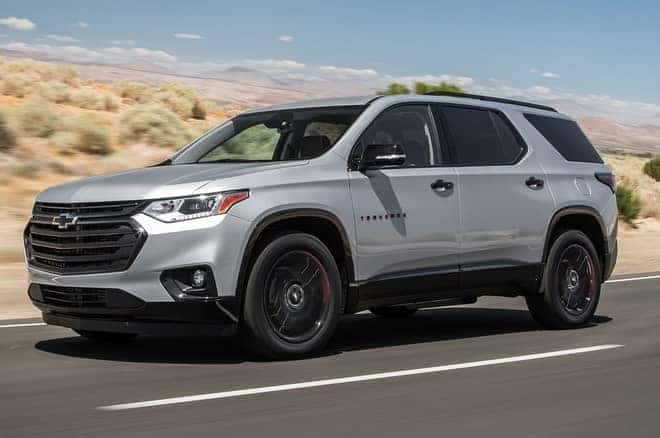 If you're planning on a summer vacation, you might be planning on taking the family in your current old minivan, right? Might we suggest planning on something just as exciting as the vacation itself? An all-new 2018 Chevy Traverse or 2018 Chevy Tahoe. Ditch the minivan and find yourself driving some of the better alternatives offered by Chevrolet this summer.
You can gain more power, have similar size and the perfect amenities for drivers who want more than what a minivan provides. The 2018 Chevy Traverse and 2018 Chevy Tahoe are both fully capable SUVs that are perfect for a road trip.
Included in the All-New 2018 Chevy Traverse
For those looking for a new and capable vehicle, the Chevy Traverse returned with a new look for the 2018 model year and enhanced features. With more space and an improved exterior design, owners will love all that comes with it. Thanks to the additional technology features and improved performance and power, drivers can get more out of the Chevy Traverse than ever before.
The all-new 2018 Chevy Traverse is available in six different trims and each trim is available with front-wheel-drive or all-wheel-drive. The Traverse has a fantastic selection of standard features including some of the most modern features that are sure to make every road trip more entertaining. Equipped with a 7-inch or 8-inch touchscreen, the Chevy Traverse has OnStar 4G LTE Wi-Fi hotspot on all models as well as MyLink, Chevy's infotainment system, which provides access to Apple CarPlay and Android Auto.
2018 Chevy Tahoe Comparison
When we say the 2018 Chevy Tahoe offers more power than the Traverse, that's because its available with two V8 engine options, a base 5.3-liter with 355 horsepower and 383 lb-ft of torque and the optional 6.2-liter with 420 horsepower and 360 lb-ft of torque.
The 2018 Chevy Tahoe has an available 10-speaker Bose audio system with Chevy's MyLink infotainment system that includes an 8-inch touchscreen and total Apple CarPlay and Android Auto integration. The available rear entertainment system offered by Chevy includes digital headphones, a drop-down screen that includes an HDMI connection to play anything on the drop-down screen when connected.
Pricing Differences Between Traverse and Tahoe
The 2018 Chevrolet Traverse (base model) starts at $29,930 MSRP (plus destination fee) while comparatively, the price of the 2018 Chevrolet Tahoe LS (base model) is $47,500 MSRP (plus destination fee). With that in mind, think more power and space provided incase the Chevy Traverse isn't spacious enough for you.
Chevy Provides Enough Size For Any Road Trip
Chevy provides a lot of space for drivers and passengers. The 2018 Chevy Traverse boasts three rows of seats and depending on the second-row seat configuration (bench seat or captain's chairs) there is seating for seven or eight people. Designed to keep all passengers comfortable, the Traverse offers best-in-class legroom for third-row passengers. And with the Traverse's best-in-class maximum cargo space of 98.2 cubic feet, there's plenty of room to keep clutter out of the passenger area. Also, so passengers don't get too cold or too hot in the backseat, the Traverse has three-zone climate control so everyone can enjoy the temperature that is right for them.
If you thought you needed a minivan, and the Traverse isn't big enough, the 2018 Chevrolet Tahoe might be. With available seven or eight passenger seating, depending on the options selected, the Chevy Tahoe is very comfortable for you and your family. The standard setup on the Chevy Tahoe seats eight passengers with an included second-row 60/40 split-bench seat and a 60/40 split-bench third-row seat. The 2018 Chevy Tahoe is also available with second-row bucket seats, and that option reduces the vehicle's seating capacity to seven people. If both rows of the rear seats are folded down, consumers get 15.3 cubic feet of cargo room, 51.7 cubic feet with the third row down and owners can make use of 94.7 cu. ft. of cargo space when all rows are down.
Come Find Your Very Own 2018 Chevy Traverse or Tahoe
The 2018 Chevy Traverse and 2018 Chevy Tahoe are at Miami Lakes Automall. Whether you're looking to test drive one for yourself or have a vehicle you'd like to trade in, rush over to Miami Lakes Automall to experience what Chevy offers. We're available seven days a week and you won't regret your excellent experience with our friendly and knowledgeable staff.
If you're looking for any vehicle servicing now or in the future, our certified servicing team is happy to help. Make an appointment with us and we'll attend to your vehicle. We hope to see you soon!
Previous Post Fuel Savings of Chevy's Hybrid, PHEV and EV Model Next Post Chevy Suburban RST Performance Package