Expect Some Compact Fun in the 2017 Chevy Sonic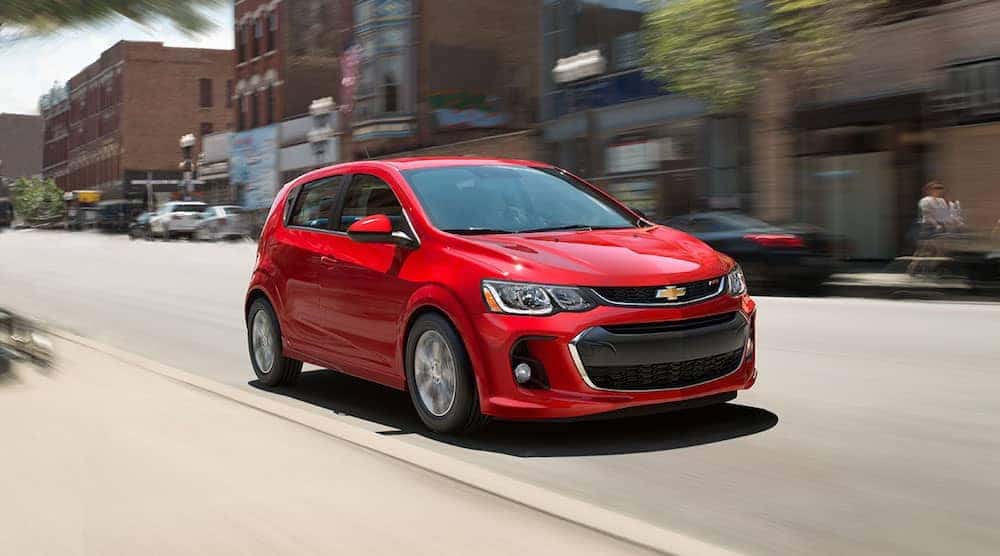 Those who know the frustration of piloting an oversized car around tight city corners know that when it comes to dense urban living, nothing beats a compact car. But this is America, and our cars tend to be huge and luxurious, like the impressive 2016 Chevy Silverado – nothing like the compact, rubber-band-engine compacts you see zipping through European city streets. For all those on this side of the planet looking for a reliable compact for fun city driving, the options seem to be few and far between – and that's why we're so excited about the forthcoming 2017 Chevy Sonic compact.
Built to provide that careful balance of useful, practical interior space and small, compact mobility, the 2017 Sonic promises to deliver almost everything we've been looking for in a compact model so far. Built specifically for the American urbanite and designed with an active lifestyle in mind, the 2017 Sonic fully intends to step onto the scene and take the market by storm with its wide array of features, its excellent and sturdy design, and its unshakable dedication to providing an excellent experience in a compact model.
Set for release this summer, the Sonic will be offered in both hatchback and sedan trims, each offering a unique edge with respect to either comfortable cargo space or sporty performance, which will leave any city driver pleasantly satisfied. With 60/40 folding rear seats in both models, you can successfully Tetris just about anything you can think to bring with you into this compact cruiser, or simply leave the seats up and bring up to three of your friends along for the backseat ride instead. Whatever your situation may be, the Sonic is ready and able to adapt to your needs for the perfect fit every time.
And since living in and driving around the city is certainly no picnic, the 2017 Sonic comes decked out with all the best standard safety features, from advanced airbags and seatbelts throughout, all the way up to preventative and responsive safety tech like Forward Collision Alert, Lane Departure Warning, a rear-vision camera, and even Park Assist for those tight parallel parking jobs. With all this safety built in standard, you can drive with easy confidence on the road, knowing your Sonic will be there if anything turns south.

Plus, thanks to its incredibly efficient and compact size, the Sonic can push an incredible 138 horsepower with its available 1.4L turbocharged engine and available 6-speed manual transmission, the combination of which promises to offer exceptional handling on the road in any condition. And for all that driving, you'll need some top-quality entertainment – no problem, thanks to the available Apple CarPlay and Android Auto accessible through the 7-inch diagonal touchscreen. Want to blast your own tunes? Try connecting through the 4G LTE Wi-Fi throughout the cabin and let your passengers set the playlist for the duration of your trip from up to seven devices at a time.
While a lot remains to be seen in terms of specifics around this highly-anticipated model, few compare in terms of sheer promise when it comes to the 2017 Chevy Sonic. If you're as excited as we are about this sporty compact to come, get in touch with your local Chevy dealer and ask for some information – it might just be the start of a beautiful relationship.
Previous Post 3 New Standard Features on the 2016 Chevy Equinox Next Post 2016 Chevy Equinox LT: Let Style Guide Your Ride