Chevrolet Blazer vs. Trailblazer: Two Peas In A Different Pod – Miami Lakes Automall Chevrolet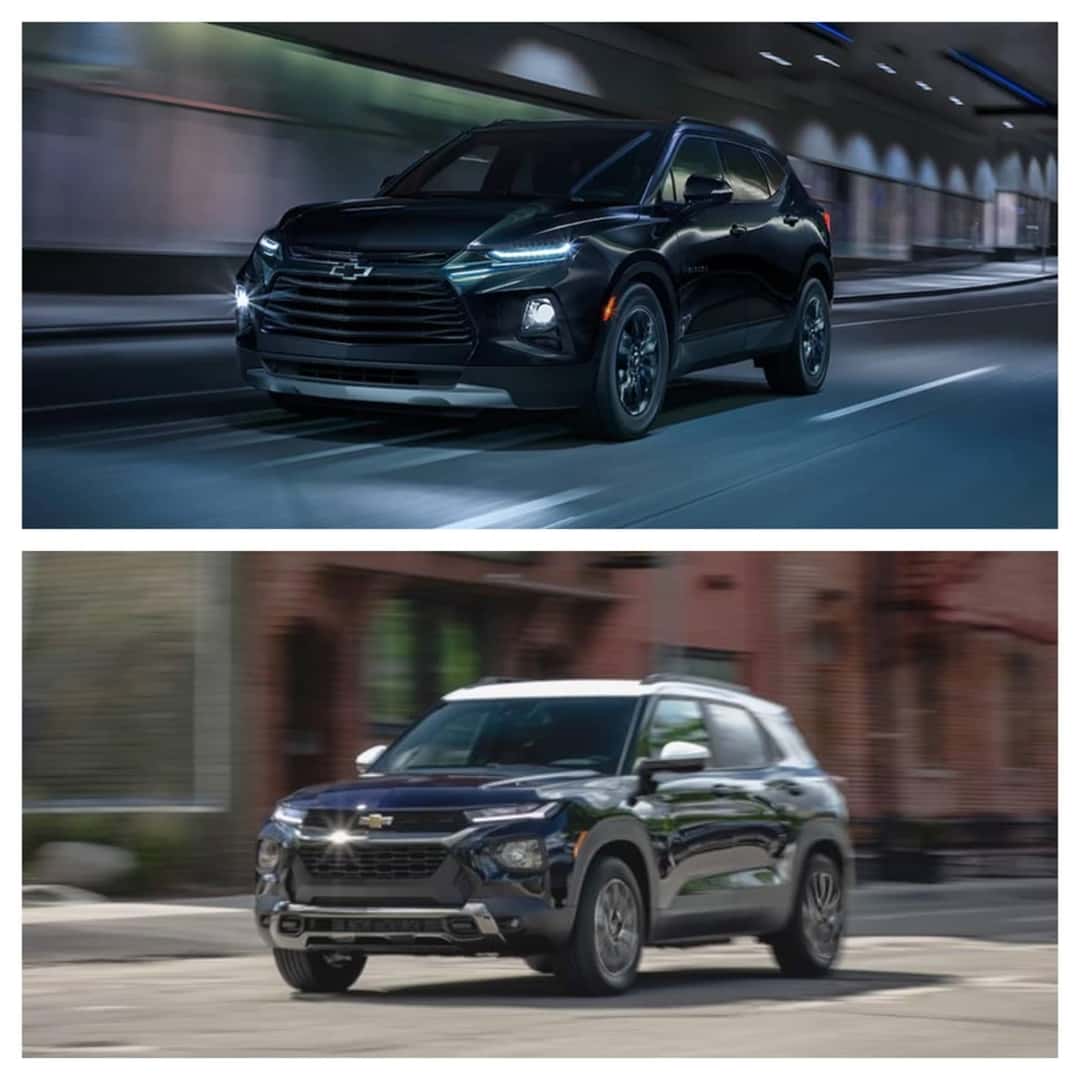 To begin with, the Chevrolet Blazer and Chevrolet Trailblazer were never seen as SUVs that necessarily mirror each other. On the other hand, they do have particular characteristics about them that are in fact comparable, such as with their athletic styling and driving mannerisms. Let's dig a little deeper as to what makes these bow-tie trucks tick.
Benefits of The 2021 Chevrolet Blazer Advantage
*_Interior Space_ *
It shouldn't come as a surprise that the larger Blazer has more cargo space. Behind the rear seats, this mid-size SUV has 30.5 cubic feet of capacity, and when the seats are folded down expands to 64.2 cubic feet. For the compact Trailblazer , its numbers measure up to 25.3 cubic feet, and then 54.4 with the seats down. Although the Trailblazer is more suitable for carrying longer items, the Blazer is more capable for general use.
*_Power and Acceleration_ *
Three engines are offered for the Blazer , such as the standard 193-horsepowered 2.5-liter I-4, a 227-horsepowered 2.0-liter turbo-four, and a 308-horsepowered 3.6-liter V-6. All of these motors are paired with a 9-speed automatic transmission with standard FWD, at the same time, AWD is available for the turbo-four as well as the V-6 engines.
According to testers at car site, MotorTrend, they estimated a 6.1-second 0-60-mph time from a V-6 AWD Blazer RS. Then, for the AWD turbocharged models, they measured a 7.5-second time, while getting a 9-second run from 2.5-liter models.
*_Fun Factor_ *
Although the Trailblazer has a few flamboyant options on its color palette, the Blazer still stands out. The mid-sizer has a more intense design and even has some Camaro-inspired sportiness. While it doesn't replace the real thing, it still has a bit of pep in its step. Its steering is also more stable and precise, and the chassis aids in providing a ride that is comfortable yet energetic.
Benefits Of The 2021 Chevrolet Trailblazer
*_Starting Price_ *
Regardless of all of the gifts and toys that a car has, the price is almost always the main deciding factor when it comes to its purchase. One advantage that the smaller Trailblazer has is that it's big in affordability. The starting price for Blazer is $30,000, (plus destination fee) and it only goes up from there, however, with a Trailblazer, you can get high-tier trim like AWD Trailblazer RS and Activ models for just under the Blazer 's starting price. Needless to say, if you're looking for the most bang for your buck, you'll find a friend with this compact.
*_Fuel Economy_ *
While the Blazer certainly takes the cake in terms of a powerful ride, one of the perks of the Trailblazer's powertrains is that they are better equipped for fuel-efficiency. Ironically, this crossover has a larger engine, however, its motors aren't as thirsty, as its FWD 1.3-liter turbocharger has an EPA rating of 29/33 mpg city/highway, while the Blazer's smaller 2.0-liter turbo drops off to 22/29 mpg.
*_Maneuverable Size_ *
The Trailblazer proves that less is more when trying to cut corners and sneak into tight parking spaces, in these instances, the SUV's tiny frame is a big convenience. Measuring at 173.5 inches long and a width of 71. inches, it's perfect for maneuvering in congested city streets. Meanwhile, the bulky Blazer expands at 191.4 inches long and 76.7 inches wide, which as previously mentioned, is only a win when considering interior space.
Who Runs Donuts Around Who?
Ultimately, choosing between the Blazer and Trailblazer all depends on the person's preference. Buyers of the Blazer get the value of more interior space, a mightier engine, and overall better maneuverability on the road. At the same time, the Trailblazer is significantly less expensive on all trims, is more fuel-efficient, and makes parking a breeze.
Miami Lakes Chevrolet
At Miami Lakes Automall , you don't have to choose between the two, because we sell both the 2021 Chevrolet Blazer and Trailblazer SUVs with a variety of different trims and prices. Those who are interested in these SUVs or any of our other Chevrolet models can simply view our online new car inventory and chat with a representative for further assistance.
Photo Source/Copyright: Chevrolet
Previous Post The Chevy Corvette Commands Authority With High Market Share During Q1 2021 Next Post Chevrolet Reveals Three Cool Colors For The 2022 Corvette C8