All The Latest On The 2022 Chevrolet Bolt EV – Miami Lakes Automall Chevrolet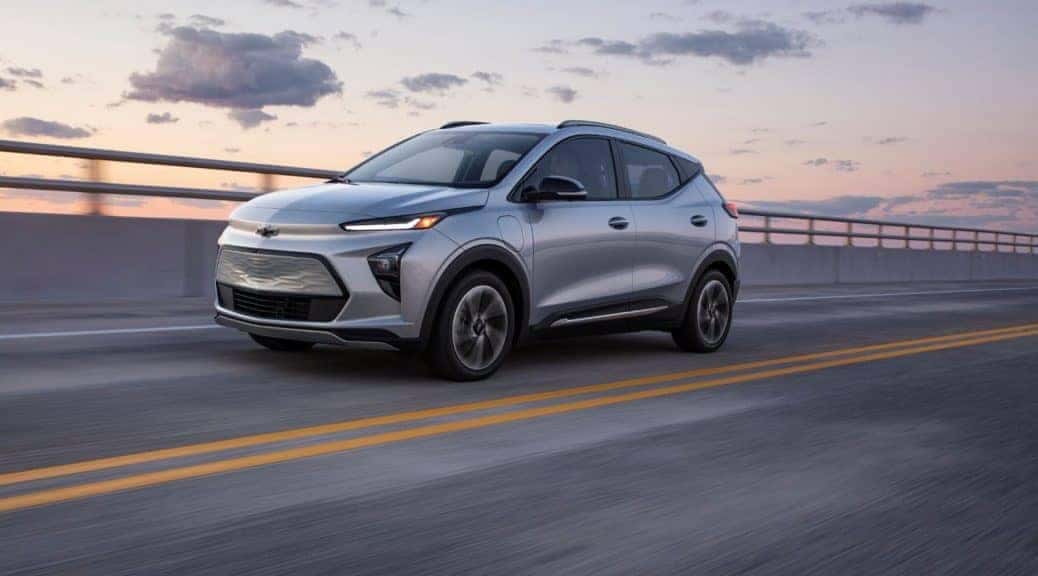 It's no secret that the move toward electric cars is fast approaching…no actually it's already here. Many big-time manufacturers like Tesla, Mercedes-Benz, Nissan have made great strides in the EV world.
Chevrolet is just one of many automakers to compete in this new game, but one shouldn't assume that it's new to this electrified car making. The Chevrolet Bolt EV first made its debut in 2016 and since then it's taken the EV market by storm, winning various awards and getting significant recognition from car magazines and blogs. It's one of the most successful electric models that an American manufacturer has ever produced, and with its upcoming 2022 model is fast-approaching, this carmaker shows no signs of slowing down. Here's All The Latest On The 2022 Chevrolet Bolt EV.
Exterior
Though the design of the Bolt EV looks cute and cuddly, the 2022 model will have just a bit more edge and intensity in its design. Some changes that will be made to the style include the adding of a pair of LED headlights to the front, to help lead the car into the twenty-first century. This EV hatchback will use the same architecture as its newborn sibling, the Bolt EUV.
Interior
The interior has also been completely revamped. Opposed to its predecessor, the revisions are more conspicuous, and the automaker has improved the quality of the materials. Drivers will appreciate the 10.2-inch touchscreen infotainment system and an 8-inch digital instrument cluster. There is also a new electronic shifter that doesn't take up as much space as in the previous one. This new gadget teams up with pull toggles and space-age push-button controls.
Both drivers and passengers will have more than enough room to work with and will be quite comfortable on long road trips. Legroom in the backseat measures at 36.0 inches, and the company says that they're reconstructed the seats to be more supportive and comfortable. Moreover, there is 16.6 cubic feet of cargo space when the seats are up, but when they are folded, this number increases to 57 cubic feet.
Technology
For the newest Bolt, Chevrolet is considering replacing its old LT and Premier models with two trims dubbed 1LT and 2LT. This doesn't mean that there will be a loss of any features, nor the addition of them, as the company is only seeking to rename the trims. As one should expect, the infotainment system will have standard Apple CarPlay and Android Auto. You'll also find wireless charging as a great comfort feature.
Safety-oriented technologies encompass those like adaptive cruise control, automatic front emergency braking, automatic high beams, lane-keeping assist, and 360-degree camera system as available features. The taller Bolt EUV involves Super Cruise, which applies semi-autonomous technology that allows its driver to take his or her hand from the steering wheel during long periods of highway driving.
Performance
Regarding the car's performance, you won't see a difference in this 2022 compact. As before, the car will be powered by a single motor that is joined with a 66-kWh battery pack, which enables the vehicle to push out 200 horsepower and 266 lb-ft of torque. This is just the right amount of power that one would need in a car of this size, especially since it's more equipped for urban cities. Additionally, the one-pedal driving mode will prove to be helpful when driving in heavy traffic.
Range And Charging
When it's time to go car shopping, there are many potential buyers that are concerned with power and speed capabilities, which isn't necessarily a bad thing, but when it comes to an electric vehicle, the main priority should be mile range. As previously mentioned, we'll be getting the same motor, therefore, the mile range will also stay the same.
The automaker says that the driving range of the 2022 Bolt is 259 miles, but one should know that real-world tests haven't been performed yet, so this number is subject to change. The 5-door EV includes a 240-volt charging unit for you to use at home, while Level 2 charging and DC charging that gives the car 100 miles of power in 30 minutes.
Price
Each and every year, electric cars are becoming more affordable, and the 2022 Bolt EV is no different. The starting price for this hatchback is $31,995, (plus destination fee), which is $5,000's less than last year's model. Essentially, you're getting an upgrade without having to pay the upgraded price.
Miami Lakes Chevrolet
The production of the 2022 Bolt EV will begin by late spring and should be available to purchase this summer. When the time comes to buy your spanking new eco-friendly Chevrolet vehicle, be sure to do it at Miami Lakes Automall , we sell a wide range of models from the automaker and at a variety of different prices.
Those who are interested in what we have to offer can simply view our online new car inventory and chat with a representative for further assistance.
Photo Source/Copyright: Chevrolet
Previous Post Chevrolet Proves That Its Design For Its Silverado 1500 Has True Buying Power Next Post GM's CEO Raves About The Upcoming Chevrolet Silverado EV