2022 Chevrolet Suburban and Tahoe to Receive New Changes – Miami Lakes Automall Chevrolet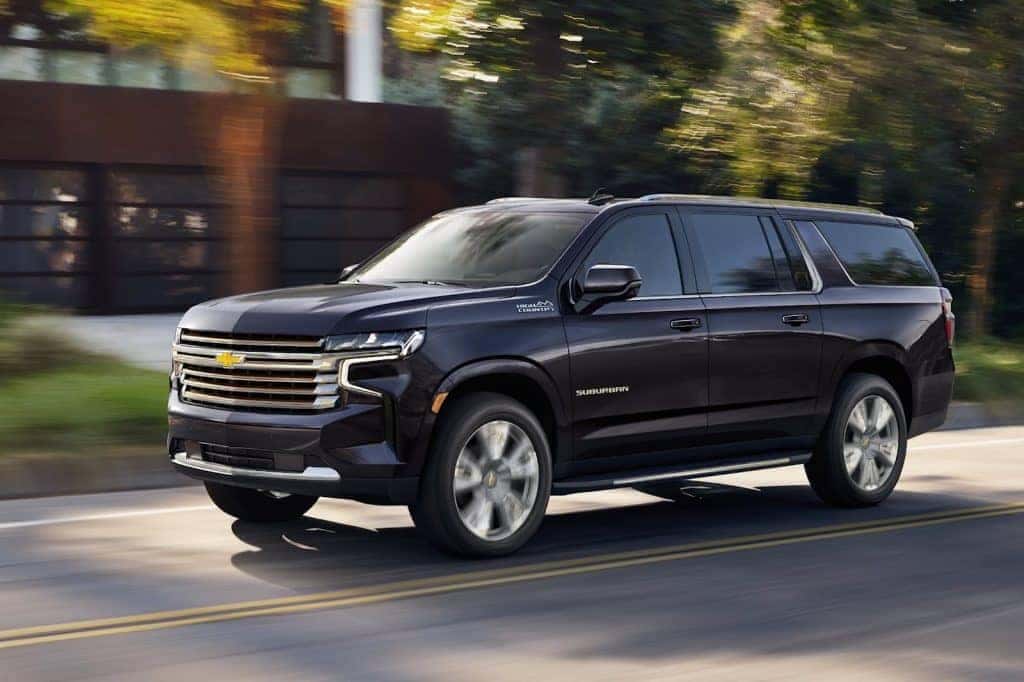 Chevrolet will be making some new changes and improvements to the 2022 Chevy Suburban and Tahoe . The two family-sized SUVs have been the recipient of a series of improvements over the years including new trims and performance packages . Now it seems Chevrolet will be making some additional improvements for the two large SUVs for the new 2022 model year. These improvements and changes will consist of new features which will improve the overall capability of the 2022 Suburban and Tahoe. We'll dive in and see exactly what Chevrolet will be adding to the family-sized SUVs.
2022 Chevrolet Suburban and Tahoe See Improvements
For the new 2022 model year, Chevrolet will be making several changes and improvements to the 2022 Chevy Suburban and Tahoe. Both family-sized SUVs have seen minor improvements over the years, but now Chevy will be adding some additional features. The first of these features will be one that was removed due to the ongoing chip shortage. Thankfully, Chevrolet has been able to work through the shortage. For the 2022 model year, Chevy will be bringing back the automatic engine stop/start feature for many of its vehicles including the Suburban, Tahoe, and GMC Yukon. Vehicles produced starting December 13th and on will come equipped with the feature. The automatic stop/start feature switches the vehicle off when it comes to a stop, then it restarts the engine when the driver takes their foot off the brake again. This helps drastically reduce fuel consumption and emissions.
The other change coming to the 2022 Chevy lineup will be a new 10-speed automatic transmission. This transmission will be fitted to either the 5.3L V8 or the 6.2L V8 gas engine. It will be paired with Chevrolet's controlled overdrive as well as a traction select system that offers towing and haul modes. It should be noted that those vehicles equipped with the Duramax 3.0L turbodiesel engine will still use the old GM 10-speed transmission. About the new transmission, a GM spokesperson said, "the new gearbox allows our manufacturing and dealer teams to more easily align the specific calibration needed for the transmission and can enable OTA updates in the future."
GM will be moving toward over-the-air (OTA) updates with their new Vehicle Intelligence Platform. Many automakers have been working to provide this service for consumers as it allows auto companies to provide updates that fix bugs and improve performance. It's good to see Chevy adding features and improving aspects like its gearbox. We're excited for the new 2022 Suburban and Tahoe and can't wait to see what else Chevy has in store.
Come Test Drive a Brand-New Chevy at Miami Lakes Automall!
Are you excited about getting a new Chevy? So are we! At * Miami Lakes Automall *, we're more than excited to help our customers find what they're looking for. Check out our new vehicle inventory or browse our quality pre-owned vehicles . We offer suggestions like auto financing to help make paying for a vehicle easier.
If you're in need of service, schedule an online service appointment with our expert technicians. Allow our professional techs to get started on all repairs or maintenance work. Stop by today and see what we can do for you right now.
Photo Credit: Chevrolet
Previous Post Chevrolet to Make Changes to 2022 Silverado Engine Next Post Chevy Against Chevy! The 2022 Silverado vs. The 2022 Colorado