2021 Chevrolet Tahoe Pursuit Ready To Join the Police Force – Miami Lakes Automall Chevrolet 2021 Chevrolet Tahoe Pursuit Ready To Join the Police Force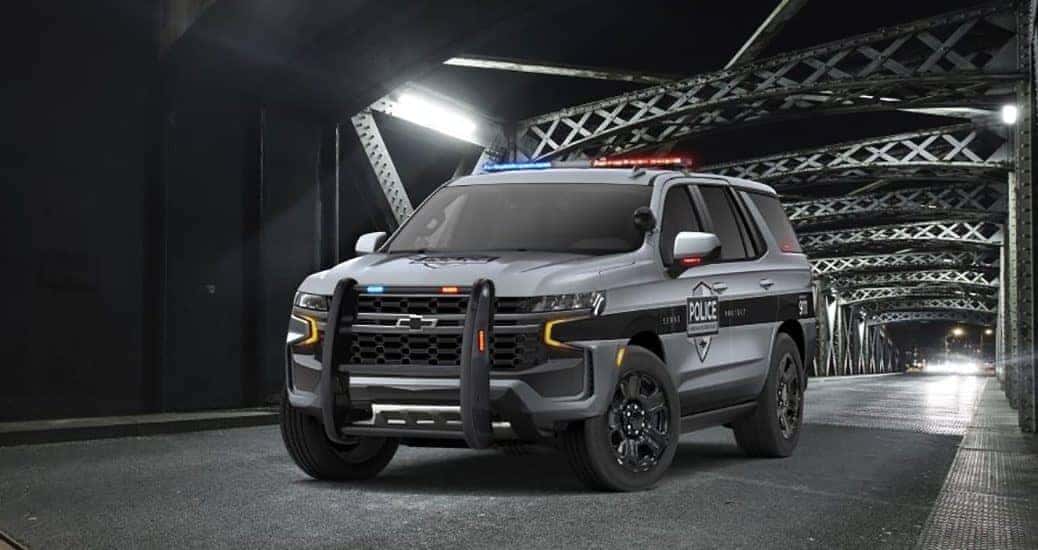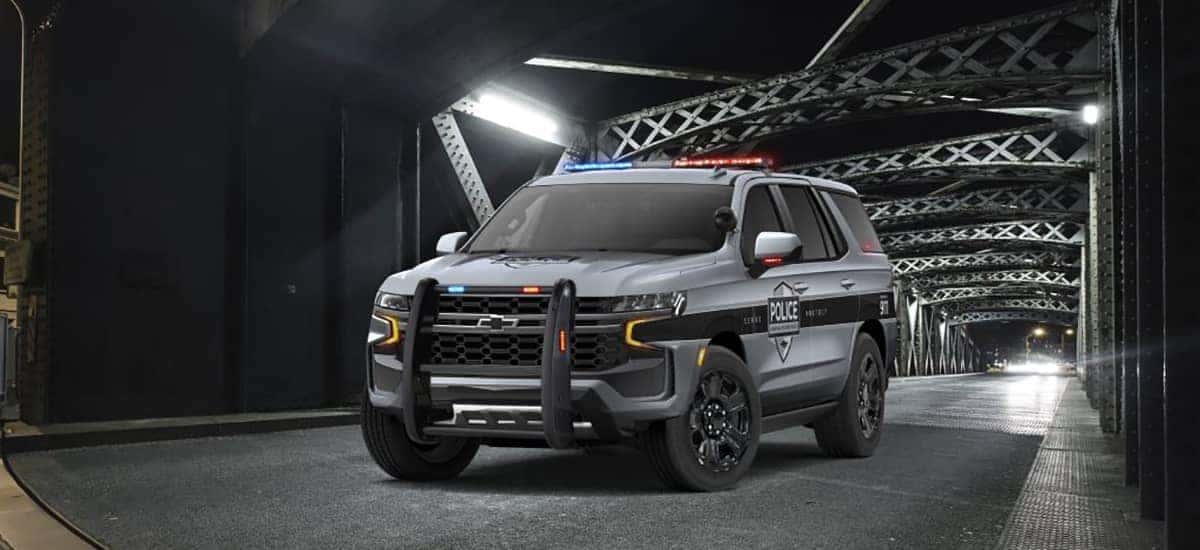 Photo Credit: General Motors
The 2021 Chevrolet Tahoe has been selected to be one of the few vehicles employed by police officers in a special all-new Police Pursuit Vehicle (PPV) and Special Service Vehicle (SSV) set to debut in 2020. Chevrolet has been able to provide law enforcement vehicles and the next-generation Tahoe is available in two law enforcement packages. The Tahoe Police Pursuit Vehicle was made for high speeds and dynamic capability with additional comfort needed from an everyday patrol vehicle. The Special Service Vehicle differs as it is more focused on off-road and towing abilities and high-speed operations are not needed.
"Tahoe is the most aspirational vehicle in the law enforcement industry. By listening to the needs of officers from around the country, we have built the best Tahoe ever," said Ed Peper, U.S. vice president, GM Fleet.
New Tahoe Pursuit Upgrades
The 2021 Chevrolet Tahoe SUV has undergone an all-new design. A big change comes in the form of its now class-leading interior space. The new Tahoe police-specific front seats provide additional hip room, ideal for officers' utility belts to fit much more comfortably. 2021 Tahoe police vehicles offer 70.3 cubic feet of cargo volume behind the second-row seat, which is 18.3 cubic feet more than the next largest pursuit-rated SUV competitor. Other brands have their own Pursuit vehicles, but they won't provide as much space as the Tahoe. Rear door openings are now 13 percent (3.5 inches) wider than the previous generation to ease the loading of any handcuffed passengers.
Each of these 2021 Tahoe special editions, the PPV and SSV, have a 5.3-Liter V8 engine under the hood. The powertrain is paired to a 10-speed automatic transmission. To meet the most demanding needs of law enforcement, the PPV engine borrows high-performance rocker covers taken from the Chevrolet Camaro ZL1 LT4 engine. These rocker covers improve crankcase ventilation, allowing the 2021 Tahoe to handle high lateral conditions even better than its predecessor. Engine oil and transmission fluid are cooled by dedicated, heavy-duty cooling systems specific for law enforcement applications.
More Details on the 2021 Chevrolet Tahoe Pursuit
In order to be able to handle the amount of new Chevrolet Pursuit vehicles, Chevrolet partnered with Bridgestone to create a Pursuit-rated all-season tire. Each Firestone Firehawk Pursuit tire is mounted to a 20-inch steel wheel. These wheels and tires were tested by Chevrolet at numerous race tracks and play a role in the PPV's improved stopping distance, which is tested from a speed of 62 mph to 0 mph on dry surfaces, this is actually better by 11 feet shorter than the 2020 model.
Further advances that help drivers of the Tahoe Pursuit include its all-new independent rear suspension, a longer wheelbase that helps handling and ride smoothness for all civilian and law enforcement drives, particularly in the event of off-road use on uneven terrain and unpaved surfaces. The exterior design is based on the new Tahoe Z71 trim, which features a rugged front grille, higher approach angle and front skid plate. Nice features like standard keyless entry and push-to-start ignition are great to aid in speeding up the process to get back on the road. The Tahoe PPV is offered in two-wheel drive and four-wheel drive configurations, the SSV is exclusively four-wheel-drive. This is easily the best Chevrolet Tahoe Pursuit yet.
Original of the Tahoe
The first-ever Tahoe used by law enforcement was over 23 years ago in 1997, when the first Pursuit-Rated Package was introduced. General Motors organized an official Law Enforcement Product Council three years after its inception to learn directly from officers how they can better perform their duties in a Pursuit vehicle. The council is composed of ranking law enforcement officers and civilian fleet managers. The 2021 Tahoe Police Pursuit Vehicle and the Special Service Vehicle will be assembled at General Motors' Arlington Assembly in Texas with globally-sourced parts in late 2020 and ready to ship in the beginning of 2021.
New Chevrolet Vehicles Await You
Buying or leasing is possible with help from our professional sales staff. Check out the all-new 2020 Chevrolet Tahoe and we can go over any of the questions you have before you make any selection. Check out our new vehicle inventory ready to go today at Miami Lakes Automall . We're excited to help our customers with any buying, leasing or selling needs today.
We also carry over 400 pre-owned vehicles that you might not believe are truly pre-owned. Miami Lakes Automall has everything you'd want in a dealership. We look forward to providing you that wonderful car buying experience you're hoping for. Whether you buy online or in person, we take the proper steps to ensure each sale is doing safely and efficiently. Check with us today!
Previous Post The Chevrolet Colorado And It's ZR2 Bison Package Is A Match Made In Off-Roading Heaven Next Post Is Chevy's Supercharger its Off-Road Pickup Contender?