2017 Chevy Hybrid and EV Models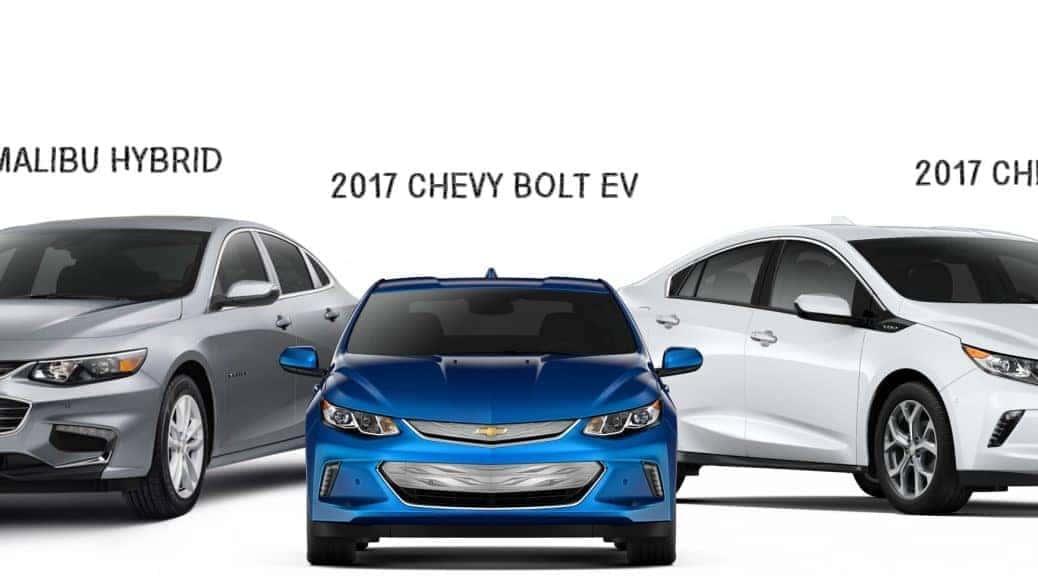 Chevy has joined the evolving world of electric and hybrid vehicles, and they're making a lot of noise with their awesome line up of hybrids, PHEVs, and EVs. Already out for the 2017 model year is the 2017 Chevy Volt, 2017 Chevy Malibu Hybrid, and soon-to-be-released, the all-electric Chevy Bolt EV. Check 'em out.
2017 Chevy Bolt EV
For those not in the know, "EV" stands for electric vehicle, and the all-new 2017 Chevy Bolt is an all-electric zero emissions vehicle with quite the range. Chevy shocked everyone when they released specs on how far the Bolt can go. On a fully charged battery, the Bolt has a range of 238 miles, which is 25 more miles than the Tesla Model 3 is expected to get (when it is released). Additionally, the Bolt can charge about 25 miles for every hour of charging when using a 240-volt charger (the fast option).
The Chevy Bolt EV comes with a new type of regenerative braking and the all new one-pedal driving so you don't lose energy when stopping or slowing down. A 10.2-inch diagonal center display screen and 8-inch diagonal driver cluster come standard on both trims. Many safety options are also available, such as forward collision alert, blind zone alert, and OnStar Automatic Crash Response.
The Bolt's design is what you would think of when you think "green" vehicle. Its exterior looks aerodynamic and smooth, almost like a large bullet, with a seating capacity for five passengers. It comes in two trims, with the Premier getting things like Surround Vision and leather trimming.
The 2017 Chevy Bolt hasn't been released yet, but is expected to be at Miami Lakes Automall in late-2016. The Chevy Bolt will have a starting MSRP of $37,495 and be eligible for a $7,500 federal tax credit.
The Chevy Volt is a plug-in electric hybrid (PHEV). That means it makes use of both gasoline and electricity, which lends to a better driving range than a standard hybrid vehicle. On battery power alone, drivers can travel 53 miles. With the battery and gas engine working together, the car can go a total of 420 miles.
Like many hybrids and EVs on the market, the Chevy Volt has its own regeneration technique by absorbing the momentum of the vehicle as it slows down to recharge the battery. The Volt is also available in two trims, but they share a lot of the same traits. As usual, the upper trim, the Volt Premier, has extra convenience features and a premium sound system. Standard for both Volt trims are features like automatic climate control and an 8-inch touch screen.
The 2017 Chevy Volt is available at Miami Lakes Automall and you can view our 2017 Chevy Volt inventory here . The 2017 Chevy Volt starts at $33,220 and it is eligible for the full $7,500 federal tax credit.
It's true, the Chevy Malibu was not originally a hybrid, but it does have a hybrid trim, the Malibu Hybrid. Unlike an EV or PHEV, a hybrid vehicle does not have to be plugged-in to recharge the battery. The Chevy Malibu Hybrid is powered by a 1.8-liter hybrid engine, two integrated electric motors and a 1.5 kWh lithium-ion battery. The 2017 Chevy Malibu Hybrid has fuel economy of 49 MPG in the city and 45 MPG on the highway. Not bad, especially with all the stopping drivers need to do when in on city streets versus the highway.
Because the Malibu already has many other non-hybrid trims, the Malibu Hybrid has only one trim to its name. So of course, it comes with some of the better features standard, as well as options not available on other Malibu trims. Dual-zone automatic climate control, a rearview camera, and Chevrolet MyLink Radio with a 7-inch touch screen are a nice start.
The 2017 Chevy Malibu Hybrid has a starting MSRP of $27,875. You can search our 2017 Chevy Malibu inventory here .
* The Chevy Spark is also in production for the 2017 model-year, but no actual specs on that yet. Regardless, what's currently in showrooms is quite affordable with many perks. *
Previous Post Dolphins and Uber Pair Up & Offer New Tailgating Experience Next Post Basics of EVs, PHEVs and Hybrid Vehicles + Green Chevy Models