Chevy Bolt EV Exceeds Range of Tesla Model 3 by 25 miles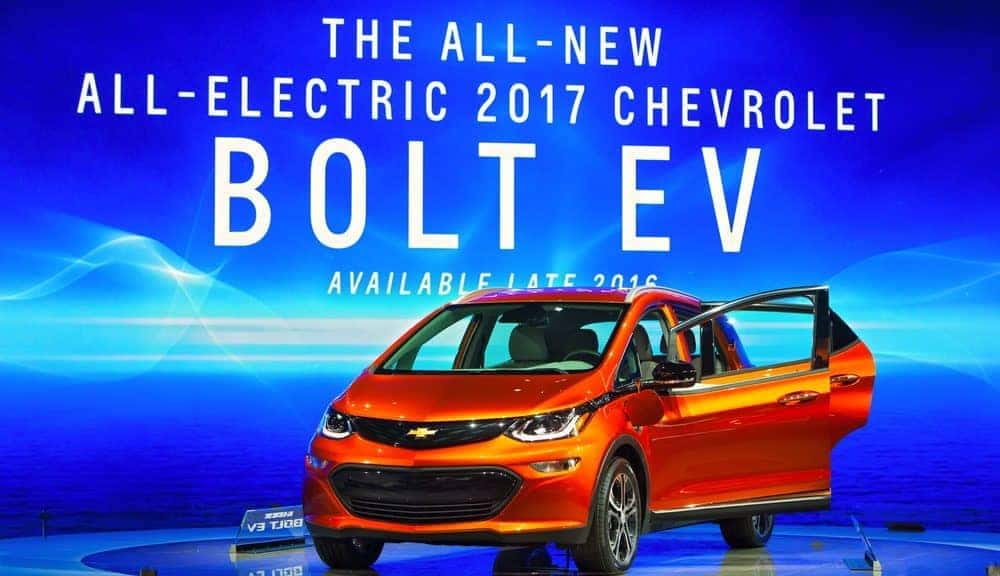 Electric cars are becoming increasingly popular each year and one American automaker isn't shying away from the new technology. Though Chevy is well-known for their powerful trucks and performance cars, they are embracing electric vehicles in a powerful way. Chevy already has a few hybrids under its belt, but in late 2016, Chevy will release its all-new 2017 Chevy Bolt, a revolutionary electric vehicle (EV). The 2017 Chevy Bolt will be one of the most affordable EVs and it will offer the best all-electric range of 238 miles, beating out competitors like Tesla.
2017 Chevy Bolt
The 2017 Chevy Bolt is a mix of new and standard technology features. It is equipped with a 200-horsepower electric motor, a nickel-rich lithium ion battery and the Chevy Bolt has a sleek style inside and out. Car and Driver has predicted that once the Bolt is released, it will jump to the number one spot on their list of electric vehicles.
238-Mile Battery Range
As mentioned earlier, the Chevy Bolt has an EPA-certified range of 238 miles when the 60 kWh lithium-ion battery is fully charged. That means that the Chevy Bolt's electric distance is better than the 215-mile electric range that Tesla models and the future Tesla Model 3 offer.
With a 240-volt outlet, the battery charges 25 miles every hour, and it is estimated to be fully charged in 9 hours. This may seem like a long time, but if you plug the car in after work and unplug before work the next day it will be fully charged many days of use — impressive!
One-Pedal Regenerative Braking
In addition to affordability and increased driving range due to the Bolt's lithium ion battery, the Bolt will also be equipped with one-pedal regenerative braking. Through a combination of increased regenerative deceleration and software controls, one pedal driving enables the vehicle to slow down and come to a complete stop without using the brake pedal in certain driving conditions. Engineers estimate that this system will increase the Bolt's driving range by up to five percent.
Tons of Tech
Just because the Bolt is affordable, doesn't mean Chevy skimped on the technology either. The Bolt comes standard with a 10.2-inch center display screen and a 8-inch instrument cluster screen, both of which display battery levels, current range, and more. The 10.2-inch center display also has the audio control settings, including Apple Play and Android Auto for music and phone compatibility for google maps navigation and more. Additionally, a 4G LTE WiFi hotspot is available which is great for those who stream a lot of music, but don't want to use data.
Safety Standards
Chevy is dedicated to the safety of their drivers and they include standard upscale safety features in all of their vehicles, including the Bolt. Safety features like 10 airbags, a high-strength steel frame, automatic crash response and OnStar advisors come standard. Preventative safety technology systems such as forward pedestrian alert, forward collision alert, side blind zone alert, and rear cross traffic alert are available add-ons.
Stylish Ride
The Bolt's exterior style is compact and modern, and the interior is spacious and allows for five passengers to sit comfortably. The exterior is made from lightweight aluminum and the aerodynamic body style allows for an incredibly smooth and good looking ride. The interior is dedicated to providing as much space as possible for passengers, cargo, and more. The front console is designed to have many purposes with the large cup holder, huge bins for storage, and sliding armrests.
Interested in the all-new 2017 Chevy Bolt?
* Miami Lakes Automall will be getting the 2017 Chevrolet Bolt on the lot in late 2016. In the meantime, if you are looking for fuel-efficient vehicles, we have a couple hybrids, like the Chevy Volt, Chevy Spark, Kia Optima, Kia Soul and many more, available now! You can search the Miami Lakes Automall inventory online here . *
Previous Post New 2017 Chevy Special-Edition Models Next Post Need a 9-passenger SUV? Try the Chevy Tahoe or Suburban