WWE Star Professes Love for Ram Trucks
It seems like every day we're learning about a celebrity who happens to be a huge Ram enthusiast. This time around, a legendary WWE wrestler has gone off on his love for the brand, and he even shared some pictures of his modified truck.
_As always, you probably won't find a similar vehicle on a Ram truck lot in Miami . However, the project could inspire you to modify your own pickup! _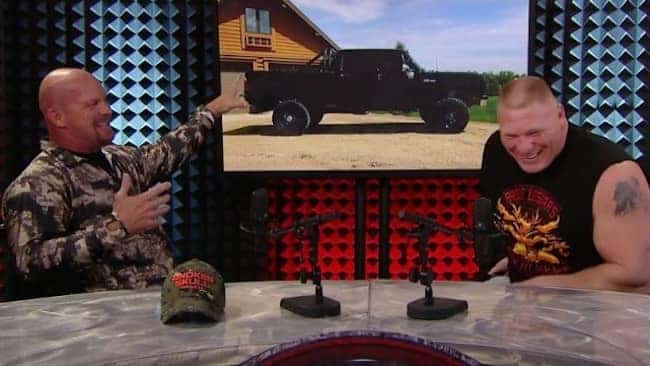 Wrestling superstars Brock Lesnar and Stone Cold Steve Austin sat down together in late October, with the duo discussing several of their favorite topics: wrestling, hunting, whiskey, and (of course) trucks.
As Kyle Johnson of TheNewsWheel.com passes along, Lesnar declared himself a "Dodge guy," and when a picture of his pickup truck flashed up on screen, the big man "beamed and laughed with pride." Per Johnson, the conversation went something like this:
Lesnar: I'm a Dodge guy. I always have been, and I always will be. I'm a Mopar fan. I've got Mopars myself. I've got a '68 Road Runner, my dad's got a 1969 Super Bee, I'm driving a 2014 Dodge Ram three-quarter-ton. But it's not…I don't have it all geeked up.
Stone Cold (talking about picture of truck): Tell me 'bout this guy right here!
Lesnar: That's my baby, I left that one for last.
Stone Cold: Brock sent me this on a text message, and he don't ever brag about what he's got, but I got a Dodge Ram Charger I shared with him.
Lesnar: That's…that is my million-dollar project. I rescued that truck out of South Dakota, it made it all the way to Minnesota, I had a guy work on it…I had this vision in mind of what I wanted it to look like when it was done. I converted that truck, it was a 360 (cubic-inch) gas (presumably the Magnum V8), and I put a 5.9-liter Cummins in it. I won't bore you with the rest of it, but it's a 1978 Dodge Power Wagon, it's got a brand new interior in it, and that's my baby girl.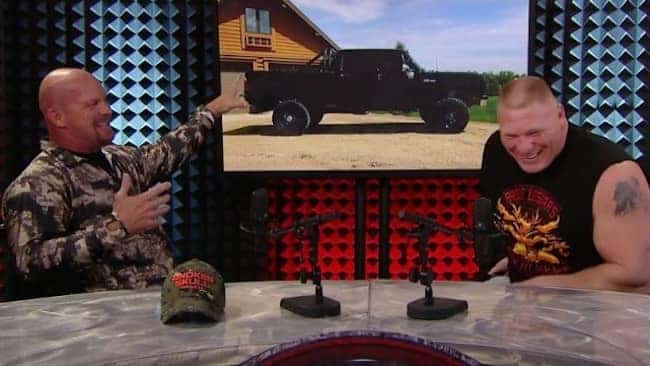 Johnson surmises that the "baby girl" must be a Dodge Ram 250 from at least 1993, featuring a "Quad Cab-modified Power Wagon cab spliced in." Lesnar did certainly say that his vehicle was a 2014 Dodge Ram, but we wouldn't blame the wrestler for being a bit confused. There's a good chance he got the vehicle modified recently, and it probably shares (if not exceeds) the capabilities of the 2014 model.
The writer also wonders if this could lead to a sponsorship deal between the truck brand and Lesnar. After all, Ford did recently sign The Rock as a main spokesperson, so what better way to combat a rival then signing another iconic athlete? Personally, I'd be a big fan of a commercial that compares the durability of a Ram and the durability of Brock Lesnar.
You can listen to more of the conversation below (warning: there's some mature language).
https://www.youtube.com/watch?v=EpnW5qzU4Bw
Previous Post Ram 2500 Modified for Russia and Siberia Climate Next Post The Ram 2500's Four Most Impressive Attributes