The Ram 2500's Four Most Impressive Attributes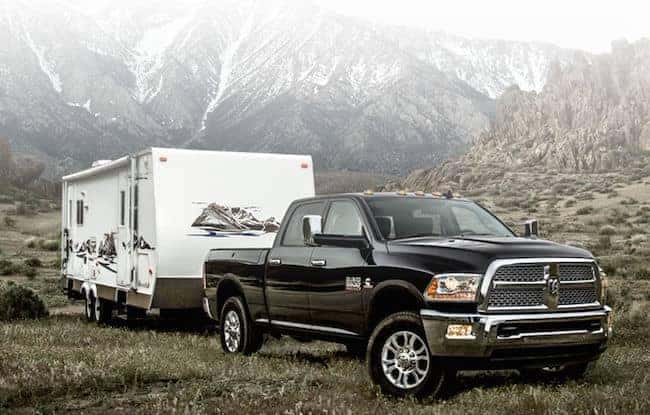 About a month ago, we focused on our favorite attributes of the upcoming 2016 Ram 1500 . Now we're going to shift our focus to that pickup's bigger brother: the 2500.
Similar to the 1500, the 2500 is a former award winner, and previous models proved to be both successful and impressive. Based on what we know about the 2016 pickup, we can only expect more of the same this time around.
_Before you go seeking a Dodge Ram in Miami , check out our favorite qualities of the 2500 pickup! _
Capabilities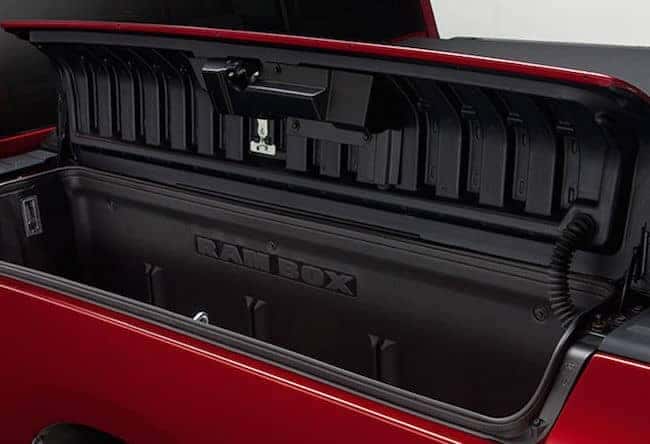 The Ram 2500 is capable of doing so much more than your average pickup truck. When it comes to the tasks that your average pickup truck CAN do, well, the Ram 2500 can do them so much better. Why, you ask? Let's take a look!
For example, the truck offers incredible hauling and payload specs, including a best-in-class 17,980 maximum towing capacity. When you combine the 6.7-liter Cummins Turbo Diesel engine (which we'll elaborate on later) with the exclusive six-speed manual transmission, you can expect 660 lbs-ft of torque, which will only help contribute to the truck's hauling abilities (there's also the standard 5.7-liter Hemi VVT V8 engine and the 6.4-liter Hemi V8 engine). Furthermore, the Electronic Range Select mode will adapt to any driving conditions, meaning your 2500 is ready no matter where you may be.
The entire towing and hauling process is made significantly easier by the clever engineering choices. Customers can opt for the factory-installed rear axle cross member (with the opportunity to also add a fifth wheel or gooseneck hitch), and they can also take advantage of the mounts that have been "integrated into the production box floor," as well as the fifth wheel pucks, gooseneck bolt plates, and gooseneck center castings. These exclusive amenities aren't available on your standard, everyday pickup truck. This is just a further testament that the engineers went above and beyond with this year's 2500.
Styling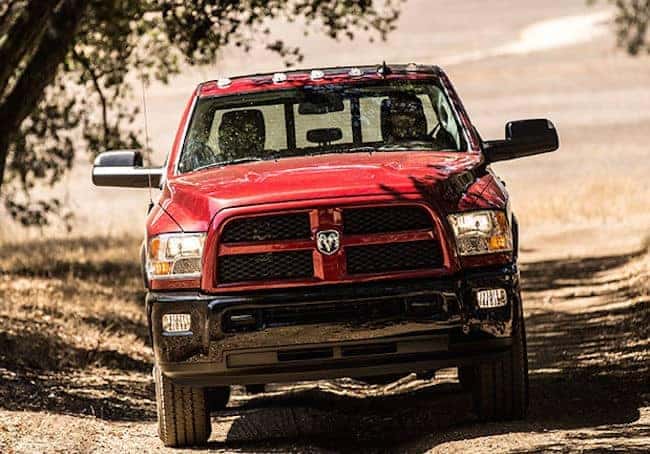 The exterior provides a number of features that will make your driving experience significantly easier. It starts with the RamBox Cargo Management System, which allows you to sort your cargo while also keeping it secure and safe. You'll also appreciate the cargo bed's divider, the bed rails with four adjustable tie-down cleats, and a new lighting system for the box. This entire unit is an ideal choice for those who rely on their 2500's bed for bringing equipment or materials to work.
The exterior also features a ParkView Rear Back-Up Camera, allowing you to monitor everything that's happening behind your large truck. This is an essential feature, especially for first-time pickup drivers. Additional amenities include box rail caps (makes loading and unloading cargo easy), tailgate lift assist (a tension-releasing torsion bar which is intended to prevent your tailgate from getting abused), power side exterior mirrors (provides a more comprehensive view of the road), and the Front Park Assist feature (alerts driver when they get too close to another vehicle). As you can see, these features don't only help the truck look nice… but they all add to the entire driving experience. Speaking of safety features, the Ram is also composed of a 50 KSI steel frame, making it a safe choice for families.
Head to the inside, and you'll find the same amount of impressive features. You'll immediately be attracted to the UConnect system with an 8.4-inch full-color touchscreen. The unit allows you to access SiriusXM Satellite Radio, a navigation system, available apps, and many of your phone's basic capabilities. It also provides a WiFi hotspot, meaning your passengers can take their work with them. Besides the previously mentioned Rear Back-Up Camera, drivers can also use the exclusive cargo-view camera, which allows you to keep an eye on all of your goods.
The driver and passenger can also appreciate the available work-grade vinyl seats, which won't be damaged due to spills or other calamities. That previously mentioned towing capacity can be manipulated with the trailer brake controller, which allows you to manually operate the trailer's electronic brakes. Finally, the built-in under-the-seat storage allows you to fit even more cargo into the already roomy truck.
Phew, you get it all? No other truck on the market (besides the 3500) offers this variety of exterior and interior features. The 2500 is truly in a class of its own.
Power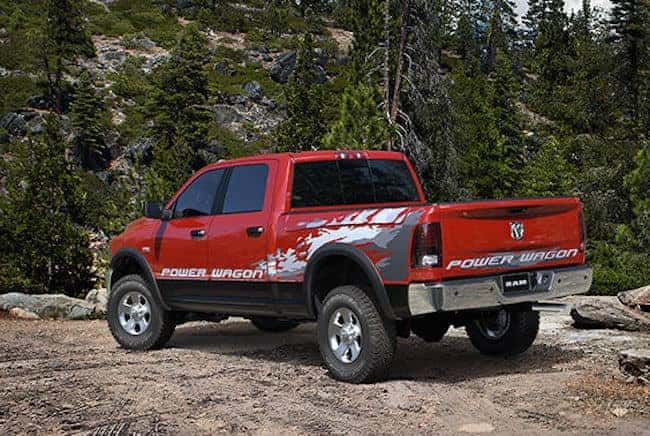 The previously mentioned 6.7-liter Cummins Turbo Diesel I6 engines come with an exclusive smart exhaust engine braking system, which helps maintain the vehicle's control as it's traveling down a hill. The unit is ultimately supposed to produce 350 to 410 horsepower, although specific specs have yet to be announced. The other engine options include the 6.4-liter V8 Mid Duty HEMI MDS and the 6.7-liter I6 Cummins Turbo Diesel engine.
To put it over the top, new diesel-powered trucks are accompanied by a five-year/100,000-mile Diesel Powertrain Limited Warranty, while the gas-powered 2500s come with a five-year/60,000-mile Powertrain Limited Warranty. You won't only be getting a reliable engine, but you'll also receive some assurance that your pickup's unit will last you for some time.
Award Winner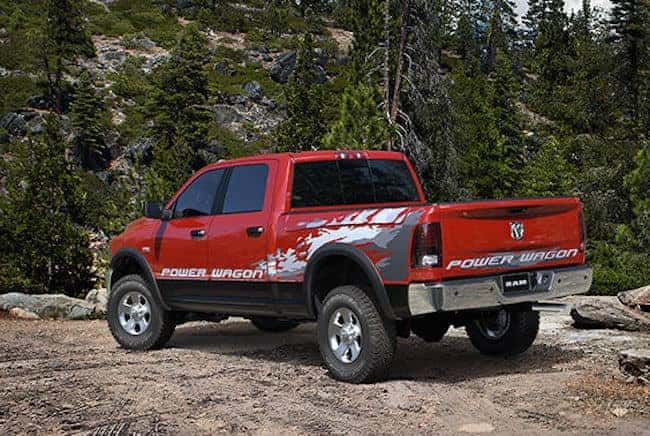 2015 was a big year for the 2500, as the pickup won a number of awards from some very respected organizations. Based on what we know so far, we should probably expect more of the same for the 2016 model.
Among the biggest accolades for the pickup was being named the 2015 Heavy Duty Truck of Texas for the second year in a row. The award, handed out by the Texas Auto Writers Association, evaluates a variety of pickups based off "capability, design, utility, value, and technology." There's no denying that the 2500 received high marks for all of those attributes. Furthermore, the organization also named the 2500 Power Wagon the Off-Road Truck of Texas.
"The performance and quality of the Ram products at the Rodeo were impressive, with powertrain and technology innovations that are tough to beat," said TAWA president Michael Marrs (via Ram's website).
Of course, we also have to mention the price. The 2016 2500 is expected to come in around $31,585. The truck is expected to be released in the coming months.
Previous Post WWE Star Professes Love for Ram Trucks Next Post Why the 2016 Ram 1500 Can be Relied on Year Round