There is a Hurricane Brewing for the Ram 1500 TRX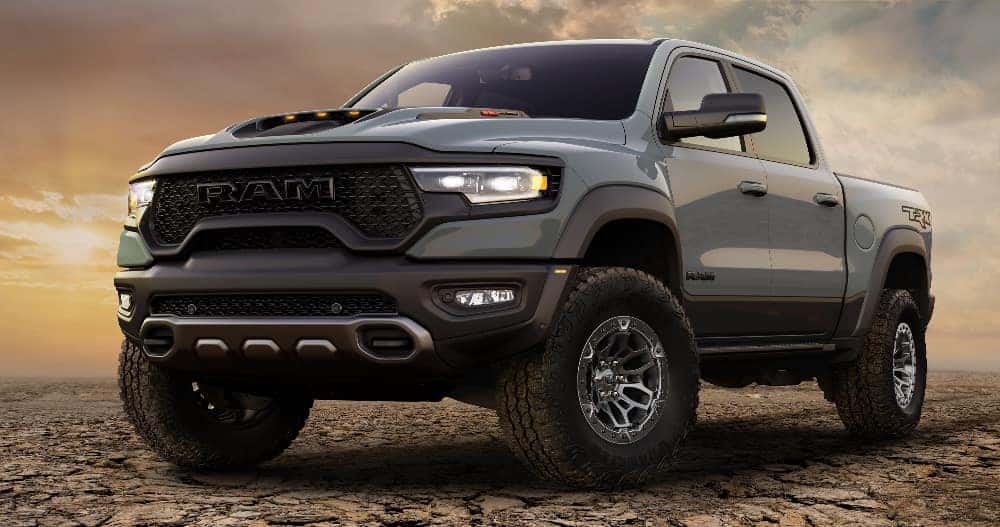 Photo Source: Ram
Automotive enthusiasts worldwide diligently scour official websites, often uncovering valuable information. Such is the case with Ram and its upcoming facelifted 1500 in the 2025 model year, as a YouTuber known as Butter Da Great stumbled upon an intriguing detail on the brand's website. The tidbit of information confirms the introduction of the high-output twin-turbo Hurricane inline-six engine. 
The 2024 model year is the last for the iconic Chrysler, Dodge, Jeep, and Ram Hemi V-8 engine. In fact, Ram declared the 2025 Ram TRX, its elite pickup truck, is not only getting the inline-six Hurricane engine, but there will also be two variants available, at least for now. The standard version engine accelerates up to 420 horsepower and produces 468 pound-feet of torque. That is a respectable amount of grunt and power. Nonetheless, it does not come close to the Hellcat Hemi V-8 engine's staggering 700 horsepower.
The 8HP75 Automatic
That said, according to sources, the automaker is slipping in something with significantly more power and torque. Inspecting which transmissions are going into the Ram 1500 TRX is key to determining output. Information regarding a certain Ram listing it with a Hurricane six-cylinder engine indicates the transmission is an 8HP75 automatic. It receives the ZF automatic transmission designation because it has eight forward gears and takes up to 750 Nm. That figure converts to 553 pound-feet of torque. The question remains: Which Hurricane engine requires a transmission that can efficiently handle that amount of torque?
The Engines
The Stellantis high-output 3.0-liter Hurricane twin-turbo engine delivers 510 horsepower and puts out 500 pound-feet of torque. Granted, that is not Hellcat power, but it is worth noting that the 8HP75 transmission can easily manage more than that. Another essential detail is that Stellantis announced it will provide a crate engine iteration of the Hurricane with over 1,000 horsepower. 
Therefore, supported by an 8HP75 transmission, a 2025 Ram 1500 TRX can be expected to have Hellcat Hemi engine power and torque numbers while also possessing the means to put that to the road. Then, after a year or two, the brand can increase the capacity by another 100 horsepower for an even more competitive TRX. Even then, it would still not be close to the 1,000 horsepower pinnacle the crate engine has.
What Lies Ahead for the 2024 Ram 1500 TRX
Back to the 2024 Ram TRX, the last of the Hellcat Rams arrives in a special edition. The vehicle also comes with a price tag of $117,625 MSRP (Plus $1,995 destination fee). As such, enthusiasts have some inquiries to tackle. Customers can either step up now in 2023 before the 2024 TRX trim debuts with the uptick in price, or they can wait and see Ram's transformation in 2025 without Hemi V-8 power. Given the numbers, it seems like the Hurricane inline-six over the V-8 engine will not leave consumers wanting for power or torque. 
Ram has emphasized its commitment to electric powertrains for future vehicles based on the STLA Large and STLA Frame platforms. However, FCA US has also been vocal about the Hurricane engine being the primary internal combustion engine for these platforms, displaying Ram's dedication to serving enthusiasts who strongly prefer conventional engines. Furthermore, the ongoing development of the Hurricane inline-six engine underscores Ram's determination to provide a powertrain solution that satisfies the demands of traditional engine enthusiasts while gradually transitioning toward electrification. 
The practicality and performance of the Ram 1500 TRX are both substantial and striking. You receive capability and a well-equipped vehicle with potent power. Here at Miami Lakes Automall, we have sharp styling for the 2023 TRX and an impressive selection of pickup trucks for you to choose from. Browse our new vehicle inventory and rely on our sales team to help pick out the automobile for you.