The Reign of the Ram 1500 TRX is Coming to an End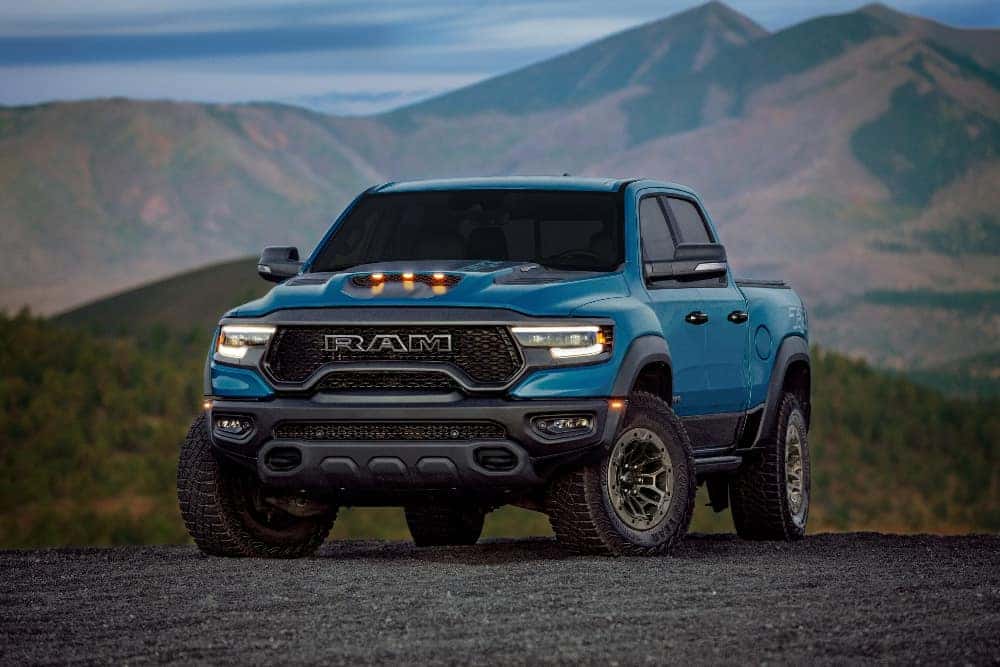 Photo Source: Stellantis
Ever since the Ram 1500 TRX debuted in 2020 as a 2021 model, it has ruled the truck world. The behemoth with the 6.2-liter supercharged Hemi V-8 was the swiftest, most powerful half-ton pickup truck. Now, there is a new Last Call trim from Stellantis, but this time it is not from Dodge. The 2024 Ram 1500 TRX Final Edition marks the end of the run for this muscle truck. This trim has a limited run of 4,000 units, each costing $119,620 MSRP (after the $1,995 destination fee). The vehicle comes equipped with all the bells and whistles.
Tim Kuniskis, Ram brand CEO – Stellantis, describes how the TRX established higher standards of power and capability: "The introduction of the Ram 1500 TRX ushered in a significant shift in off-road performance trucks with a halo effect that will last for years to come." He adds, "This current chapter in Ram's high-performance trucks is coming to a close, but it's not the end of TRX's story. While we'll have more news to come at a later date, we're proud to offer our loyal performance enthusiasts the very special TRX 6.2L Supercharged V8 – Final Edition."
Benefits of the Final Edition
The automaker does not touch the TRX's powertrain. As such, the supercharged V-8 engine accelerates up to 702 horsepower and generates 650 pound-feet of torque with an eight-speed automatic transmission. It has a top speed of 118 miles per hour and reaches 60 miles per hour in 4.5 seconds. The TRX Final Edition is available in eight exterior colors, including three new and distinct hues – Night Edge Blue, Harvest Sunrise, and Delmonico Red. It comes outfitted with beadlock-capable wheels with a Satin Titanium finish. There is also a 6.2-liter hood badge, and a decal adorns the sides of the bed.
The Cabin's Distinctive Characteristics
This unique trim's cabin features Patina stitching on the seats and dashboard. An embroidered TRX emblem is on the chairs. The Final Edition logo is on the instrument cluster splash screen. As a special touch, a plaque on the console displays the pickup truck's production number of the 4,000 examples. In addition, the passenger side of the dashboard has Satin Titanium trim, and the doors, steering wheel, console, and instrument panel receive carbon-fiber accents. Suede also decorates the door panels.
Not to mention, the Final Edition comes standard with a 19-speaker Harman Kardon stereo, a digital rearview mirror, a head-up display, and eight-way power-adjustable front seats. The safety technology incorporates features such as lane keep assist, cross-path and blind-spot detection, pedestrian emergency braking, ParkSense assist with automatic stopping, and adaptive cruise control.
Special Editions to Remember
The manufacturer has offered special editions of the TRX before. For example, the Lunar Edition presented 18-inch beadlock-capable wheels, a dual-pane panoramic sunroof, and Ceramic Gray paint to draw attention to the vehicle's exterior. Before that, the Havoc Edition was even more flashy, with a vivid Baja Yellow exterior, contrasting decals, and black 18-inch beadlock-capable wheels. The cabin prominently featured Prowler Yellow stitching, a dual-pane sunroof, and carbon-fiber trim. It also had a 19-speaker Harman Kardon stereo, ventilated front and rear seats, a digital rearview mirror, a head-up display, and a wireless charging pad.
The TRX Final Editions will be available beginning in the fourth quarter of 2023. As with other models being phased out, production of the 2024 Ram 1500 TRX with the 6.2-liter Hemi V-8 will end at the Sterling Heights, Michigan, plant by the end of 2023. If this apex predator has caught your eye, please come visit Miami Lakes Automall, where we have a wide selection of vehicles that can suit your needs. More importantly, we are all about helping you take pride in your shopping experience. Come check out our new vehicle inventory, with our constantly committed sales team to offer you assistance along the way.