The 2025 Ram 1500 REV is More than a Conventional Electric Vehicle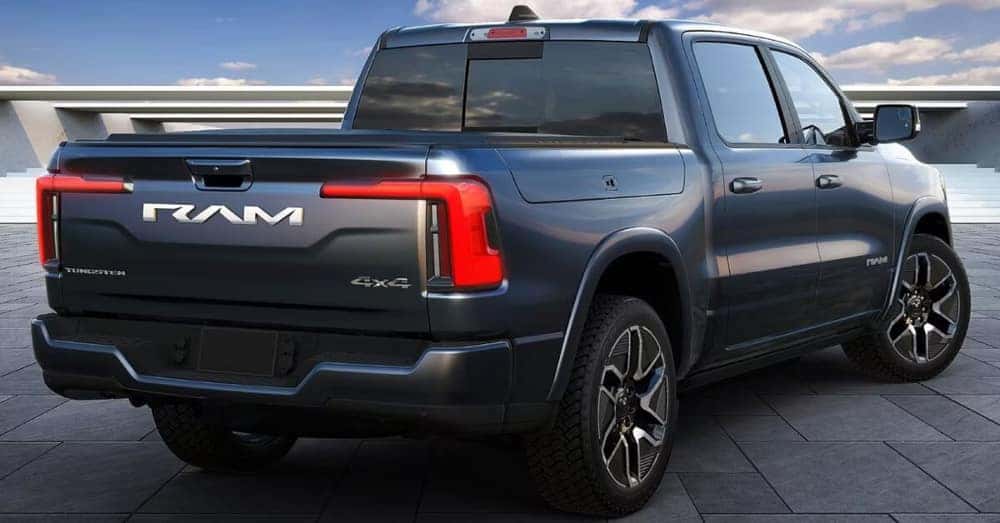 Photo Source: Ram
Electric truck makers continue to outdo themselves. For example, Rivian charmed with its R1T Gear Tunnel; then, the Ford F-150 Lightning showcased its massive front trunk (frunk). Next, Chevrolet revived the midgate in the Silverado electric vehicle (EV). Then, however, Ram unveiled its electric truck concept at the 2023 New York International Auto Show, which could do essentially all of that – and even more. 
Granted, the production-intent REV appears much like a typical Ram 1500 with an LED-adorned front fascia. Therefore, the "revolution" lies in the 1500 REV truck's electric powertrain capabilities. Indeed, the numbers it promises will shock through the automotive industry. Enormous batteries should generate colossal range, with charging rates quicker than nearly every other electric vehicle. It also has higher hauling and towing maximums than any other electric pickup truck. All in all, the 2025 Ram 1500 REV is shaping up to be a serious contender in the electric pickup truck segment.
Assembled for Capability
The manufacturer outlines some remarkably imposing figures for the vehicle's powertrain. To illustrate, all trims will have a dual-motor setup, offering electric all-wheel drive. Combined output will be as high as 654 horsepower and 620 pound-feet of torque, excellent for an estimated 4.4-second zero to 60 miles per hour time. The front motor can even decouple under certain conditions, thus minimizing the draw on the battery and increasing range. To clarify, the standard battery has a 168-kilowatt-hour capacity, much larger than the Ford F-150 Lightning truck's available 131-kilowatt-hour extended-range battery. Ram states the 1500 REV standard battery can travel 350 miles on a charge. 
Nonetheless, the automobile's available large battery could alter expectations within the entire segment; that is to say, with a 229-kilowatt-hour capacity, it is the largest battery provided in any production passenger vehicle, dwarfing the GMC Hummer electric vehicle's 200-kilowatt-hour pack. With the large battery, Ram claims the 1500 REV will have 500 miles of range, outpacing the Tesla Model S by roughly 100 miles. Not to mention, the company announced the truck will be able to recharge at up to 350 kilowatts, exceedingly swift by today's standards and enough to add 110 miles of range in approximately ten minutes under ideal conditions.
A Driving Range Contenders Cannot Keep Up With
"Stellantis also claims that the extended-range Ram 1500 REV XR variant, which will eventually join the lineup, will have a class-shattering range." As such, the XR is expected to utilize some sort of combustion engine as a generator to recharge and extend the range of the high-voltage battery. This engine may not power the wheels directly, instead only replenishing the battery so that the 1500 REV XR remains an entirely electric drive. This range-extender iteration of the truck will be relatively fast, and simple recharging will undoubtedly appeal to those enthusiasts seeking a high-octane rush. In addition, the Ram 1500 REV boasts payload and towing numbers that surpass any other electric pickup truck on the market. It can carry up to 2,700 pounds in its bed and tows up to 14,000 pounds.
Technological Enhancements
The electric truck will be outfitted with a 12.0-inch infotainment touchscreen display as standard and provide a 14.5-inch touchscreen unit as an upgrade. As a matter of fact, aside from the touchscreen, "Today's most advanced cars and SUVs have three or four digital displays. The 2025 Ram 1500 will have five, namely: 
 

A 12.3-inch digital instrument cluster

14.5-inch infotainment touchscreen unit

Segment-first 10.25-inch passenger multi-function screen

Digital rearview mirror

Digital head-up display (HUD)"
The Ram faithful will likely be elated by the brand's propensity for excessive power. If you are impressed by what the 2025 Ram 1500 REV offers, please visit Miami Lakes Automall. We ask you to be patient awaiting Ram's latest pickup and view our large collection of vehicles. We have a wide selection of new and pre-owned automobiles that you can choose from and, if you have any questions, our sales team is always ready to help. Allow us the pleasure of helping you today.