The 2021 Ram 1500 Warlock Now Offers an All-Terrain Pack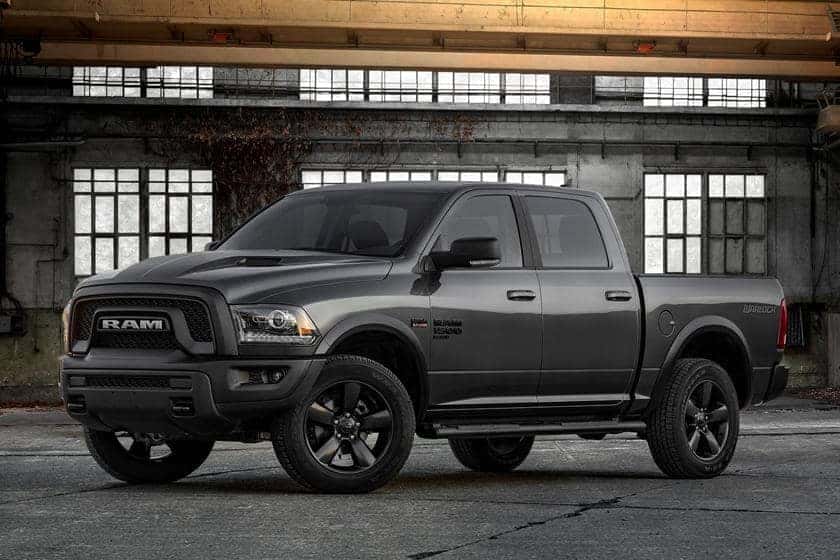 Ram Trucks isn't in any hurry to get the Ram 1500 Classic out of dealerships anytime soon. Sales remain strong as the truck brand continues to market the Ram 1500 Classic as a lower-cost alternative to the latest-generation Ram 1500. The Classic seems to be unchanged from last year as it heads into the 2021 model year, but there does appear to be one very notable exception.
Mopar Insiders is positive that the hefty-looking Warlock trim, introduced in the 2019 model year, has a few styling and equipment enhancements in store with the optional Warlock All-Terrain Pack. Ram Trucks hasn't officially confirmed this package as of yet, but experts think it's a matter of days. That said, here's what the package will look like.
Buyers who opt for the 2021 Ram 1500 Classic Warlock All-Terrain Pack can expect: Yokohama all-terrain tires, a full-size spare, all-weather floor mats, and 17-inch matte black aluminum wheels. There are no photos yet of what the package will look like, but pictured above the 2020 Ram 1500 Classic Warlock so those interested can have an idea of what the final product might look like.
The Warlock trim itself comes with an appearance package which rivals that of the Ram Rebel, with its bold grille, aggressive R-A-M lettering, heavy-duty shocks, tow hooks, LED fog lights, hood decals, an optional sport hood, projector headlamps, powder-coated front and rear tow hooks, and blacked badging. Pricing and availability is pending an announcement from Ram Trucks.
Experts don't expect pricing to differ too much from the existing Warlock trim, although the All-Terrain Pack will add a few thousand dollars to the final price tag. Given the 1500 Classic's proven efficiency, capability, and rather inexpensive V8 engine upgrade, it's hard for consumers to swing and miss here. Of course, while this update to Ram's lineup is significant for those on a budget, the brand's crowning achievement this year is the debut of its long-awaited Ram 1500 TRX model.
Unveiled in August (2020), the Ram 1500 TRX takes top honors as the brand's flagship model. It's powered by a 6.2-liter supercharged HEMI V8 engine, capable of 702 horsepower and 650 lb-ft of torque. The engine is mated to an eight-speed automatic transmission, with an off-road-focused four-wheel-drive system that rounds out the pickup's off-road prowess.
As we gear up for the arrival of the 2021 lineup, experience all that Ram Trucks currently has to offer here atMiami Lakes Automall. Check out our Ram 1500 Classic , the latest-generation Ram 1500 , and the recently-revamped Ram Heavy Duty inventory. Schedule your test drive today and follow Miami Lakes Ram on social media for the latest Ram news and offers.
Photo Source/Copyright: Ram Trucks
Previous Post Ram Trucks Expands Limited Night Edition Package on the 2021 Ram 1500 and Ram Heavy Duty Next Post The Latest Ram Trucks "Built to Serve Edition" Pickup Was Unveiled