Ram 1500: A Pattern of Greatness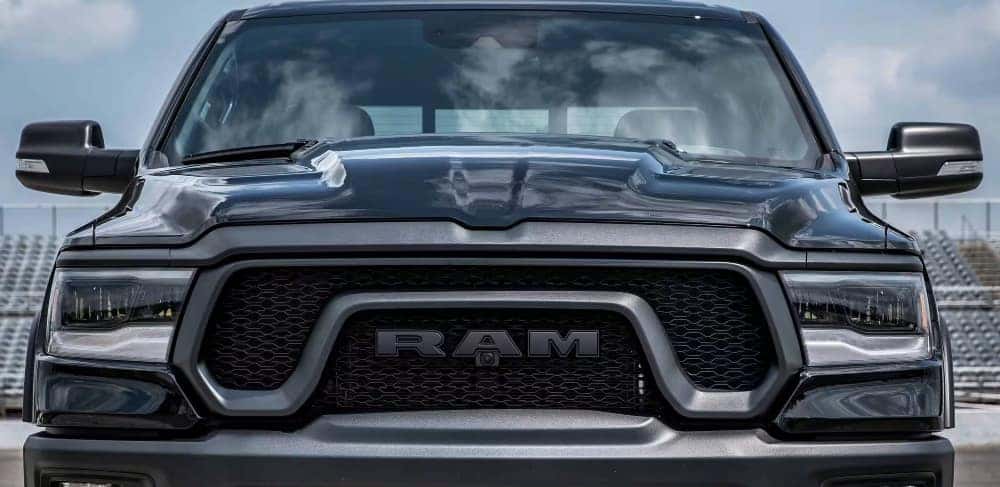 Photo Source: Ram
Dodge built its first car in November 1914, entering the truck market in 1917. It debuted a Ram hood ornament in 1932, but the first Dodge Ram pickup truck did not arrive until 1981. These earliest Dodge Ram vehicles were lightly restyled versions of a different truck Dodge presented in 1972. By 2010, the Ram 1500 line had grown so large it was separated from Dodge into its own company. In the years since, the truck has garnered prestigious awards and earned even more fans. 
The Inception
The first Ram pickup trucks looked quite different than today's muscular, polished variants. The original versions had single headlights and large, boxy style grilles. Engines, by the 2023 model year's standards, were under-powered. For example, a 3.7 slant-six produced 95 horsepower. A 5.9-liter V-8 generated only 170 horsepower. There were just four trim levels. Amenities were simply limited to carpeting and dome lights. In addition to the standard bed, Dodge-Ram provided the Utiline, a narrow bed with separate rear fender pods. 
During the 1980s, Ram was deeply involved with advancements in engineering. It developed a three-speed TorqueFlite automatic transmission. Of note, the Trac transfer case permitted drivers to shift in and out of four-wheel drive at speeds up to 55 miles per hour. 
A new hydraulic clutch minimized the effort necessary to shift gears. The introduction of electronic fuel injection started to push power outlay upward. Moreover, the Cummins turbo diesel engine made headlines with 400 pound-feet of torque. For the first time, an anti-lock braking system offered the stopping power this quicker truck required.
Pushing Past Limitations
In 1994, Ram provided an industry first, a standard driver airbag in a pickup. The same year, the truck maker introduced the largest regular cab with a 60/40/60 split seat, industry-leading cargo room, and additional passenger space. In fact, a new V-10 emerged to handle bigger loads. It delivered 300 horsepower and 450 pound-feet of torque. 
Throughout the 1990s, engine refinements continued to raise horsepower and torque, improving payload capability and tow ratings. Later in the decade, the Ram 1500 made headlines with another automotive first, the four-door cab. A driver's power seat, keyless entry, leather seats, and power mirrors were available for the first time. 
Entering the Millennium
The first Ram 1500 Off-Road 4×4 Package was provided in 2000. Meanwhile, engine output kept adding up, and safety became a greater priority. As such, Ram introduced its first trailer sway control and electronic stability controls. In 2009, the Ram 1500 modified its appearance and upgraded its interior. iPod integration, a rearview camera, two-tone paint, and heated seats developed into new consumer favorites. Buyers could also get the RamBox system for the first time, which meant large, built-in compartments kept tools secure and dry until needed. 
In 2013, the Ram 1500 collected the coveted MotorTrend Truck of the Year award. The truck's four-corner auto-leveling air suspension is an industry first still unmatched in 2023. In 2014, Ram made history yet again by earning the MotorTrend Truck of the Year for a record-shattering second year in a row. This time the award acknowledged the phenomenal Cummins turbo diesel V-6 with 420 pound-feet of torque.
The Latest Ram 1500
The current-generation Ram 1500 has established itself as a potent contender in its segment, with eight trims consisting of the introductory Tradesman workhorse, moving up to the ornate Limited trim, and culminating with the 702 horsepower Ram 1500 TRX behemoth. The pickup truck's future rests with the Ram 1500 REV, Ram's first-ever electric vehicle. Stellantis always declared that the Ram 1500 REV would provide a class-leading range, while the name indicated it might employ a range extender. Ram Trucks cleared up all misgivings by announcing that the extended-range variant of the truck would have up to 500 miles of range, which is a record in its segment. 
The electric truck is set to launch in the 2025 model year, and it will surely be an imposing competitor in its class. If you are looking forward to the future Ram has promised based on past qualifications, please visit Miami Lakes Automall. Are you excited about getting a new Ram? So are we. We are more than excited to help our customers find what they are looking for. Check out our new vehicle inventory or browse our quality pre-owned vehicles.