Then and Now: Ram Power Wagon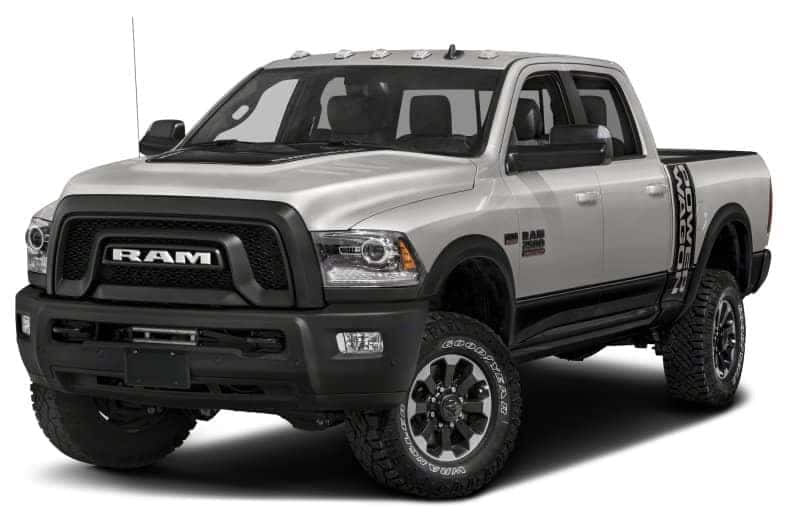 Photo Credit/Copyright: speedcarz.com
The Ram Power Wagon has definitely evolved since its debut in 1945. Despite the fact that the Power Wagon hasn't really changed, numerous variants have been developed throughout the past 73 years. This Military inspired pickup truck has quite an extensive background, including its "Power Wagon" name.
History + Variants
FUN FACT! Prior to the "Ram Power Wagon" name, its original name was actually the Dodge Power Wagon.
The Dodge Power Wagon was mechanically derived from Dodge's 1942-1945 WC series military trucks and was developed with the intention to compete with military-based Ford/Marmon-Herrington and GMC trucks. The following year after making its debut in 1945, the Dodge Power Wagon became the first civilian 4×4 truck available. It was powered by a 230-inch flathead Inline six-cylinder (I6) engine and paired to a four-speed transmission, a two-speed transfer case, and included a part-time four-wheel drive (4WD) drivetrain. This specific model was equipped with 16-inch wheels and had a power take-off switch to reroute the power to the auxiliary equipment. Lastly, the Power Wagon had a maximum payload capacity of 3,000 pounds and a gross vehicle rating of 8,700 lbs.
There weren't many significant changes made to the power wagon from 1945 to 1956. As previously mentioned, the Dodge Power Wagon models were derived from the original "Military Type" model. In 1952, the Willock Chassis Swivel debuted. The most interesting aspect of this pickup truck, is that it allowed for the wagon's truck bed and cabin to rotate independently from one another. Unfortunately, it was short lived and production ended six years later in 1958. By 1957, significant changes began and Dodge introduced the light-duty W100 and W200 pickup trucks for their segment at that time. Throughout the next few years, the W300, W500, and W600 were introduced to the lineup. Yet, in 1977, the Dodge brand discontinued production on all medium-duty models.
As the Power Wagon began to grow in size and weight, a big block 383 V8 engine became an available option starting in 1967 – including various engineering and styling enhancements. Although the basic "look" of the Power Wagon was preserved, in 1972, significant changes were introduced like various grille designs and exterior paint options. A couple years later, the extended "Club Cab" was released and brought along several benefits with it. Not only did sales numbers increase, but it became noticeably popular with families and campers. Over time, the four-door Crew Cab grew to be far less common, and because of its rarity, it became a collectors item.
"What's In A Name?"
All good things unfortunately must come an end, and in 1981, the Dodge Power Wagon nameplate was discontinued. As a result, it was exclusively called "Power Wagon" and the name "Dodge Ram" began. The name "Dodge Ram", depending on your generation, might sound familiar. In 1989, the Cummins turbo-diesel engine was released as an available option, but that only lasted until about 1993. Soon after the respective name plate "Dodge Ram" made its return in 2005 with the Dodge Ram 2500 model, however, the Ram Brand split from Dodge for good in 2009.
2018 Ram 2500 Power Wagon
Today, consumers can expect a lot from the 2018 Ram 2500 Power Wagon. Powered by a 6.4-liter Heavy Duty V8 HEMI engine that's paired with a six-speed automatic transmission, the 6.4-liter V8 can produce 410 horsepower and 429 lb-ft of torque. Exclusive standard features include: front and rear locking differentials, a 4.10 axle ratio, a maximum towing capacity of 9,910 pounds and a payload capacity of 1,470 pounds. With the Power Wagon's 8.3-inches of ground clearance, the optional side steps might come in handy. Finally, the Power Wagon is only available as a Crew Cab with a 6'4" box.
Interested in test driving a 2018 Ram 2500 ? Visit the Miami Lakes Automall located in Miami Lakes, FL or visit our website for our entire new car inventory selection . Trust us, you won't be disappointed.
Photo credit/copyright: autoblog.com, pinterest.com
Previous Post Two Ram 1500 Versions Sold At Dealers – Which Is Which? Next Post All Cars Go To Heaven, Even The Chevrolet City Express