Mopar Teases Potential New Ram Concept at 2021 SEMA Show – Miami Lakes Automall Ram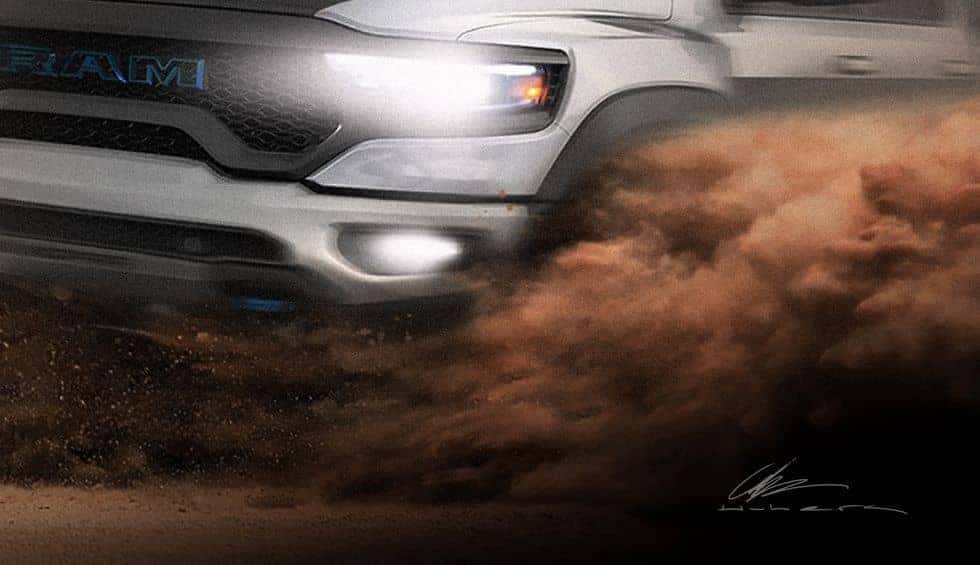 Ram has been making headlines with its Ram 1500 pickup. The pickup truck was recently awarded first place among light-duty pickups in a 2021 APEAL study . The pickup's versatility, capability, and high performance have made it a top pick for pickup fans. Now for the 2022 model year, the Ram 1500 is once again generating excitement. It looks like Ram will be providing consumers with another Ram 1500 variant based on several teaser images revealed at the 2021 SEMA show. Each year the Speciality Equipment Market Association (SEMA) hosts the show, but it was canceled in 2020 due to Covid-19. This year the 2021 show will run November 2-5 in Las Vegas. It's here where Mopar Performance will hopefully provide more information about their teaser images. Mopar works under the Stellantis umbrella so although it showcased Ram vehicles, it also showed off some cool Jeep concept images. We're focusing on the Ram concept images however as they look to point toward either a special heavy-duty edition Ram 1500, or a more powerful variant, though the Ram 1500 TRX is a beast of a pickup already.
2021 SEMA Show Debuts Two Ram Concept Images
Mopar Performance will be showcasing several vehicle concept images at the 2021 SEMA show in Las Vegas. Three of these images depict a Jeep while the other two images showcase a Ram. Not much information can be discerned from the images as they're taken in low lighting. The vehicles are also shown at side and rear angles which heightens their allure. In one of the first sketch images of the Ram pickup, the grille design and vent on the headlight can be seen. The Ram in question looks to be a 702 horsepower Hellcat-powered TRX. It's unclear what Ram will improve or adjust for this new TRX, but the image shows blue-painted tow hooks and new badging. Perhaps Ram will improve off-road features and capabilities.
The second teaser image of the Ram 1500 pickup shows a rear backshot. The pickup is parked next to a tent and there looks to be a storage rack in the truck bed. The typical TRX text which is usually emblazoned on the rear fender is missing so it's uncertain if this is a TRX trim. With teaser images, half the fun is guessing what new features or elements automakers will make. Given all the dirt being kicked up and the rear shot of what looks like a camp outing, the new Ram 1500 may be granted even more off-road capability. The nature of the SEMA show is to highlight new accessories and parts for Jeep and Ram vehicles, so not much should be expected. Still, pickup fans should pay close attention as there may be new concept images released. From what we've seen so far, it looks like Ram will have something special to debut in the months to come.
Come Test Drive a Brand-New Ram at Miami Lakes Automall!
Are you excited about getting a new Ram ? So are we! At * Miami Lakes Automall *, we're more than excited to help our customers find what they're looking for. Check out our new vehicle inventory or browse our quality pre-owned vehicles . We offer suggestions like auto financing to help make paying for a vehicle easier.
If you're in need of service, schedule an online service appointment with our expert technicians. Allow our professional techs to get started on all repairs or maintenance work. Stop by today and see what we can do for you right now.
Photo Credit: Stellantis
Previous Post What to Know About the All-New 2022 Ram 1500 Next Post A Comprehensive Look at the 2022 Ram 1500 Crew Cab