Havoc Arrives with the 2023 Ram 1500 Rebel Havoc Edition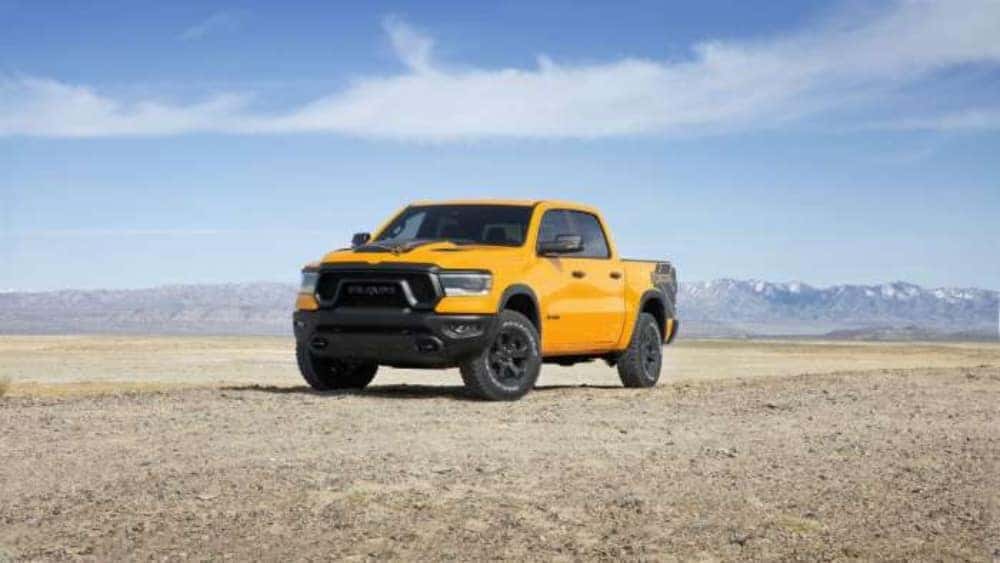 Photo Source: Stellantis
Ram seems to have a knack for debuting special edition 1500 pickups with bold colors. Just like the 2023 Ram TRX Havoc Edition announced in December of 2022, the new 2023 Ram 1500 Rebel Havoc Edition sports a Baja Yellow exterior hue. Drivers will also take note of some new features, making the 2023 Ram Rebel Havoc Edition an even better off-roader than its predecessor. 
2023 Ram 1500 Rebel Revels in Havoc
The brand has designed the Ram 1500 Rebel to be ideal for off-roading. That said, the 2023 Ram 1500 Rebel Havoc reinforces Ram's off-road leadership. New for 2023, the Ram 1500 Rebel comes outfitted with Selec-Speed Control. Selec-Speed Control permits the truck to maintain a consistent speed while traversing variations in slope. Selec-Speed Control applies engine torque and brake pressure to help keep a consistent pace, thus allowing the driver to pay attention to steering. As mentioned, the 2023 Ram 1500 Rebel Havoc Edition provides the same Baja Yellow exterior color with black exterior accents, just like the 2023 Ram TRX Havoc Edition.
In addition, the pickup truck comes equipped with a 12-inch Uconnect 5 touchscreen unit with Off-road Pages that can be personalized. As a matter of fact, both of the special editions are customized directly from the factory. Mike Koval, Jr., Ram brand CEO, provided a description of the versatility the truck has to offer: "Ram 1500 Rebel Havoc buyers will enjoy the newest addition to our light-duty lineup, which offers a distinctive combination of unique exterior appointments only seen on a Ram truck. Ram 1500 continues to be the no-compromise benchmark for durability, technology, efficiency, performance and convenience with features never before offered in a pickup."
The One-of-a-Kind Package
The 2023 Ram 1500 Rebel Havoc Edition presents owners with a wide range of unique content for greater personalization. The pickup truck has a combination of off-road graphics and technology that can be specifically programmed to exhibit several aspects of the off-roading adventure to the driver, such as how steep the terrain is and speed. 
The Ram Rebel Havoc Edition is available with the 5.7-liter HEMI eTorque V-8 engine, delivering 395 horsepower and 410 pound-feet of torque. This engine also includes an additional 130 pound-feet of supplemental launch torque enabled by the eTorque system. There is also the Rebel Level 2 equipment group package, which allows the automobile's interior to be just as impressive as its exterior counterpart. 
For example, the Havoc Edition has heated front seats and steering wheel, black side-view mirrors, and an 8-way power adjustable driver's seat. Moreover, the package incorporates premium options such as a 4G LTE Wi-Fi hotspot, a 19-speaker Harman Kardon premium sound system, and GPS navigation. Other characteristics that have been integrated into the vehicle include a Rebel graphic on the hood and bed, a black bumper, grille, and badging, 18-inch gloss black wheels, and, of course, the exclusive Baja Yellow exterior paint color.
Opportunities to Purchase
The 2023 Ram 1500 Rebel Havoc Edition will be on dealer lots with a starting price tag of $70,310 MSRP, plus a $1,895 destination charge. The Havoc Edition will go on sale this spring in extremely limited quantities. Further information will undoubtedly be released, but, for now, we at Miami Lakes Automall ask you to be patient and view our large collection of vehicles while you wait for the 2023 Ram 1500 Rebel Havoc Edition to be made available. We have a wide selection of new and pre-owned automobiles that you can choose from and, if you have any questions, our sales team is always ready to help. Allow us the pleasure of helping you today.