Everything You Need To Know About Google's Android Auto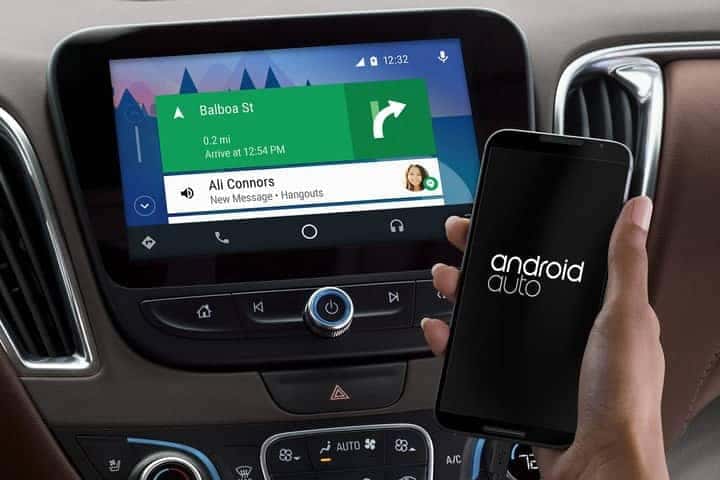 There seems to be a three-way-tug-of-war between Google, Apple, and car companies on who can take over your entertainment system the fastest. While most automotive companies prefer drivers use the standard infotainment included in the vehicle, rivaling techies offer a change of pace with a more intuitive and better packaged option – Google's Android Auto.
So what exactly is Android Auto? Basically, it's a way to encourage drivers to focus on the road by minimizing distractions. By taking the features Android users know and love, Android Auto puts them directly into the vehicles infotainment display. Pretty cool, huh? Not only that, the information is displayed on an easy-to-use interface that includes legible menus, large icons, and apps you can swipe out of the way. Another really cool feature is the Google Maps-powered navigation system. This feature provides a step-by-step GPS while automatically finding alternative routes if necessary. As part of the minimizing distractions premise, drivers aren't required to manually type in their "home" or "work" address – if it's saved, Android Auto has got you covered.
Additionally, all previously mentioned features respond to basic voice commands as well. Drivers can ask anything from "Hey Google, is it going to rain today?" to "Hey Google, what is Android Auto?" Drivers can also reply to text messages using the speech-to-text technology. Don't have voice-recognition technology in your car? No big deal, Android Auto's features are accessible using the touchscreen. However, keep in mind that once Android Auto is active, the smartphone's screen will be locked. Lastly, specific apps like Pandora, iHeartRadio, Skype, WhatsApp, and Spotify are also included.
While most new cars are compatible with Android Auto, there are some manufacturers that charge consumers more for the feature and some that choose not to offer it even on the base trim levels. Some of those compatible vehicles include, Chevrolet, Chrysler, Dodge, Fiat, Jeep, Kia, Maserati, Mitsubishi, and Ram. Interestingly enough, Hyundai, Kia and Chevy were actually one of the first companies to develop Android Auto-compatible cars back in 2015. Unfortunately, Toyota has continued to go against Android Auto for unknown reasons. Oh well!
For those consumers who have recently purchased an Android Auto compatible vehicle, you'll need to connect your device. Here's a step-by-step process to get your device up and running:
Make sure your phone is running the latest Android system and you've already downloaded the Android Auto app.
After turning on your car, plug-in your device using the USB port and review all the Safety Notice and Terms & Conditions
Allow Android Auto to access your device's features and apps.
Once you see it on your vehicles display, select the Android Auto app, follow the instructions, and you're all set!
…and please, drive responsibly.
* And don't forget! The all-new 2019 Ram 1500 Laramie trim features an incredible 12-inch touchscreen display that comes standard with Google Android Auto. Just imagine how amazing it will look, or the convenience of the split-screen feature to choose what music to listen to while keeping GPS navigation at the forefront. Interested in test driving a 2019 Ram 1500 ? Stop by the Miami Lakes Automall located in Miami Lakes, FL or visit our website for more information on our entire new car inventory . *
* Photo Credit/Copyright: digitaltrends.com *
Previous Post 2018 Ram Limited Tungsten Edition – Rugged Luxury Next Post Two Ram 1500 Versions Sold At Dealers – Which Is Which?