Why the 2016 Ram ProMaster Is Underappreciated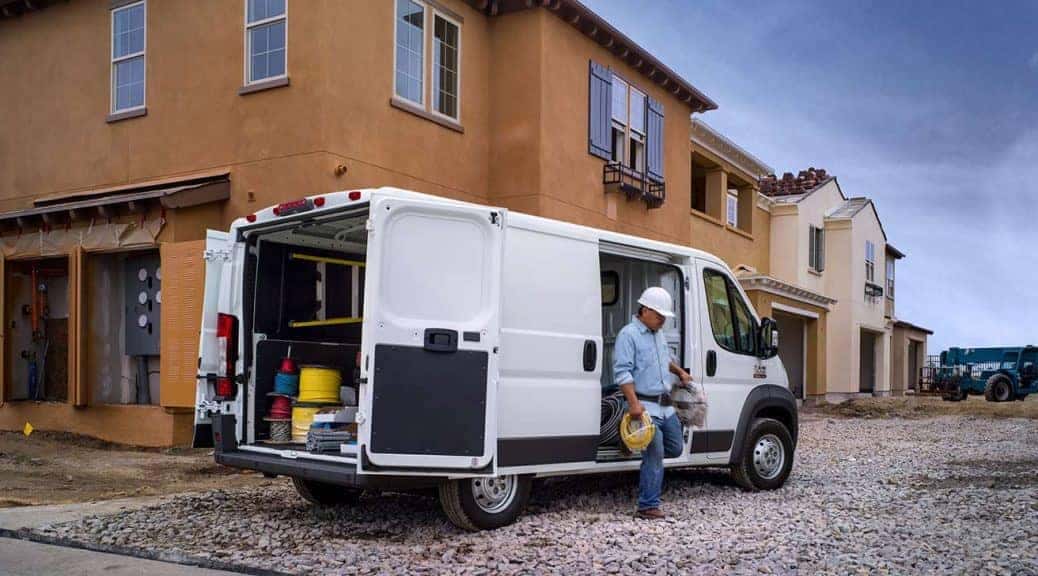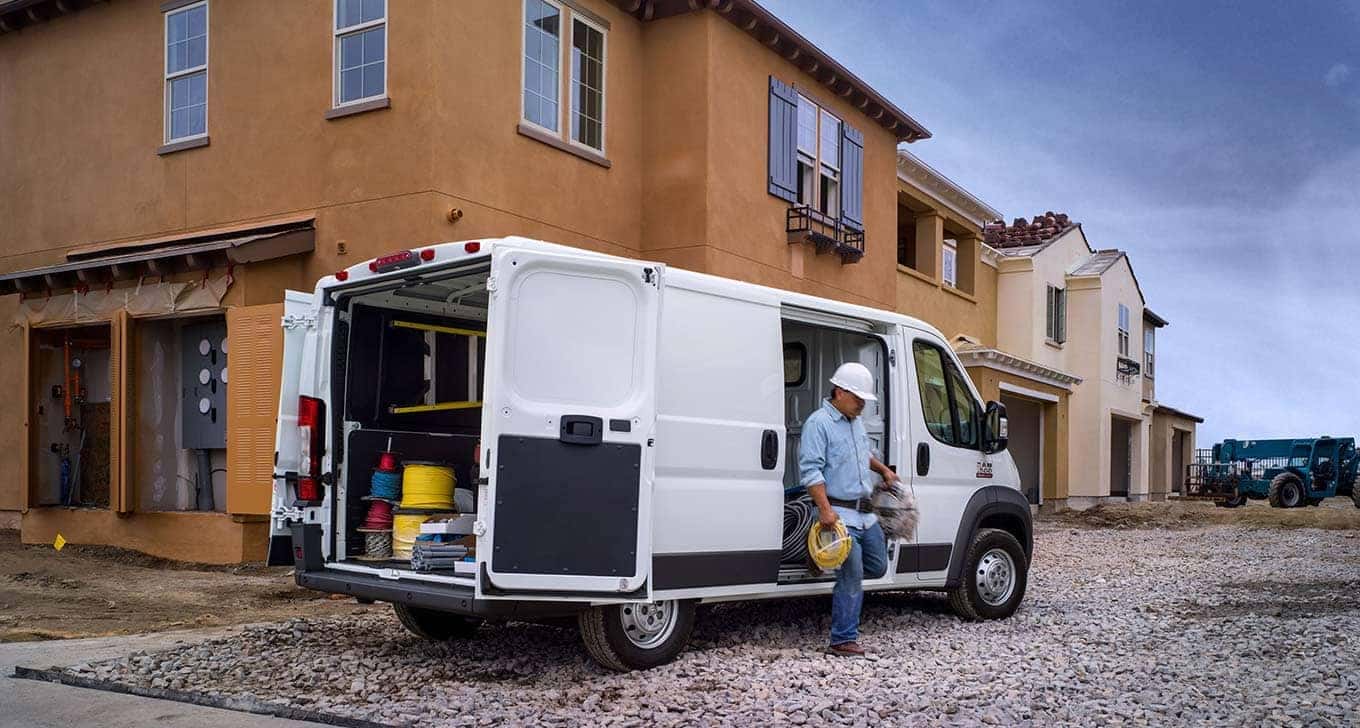 The 2016 Ram ProMaster may be one of the most overlooked vehicles in the brand's line, but this has little to do with the nameplate and its accompanying features or capabilities. Ram's standard pickup trucks are more appealing to an everyday driver, and those seeking a cargo van are more likely to opt for the smaller (and easier to operate) Ram ProMaster City.
We don't blame potential customers for naturally gravitating towards those vehicles, but they'd be doing themselves quite the disservice by ignoring all that the Ram ProMaster has to offer. For starters, the vehicle offers more interior space than any of the brand's other vehicles, and it also drives and handles like a significantly smaller vehicle. While you may be accustomed to seeing large cargo vans struggling to match other vehicles' speeds, the Ram ProMaster will certainly make you think otherwise.
_We acknowledge that the latest version of the beloved cargo van isn't for everybody, but the Ram ProMaster makes perfect sense for those who spend their time on a worksite. If it's your responsibility to haul a whole lot of cargo and equipment, there's no better choice than the 2016 model. Instead of focusing solely on * Dodge Ram trucks * , let's see why the 2016 Ram ProMaster is one of the most underappreciated vehicles on the market… _
Interior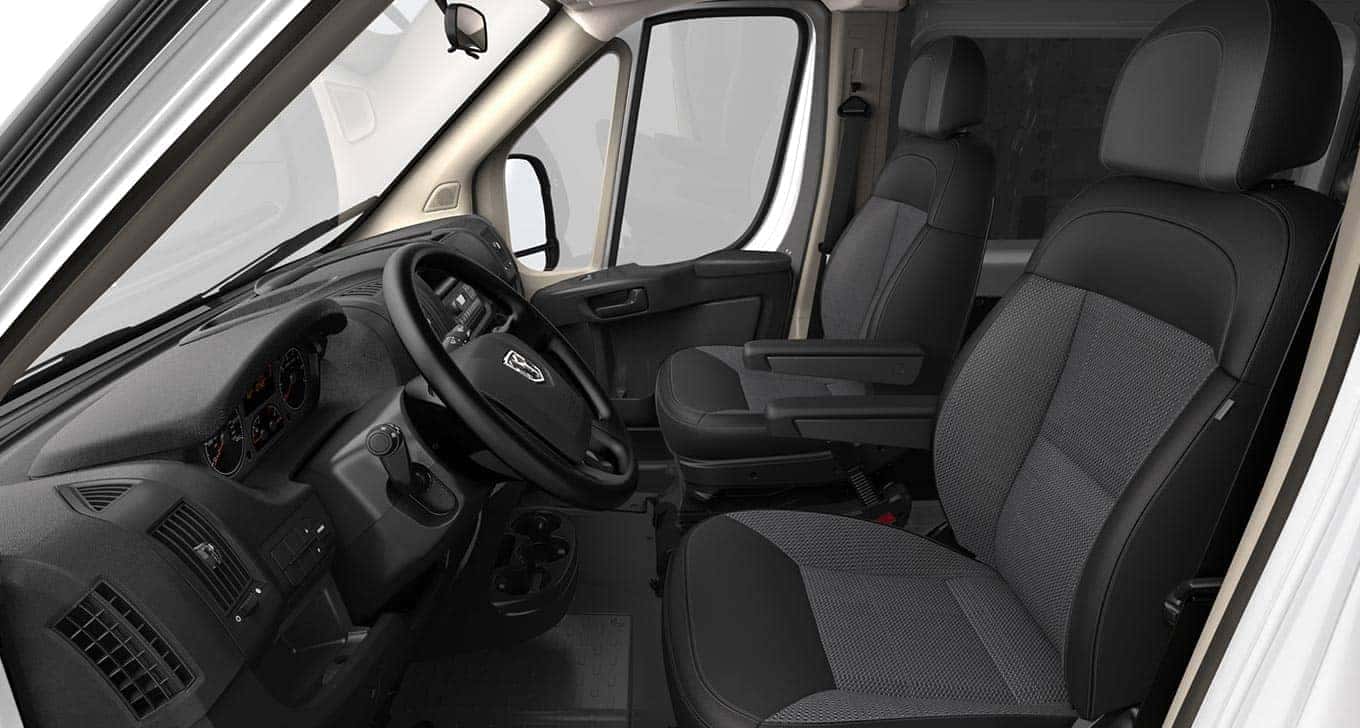 The interior is perhaps the most significant aspect of your cargo van, as you're going to be relying on that cargo space to haul all of your equipment. You'll be irritated if you have to make multiple trips to transport all of your cargo to a worksite. That's why the 460-cubic-feet of cargo capacity is so significant, but the ProMaster shouldn't simply be known for that single spec. The interior provides multiple options and several amenities that make hauling cargo even easier.
For example, the van's walls were designed at a 90-degree angle, making stacking and storing boxes easier. This also helps in stabilizing your load, as the luggage or equipment are all resting on a level ground. If you want even more height as you attempt to load boxes, you can choose between roof heights of 88.7 inches or 99.4 inches. The 49-inch-wide side door opening will allow you to easily store or load whatever cumbersome cargo you may have, and the rear doors open at 260-degrees to provide maximum loading/unloading flexibility.
Accessing the back of your cargo van is normally easier said than done, but that won't be the case on the ProMaster, as the vehicle provides plenty of assistance to accessing your truck's interior. There's only a 21-inch cargo floor-to-ground step-in height, so you won't have to break your back attempting to crawl into the vehicle. This best-in-class load floor height can be attributed to the lack of a driveshaft beneath the vehicle's body.
As we've mentioned, it's not all about the cargo space (or the accompanying features). The ProMaster also offers a variety of additional interior amenities, like the Uconnect 5.0 NAV Command Center. The touchscreen will allow drivers to access SiriusXM Satellite Radio, an available Navigation system, and even a ParkView Rear Back-Up Camera. The system is compatible with your smartphone, allowing you to make hands-free phone calls. These are technological features that are often reserved for smaller, more luxurious vehicles, so the ProMaster truly stands out from the crowd with this inclusion.
Driving Capabilities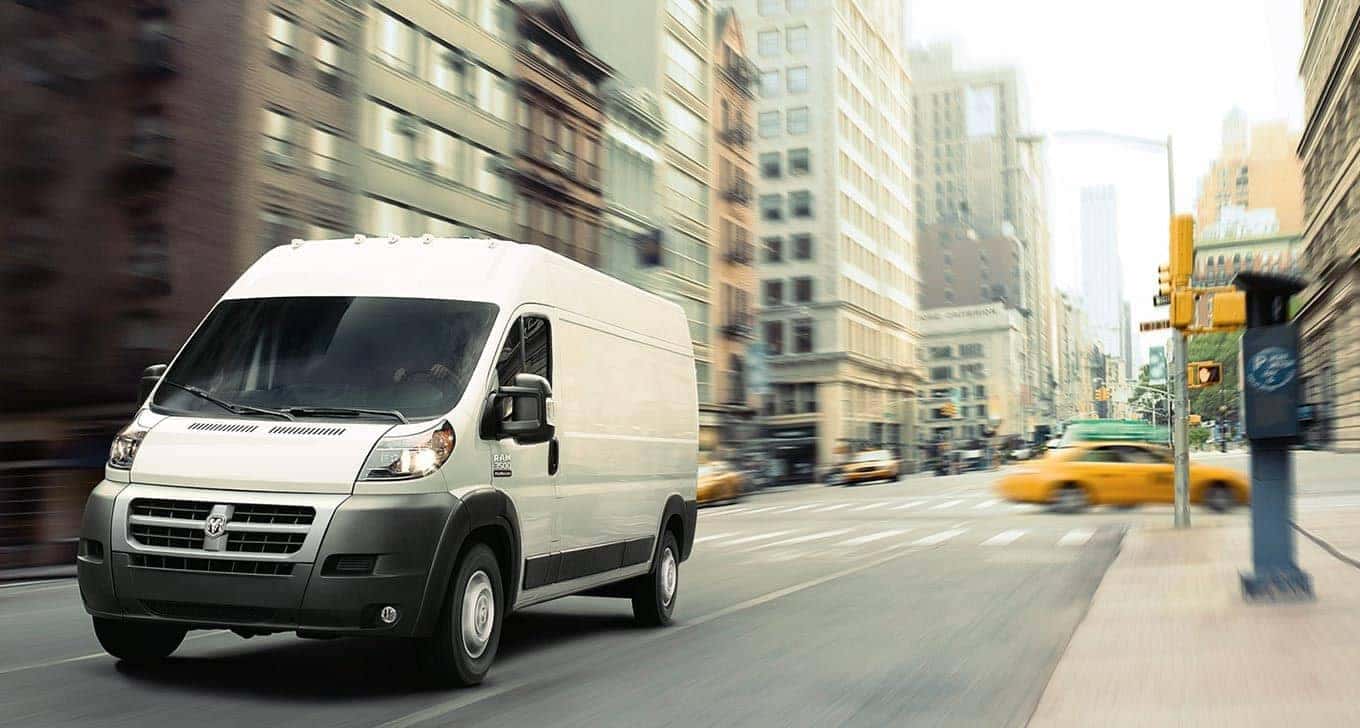 When you're operating such a large cargo van, you're going to want to feel like you're under control. These types of vehicles have a stigma of being hard to handle, and we've all seen how difficult it can be to manipulate large vehicles, especially on narrow roads.
The ProMaster's front-wheel-drive system ensures a smooth driving experience, as the design provides "light, nimble, and responsive" handling. Furthermore, the 36-foot turning diameter means you'll be able to maneuver your ProMaster as if it's a significantly smaller vehicle. This makes three-point turns (which are often avoided) an actual possibility.
Of course, when it all comes down to it, it's starts with the vehicle's engine. The ProMaster includes a 3.6-liter Pentastar V6 engine, which provides a best-in-class 280 horsepower. When coupled with the 260 pounds-feet of torque and the 4,420-pound payload, drivers can expect a towing capacity of 5,100 pounds. The engine is relatively quiet thanks to the Silent Chain Timing Driver, and the Variable Valve Timing vicariously impacts the engine's powers. You'll be able to enjoy a powerful engine without having to deal with the distractions of a loud motor.
Customers could also opt for the 3.0-liter EcoDiesel I4 engine. The low-cost unit provides both power and efficiency, and drivers shouldn't expect to see any significant services until around 18,500 miles. The unit pumps out 174 horsepower and 295 pounds-feet of torque, resulting in an identical 5,100-pound towing capacity as the V6.
Durability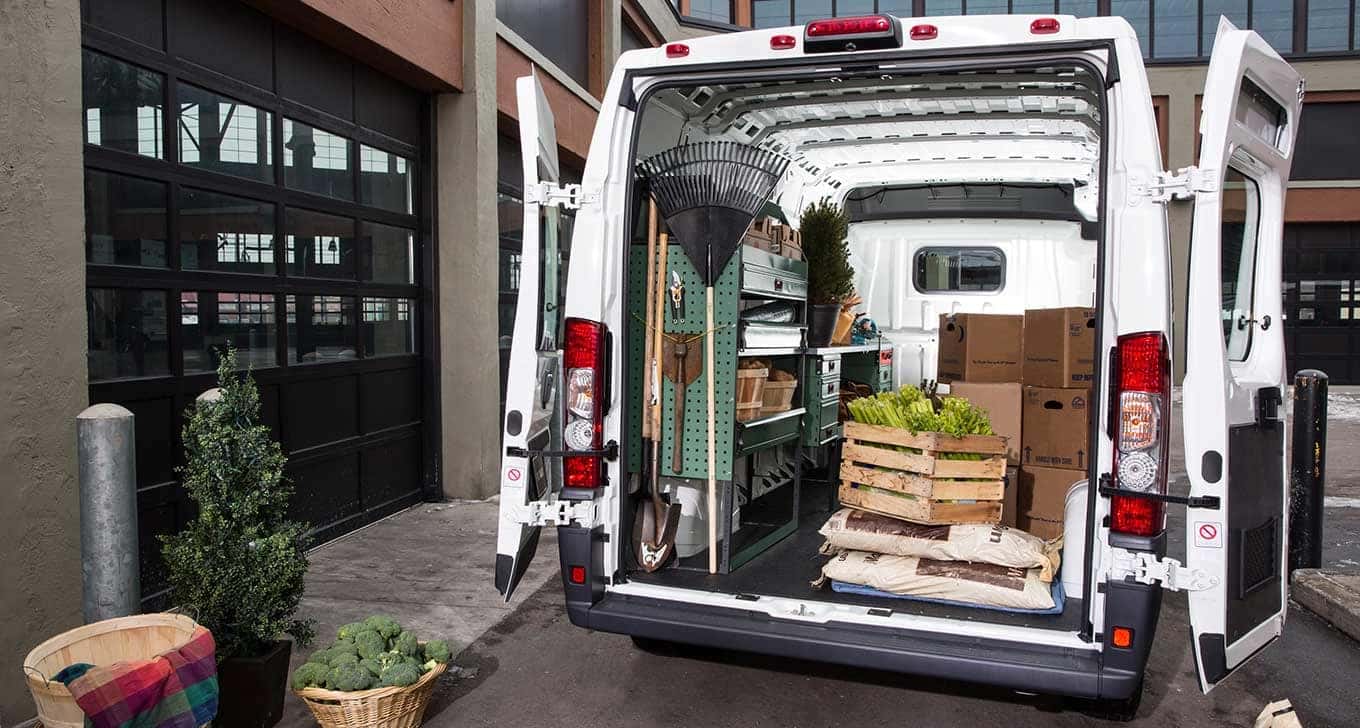 If you're going to be relying on the new ProMaster for work, you surely won't want to be making constant visits to the mechanic. With over 35 available safety and security features, the vehicle's engineers did everything in their power to ensure that your van will stay on the road.
The vehicle was specifically designed to make the driver's job easier, evidenced by the increased driver visibility up front. Due to the inclusion of the raised driver's seat and the huge windshield, you should have a particularly favorable vantage point of the road. Meanwhile, the Brembo Four-Wheel Disc Antilock Brakes will assist in decelerating your vehicle, and you're going to really appreciate them when you're traveling in inclement weather.
The Electronic Stability Control should help ease any anxiety regarding operating such a large vehicle. The ESC system includes capabilities like Trailer Sway Control and All-Speed Traction Control, which should help keep your van on the road and out of harm's way. Of course, if you do find yourself in an accident, the six airbags will lessen the blow of the impact.
Plus, in the event of damages following a mishap, your vehicle will be covered, thanks to its accompanying warranty. Ram backs their cargo van with a Three-Year/36,000-Mile Basic Limited Warranty, or customers can opt for the Five-Year/10,000-mile Diesel Powertrain Limited Warranty. If customers opted for the 3.6-liter engine, they'll be able to purchase the Five-Year/60,000-Mile Gas Powertrain Limited Warranty.
While drivers might feel more vulnerable in a cargo van, they shouldn't in this year's Ram ProMaster. The vehicle delivers a variety of safety features, ensuring that you and your passengers will stay protected.
Of course, we didn't even mention one of the vehicle's most impressive attributes: its price. The 2016 Ram ProMaster starts at an incredible $27,935. This makes it an excellent choice for individuals, of course, but businesses should also recognize the advantages of having a fleet of Ram cargo vans.
Regardless of the customer's intentions, the 2016 Ram ProMaster is a perfectly capable vehicle. It delivers unmatched handling that's often reserved for much smaller vehicles, and the capable engine allows the van to keep up with other cars. Furthermore, the abundance of cargo room makes it easy to haul whatever equipment is necessary, and the various safety features will ensure that you and your passengers will stay protected.
Sure, a cargo van may not make sense for everybody, but if you're seeking the ultimate workplace companion, you should be opting for the 2016 Ram ProMaster.
Previous Post In 2016 Ram Became the Official Truck of Cabela's Next Post Three Things to Know Before Buying a Ram Truck