Mitsubishi Set to Enter 2023 Asia Cross Country Rally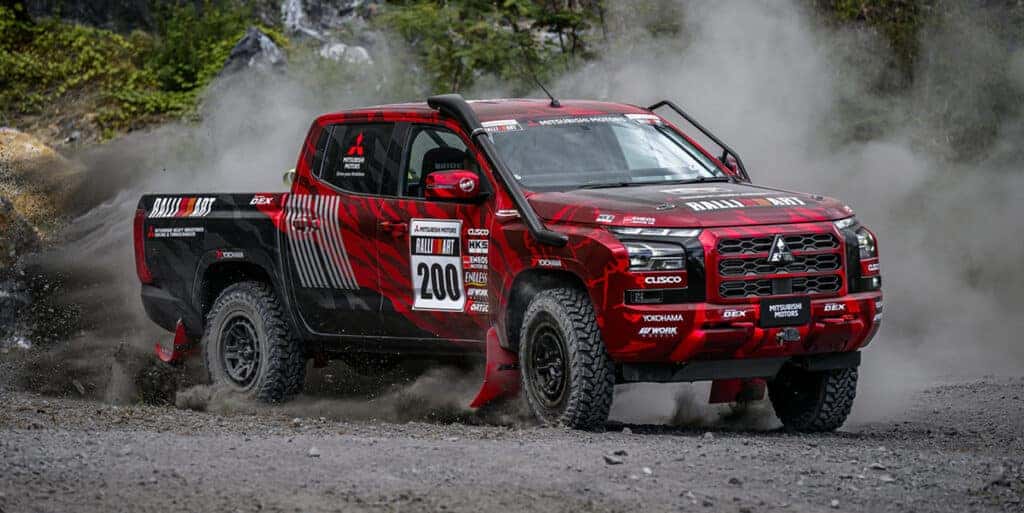 In recent years, Mitsubishi Motors has entered the Asia Cross Country Rally (AXCR), and has had pretty great results. Every year, they unleash a modified model of their lineup, with drivers and navigators to control the beast, through dunes and wary terrain. Last year, Mitsubishi modified the Triton Pickup Truck with Ralliart flare and gear, and entered two vehicles into the 2022 AXCR. The automaker managed to win first and fifth place. This year, they're entering three vehicles, all rally cars based on the all-new Triton that launched in Bangkok, Thailand, to dominate the race.
"We are very excited to be able to take on the competition with the all-new Triton, which has been fully redesigned and evolved significantly in all aspects. Triton rally cars have undergone over 2,000 km of endurance testing in Japan and Thailand with no major problems, and we have confirmed that they provide even better performance than last year's model in every stage, from flat dirt high-speed stages to muddy low-speed stages. We will be driving with three rally cars, each of which is competing for the overall victory, and we want to take the championship position up on the podium for another consecutive victory." – Team Mitsubishi RALLIART team director Hiroshi Masuoka
Like every race, there is a team of drivers to get behind the wheel for Team Mitsubishi RALLIART. Team director Hiroshi Masuoka and Mitsubishi Motors engineers will be working with the rally crew all throughout the race in the Delica D:5, an all-around minivan with the road handling of an SUV, to aid the team along the way. This includes analyzing the competition, checking out the racing conditions for each segment of the race, and formulating strategies to conquer the terrain. Getting behind the wheel of the three Ralliart vehicles are Chayapon Yotha (Thailand), champion driver of last year's AXCR; Rifat Sungkar (Indonesia), who placed 5th last year; and Katsuhiko Taguchi (Japan), who won the Asia-Pacific Rally Championship in 1999 and 2010.
The AXCR is a cross-country race that starts in Thailand and ends in Cambodia. A rally stretched across 637 km, drivers have a lot to handle to enter the winner's circle – high-speed stages on rough, dry unpaved roads are there for a rocky start in Thailand, followed by five timed special stages in Cambodia dealing with muddy roads and puddles to test capability as well as speed. Taking place in August this year, the all-new Triton will be leading the pack again, fully redesigned in all aspects and modified in line with AXCR vehicle restrictions. This year, the Triton is even more refined than last year's rally car, improving its durability and reliability far beyond its already well-known ruggedness.
Powered by a newly developed 2.4 L diesel turbo engine, able to generate 201 horsepower and 346 lb-ft of torque, the Triton rides on a four-wheel drive (4WD) system to handle the varying terrain. Outfitted with rigid leaf springs for the rear suspension, independent double-wishbone with coil springs for the front suspension, and new shock absorbers made of CUSCO adjustable front and rear twin dampers, modifications for the race also include a roll cage and bumper guard, and carbon fiber parts including the hood, front and rear doors, and cargo bed. This truck is ready to rumble.
Want to follow along with Mitsubishi Motors and the upcoming rally race. Follow us on Miami Lakes Automall social media for more.
Photo Source/Copyright: Mitsubishi Media