Kia Reveals Some Specs About the Kia EV5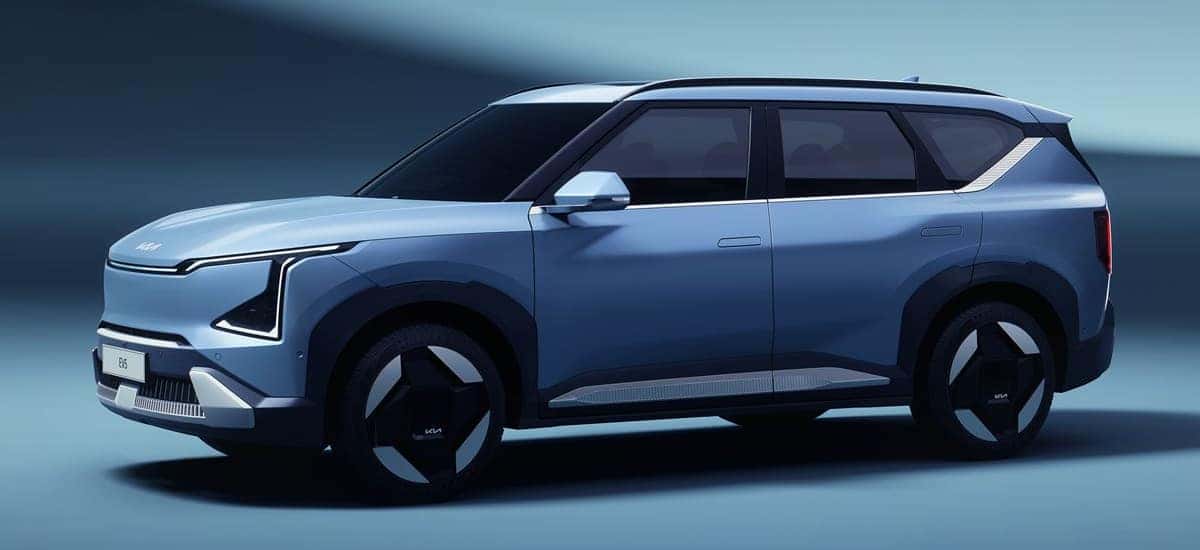 Back in March 2023, the Kia Corporation continued its plans to release two battery-electric vehicles (BEV) every year by unveiling the Kia EV5 during 2023 Chinese EV Day. We got some details about it, some that were pretty fancy, but no word on its release. Showing up again at the Chengdu Motor Show in China, there is some wary fear that this BEV won't make it out of the country, but as Kia new era of electric mobility to the compact SUV class, there is some hint that the EV5 will undoubtedly make it to America. After all, America sounds like the only country where automakers design vehicles specifically for "millennial families". Here are some highlights of the Kia EV5.
Exterior Style
Drawing inspiration from the brand's acclaimed "Opposites United" design philosophy, the new Kia EV5 embraces styling cues from natural landscapes and contemporary architecture. Featuring strong and solid lines, the front fascia wears the new Tiger Face and comes with a wide yet unique stance shaped with passion and precision. The "Opposites United" design philosophy has five pillars driving it – Bold for Nature, Joy for Reason, Power to Progress, Technology for Life, and Tension for Serenity. The Kia EV5 draws much of its influence from "Bold for Nature" with a powerful body that also seems soft-to-the-touch.
"The Kia EV5 was created to redefine the compact SUV genre with a form shaped by Kia's unique design philosophy 'Opposites United…At every stage, Kia's designers have worked closely with their engineering colleagues to create a holistic solution for sustainable mobility. As a result, the EV5 sets a new standard for design, performance and practicality while providing new levels of driver enjoyment and user experience." – Karim Habib, Executive Vice President and Head of Kia Global Design Center
Powerful fenders and wide shoulder lines, a unique silhouette, a wide nose and solid bonnet, the digital "Tiger Face", everything about the EV5 is impressive. The same three-dimensional 'Signature Star Map Lighting' formed by daytime running lights (DRL) found on the EV6 and EV9 can also be found as a part of the EV5 design. After all, the "Opposites United" design philosophy is shaping the lineup of Kia BEV models. At the rear, an extended and lowered spoiler improves aerodynamic efficiency. A lower skid plate emphasizes the EV5's rugged and protective nature to help deliver a ground-breaking electric vehicle that will usher in a new age of safe, sustainable family mobility. A total of nine glossy colors and one matte color will be available for the paint job: Snow White Pearl; Clear White; Starry Night Black; Magma Red; Ivory Silver; Frost Blue; Iceberg Green; Tide Blue; Shale Grey; and Ivory Silver (matte color).
Interior Style
Over the years, Kia has made its interior cabins much more spacious, and the extensive interior space of the EV5 definitely shows. Designed more like a home lounge and less like a car cabin, the interior design continues to blend new spaces and shapes as per its design philosophy. Combining a sense of relaxed wellbeing, personal inspiration, and pure family fun, the EV5 is made with family-oriented consumers in mind. IT all starts with the variable mood lighting across the dashboard, and front and rear door trims. Able to be adjusted for brightness (0-10), and a total of 64 color options, the mood lighting synchronizes with the vehicle's drive modes, dims in low light conditions to not be overbearing, and keeps the driver engaged and aware with subtle alerts if the vehicle strays over the speed limit.
A new generation of connected car Navigation comes with the EV5, probably thanks to the Kia Connect system/store. Consumers will eventually be able to order all sorts of features and apps to customize their Kia BEV experience. There are also new cockpit (ccNC) and heater controls that allow consumers to select their preferred settings as easily as one does when sitting in their favorite chair at home. Really emphasizes the "home lounge" feel. Able to customize the look and color of the EV5, consumers also have four key colors and five seat pattern options to choose from, including two woven options and one artificial leather option for the base model.
Set for debut on a global scale – see, what did I tell ya? We'll be getting it in the U.S., too – the first launch will start in China. During Kia EV Day 2023, we'll get a lot more information. So be sure to follow along with us on Miami Lakes Automall social media.
Photo Source/Copyright: Kia Media