In-Depth Look at 2022 Kia Sportage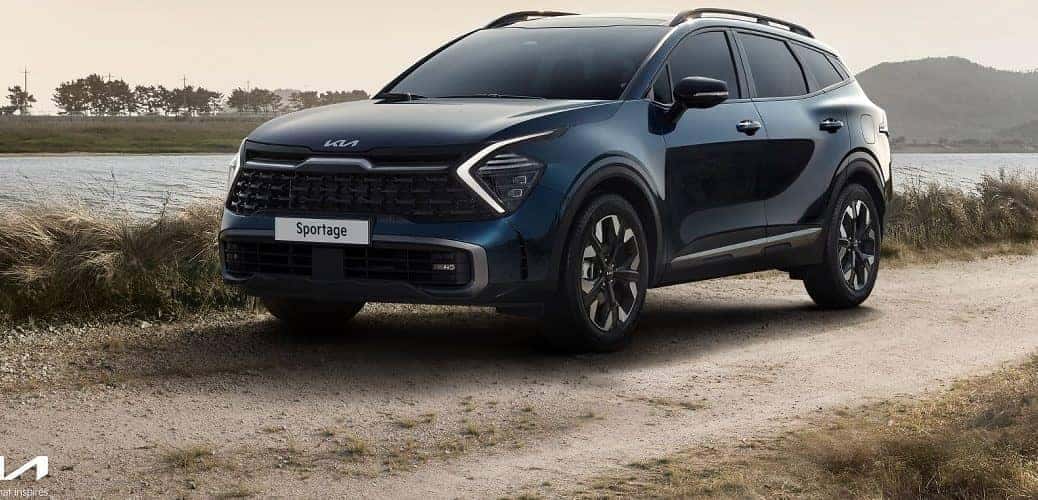 Kia Corp has been making a lot of changes, and it's not just the name. New models, new limited editions, upgraded old models, there is something new every few weeks, and July is already seeing a good share of news. The latest to come from Kia Corp is the fifth-generation Kia Sportage, changed up for the better from the ground up, let's check out all the highlights of the new ultimate urban SUV. There are plenty of new things to check out.
What's New for 2022?
Everyone likes something new – new is always better. It all starts with the body of the new fifth-generation Kia Sportage, with the architecture combining a design that focuses on the driver and state-of-the-art premium interior that seems to be the next milestone in Kia Corp design. The 2018 Kia Stinger was the first model to start the "swept-back roof" craze that many models have adopted thereafter, and the next is an integrated curved display that makes up the dashboard and center console. This design has been mentioned in several new models for 2022.
New technology also comes to the 2022 Kia Sportage. All about safety, many passive and automatic safety features, like Kia Corp's advanced driver-assistance systems (ADAS) package, can be found in the SUV. That includes features like Kia's industry-leading Forward Collision-Avoidance Assist (FCA), Highway Driving Assist (HDA), Navigation-based Smart Cruise Control (NSCC), a new Blind-Spot Collision-Avoidance Assist (BCA) system, Blind-Spot View Monitor (BVM), and Remote Smart Parking Assist (RSPA).
A new E-Handling system helps keep the vehicle stable while still being agile, offering better performance in a large vehicle, and with new-generation Electric Control Suspension (ESC). If looking for an SUV that can handle various driving conditions, the new Terrain Mode allows capabilities for driving through snow, mud, and sand. Another huge change, the all-new Sportage will be the first Kia vehicle to be available in long-wheelbase and short-wheelbase model variants – depending on the region (that means maybe not US).
"Our new Sportage is a true inspiration for the SUV category in every sense…Be it the forward-thinking design, stellar interior, next-generation tech, efficient and responsive powertrains, the highest levels in safety systems or the very latest engineering breakthroughs that guarantee a responsive and optimal drive – the all-new Sportage is the ultimate urban SUV." – Artur Martins, Senior Vice President and Head of Global Brand and Customer Experience Division at Kia Corporation
Style
Why are "clean" and "muscular" the words every automaker looks for to describe a vehicle? At the core of the new 2022 Kia Sportage is Kia's new design language – Opposites United. Starting from the front is a new detailed-orientated black grille graphic that stretches across the front fascia and pulls together the modern signature Tiger Nose grille. Matrix LED head lamps are met with futuristic-styled boomerang-shaped LED daytime running lamps below.
Going for a sporty look with clean-cut but refined lines, the next generation of the Kia Sportage will also be the first to offer a black roof to contrast the paint color of the rest of the body. A chrome beltline curves up onto the rear of the vehicle and meets with the rear spoiler, following that sporty look. Razor rear lamps give the back a wide impression to match the front, and the new Sportage rides on 17-inch, 18-inch, or 19-inch wheels with seven different alloy designs, colors, and finishes to choose from.
The interior is made with premium materials, and that curved display making up the front of the cabin comes with a high-tech 12-inch touchscreen and an advanced integrated controller that act as the hub for connecting driver and passenger to the car. A 12-inch instrument cluster can also be found here, now clearer than ever. The entire center console comes with a slim touchscreen pad, air vents, operating system configuration, cupholders and soft-touch switches, a smartphone charging bay for high-speed wireless charging, and a rotary dial for transmission.
The X-Line has been added to the next-generation Kia Sportage, and this new look is only matched by its GT-Line. Added to the outside on the X-Line Sportage lugged bumper, side sill, and a curved roof rack, whereas the interior comes with a signature sage green color, matching the already vibrant cabin. Bold quilting and black metal wood only enhance the persona. If looking for an SUV with dynamic performance, the GT-Line will surely offer that, while also coming with its own signature look of contrasting black and whites.
Powertrains
Two engines will be available for the 2022 Kia Sportage from launch. The first is a high-tech 1.6-liter turbocharged four-cylinder engine with gasoline direct injection, able to generate 177 horsepower and 195 lb-ft of torque. Interestingly enough, although the less powerful engine, this powertrain comes with Kia Corp's 7-speed dual-clutch automatic transmission (7DCT, with a 6-speed manual transmission available. The more powerful of the two options is a new and highly efficient R2.0-liter turbocharged diesel engine, able to generate 183 horsepower and 307 lb-ft of torque, designed to drive down carbon emissions and increase fuel efficiency. This engine comes with a new and re-engineered 8-speed automatic transmission.
Continuing to go green, Kia Corp is offering plug-in hybrid variations of many models already in the lineup, if not completely releasing a new all-electric vehicle similar to them. That means the new Kia Sportage will feature hybrid (HEV) and plug-in hybrid (PHEV) models for eco-friendly options. Little information about these models and their powertrain options are currently barren, but we can guess two options for two different driving ranges.
As we get closer to the release of the next-generation 2022 Kia Sportage, more information about the tech features and comfort and convenience will surely be released. At the moment, the best we can gather from the press release on the Sporage – aside from what's available in the center console – is an industry-leading Harman Kardon premium sound system with in-car surround sound. It's like a concert every time you take a drive.Keep up to date on the latest news about Kia Corp and Kia models when you follow us on Miami Lakes Automall Kia social media .
Photo Source/Copyright: Kia Media
Previous Post 2022 Kia Stinger Receives TSP+ from IIHS Next Post Kia and Hyundai Enter New Agreement with Next Hydrogen