Highlights on the New 2021 Kia Stonic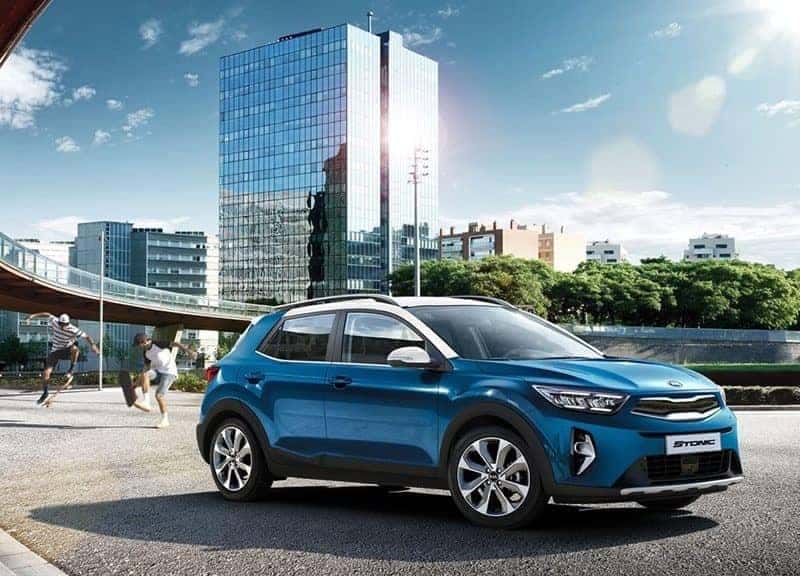 Here's a name we don't hear too often – Stonic. What does that name even mean? We're not sure, but we do know it's the moniker of a compact crossover by Kia Motors. The South Korean automaker has claimed that it's starting to look at smaller vehicles, even so much as to start producing sedans , and refreshing one of Kia Motors small crossovers is really pushing the envelope. We just finished talking about the Kia Sonet compact SUV, quickly following the Kia Seltos compact SUV . With all these new products in store, the rest of the lineup needs some new duds and new tech. Recently, Kia Motors introduced the significantly upgraded Kia Stonic with two new powertrains and Phase Two of UVO Connect telematics.
Powertrains
Kia Motors took a dip into mild-hybrid technology with 48 volt diesel mild-hybrid powertrain called EcoDynamics+. The upgraded Kia Stonic features an upgraded version of this powertrain, paired with Kia Motors Smartstream 1.0-litre T-GDi (turbocharged gasoline direct injection) engine with the 48V mild-hybrid electric vehicle (MHEV) system. The new setup comes with a compact 48-volt lithium-ion polymer battery that supplements the engine's torque output with electric power and comes with a new Mild-Hybrid Starter-Generator (MHSG) unit. This MHSG unit has been designed to switch between two modes – motor and generator – and, connected by a belt to the engine's crankshaft, supplements the engine with electric power assistance to reduce engine load and emissions during acceleration and recuperates energy from the crankshaft to recharge the battery in generator mode when the car is decelerating.
A new intelligent Manual Transmission is also available for models that come with the EcoDynamics+ engine, a clutch-by-wire system that continues to contribute to fuel efficiency and lower CO2 emissions while giving the driver control of switching gears. Performed electronically, it works seamlessly with the MHSG to switch off the engine with Kia Motors Idle Stop & Go start-stop system. The Smartstream gasoline powertrain mentioned above will also be available, revising the range of Kia Stonic gasoline engine options to maximize efficiency, lowering CO2 emissions, and improve the overall drive.
Technology
Now about all the cool tech we mentioned, including what Kia is calling UVO Connect Phase II. Primarily when it comes to the UVO Connect telematics system that offers more connectivity and control for a consumer-car interface. Inside, a larger 8.0-inch touchscreen display now comes standard, featuring Bluetooth multi-connection for linking up to two mobile devices simultaneously and wireless Apple CarPlay and Android Auto. Now, about the telematics of it all.
When we talk telematics, we're talking about a range of On-Board Services that make driving much easier. UVO telematics can offer drivers loads of information, including live traffic information, weather forecasts, points of interest (POIs), fuel prices, and even help with on- and off-street parking, complete with price, location, and availability. What a perfect addition for driving around downtown Miami, Florida. All of this can be accessed via Online Voice Recognition software, and a new 'Online Navigation' routing service helps drivers find more time-efficient routes with cloud-based real-time and historical traffic data.
Still adding to consumer convenience, isn't it annoying when using GPS navigation to find a location, but then suddenly stops the moment you enter the parking lot, and your destination is nowhere in sight? UVO Phase II features Last Mile Navigation that doesn't stop until consumers reach their destination, even after parking and leaving their car, to help navigate towns and cities where a parking garage may be far away from where you're meant to be. Lastly, UVO allows users to save and upload their preferences via a new User Profile Transfer feature that enables users to back-up their in-vehicle UVO preferences via the cloud and transfer settings between vehicles.
Kia didn't leave out safety features with the newly upgraded Kia Stonic. Complete with Kia's latest Advanced Driving Assistance Systems (ADAS, the driver and others are kept safe with Forward Collision-Avoidance Assist (FCA) with pedestrian, vehicle and newly introduced cyclist recognition; Lane Keeping Assist (LKA); Driver Attention Warning (DAW); Blind-Spot Collision Warning (BCW) and Blind-Spot Collision-Avoidance Assist (BCA); Intelligent Speed Limit Warning (ISLW); Smart Cruise Control (SCC); and Lane Following Assist (LFA). Rear Cross-Traffic Collision-Avoidance Assist (RCCA) and front and rear parking sensors are also available, along with the new Rear Occupant Alert (ROA) system – although no parent should forget about their child in the backseat, really now.
Style
Kia Motors wouldn't forget about style now. After all, the new Kia Stonic needs to be as fun to drive as it _ looks _ . That means some upgrades to the look and feel of the Kia Stonic. Although Kia Motors has yet to release a new generation of the compact crossover, a new striking design features full LED headlamps for a fresh front fascia riding on new 16-inch aluminum alloy wheels (available upgrade). Two new exterior paint colors have been added to the already set of nine, Perennial Grey and Sporty Blue, and known for offering two-tone color options, the roof can come in a variety of colors, including the latest addition, Most Yellow.
The interior of course comes with its upgrades, and not just the larger 8-inch touchscreen display. A new 4.2-inch digital display in the instrument cluster, now with higher resolution for better clarity. For some personalization, consumers have their choice of new blue and yellow color packs, making a total four different color options for the dash and cabin of the new Kia Stonic.
Want to find your 2021 Kia Stonic? Contact us at Miami Lakes Automall today to learn how to get yours.
Photo Source/Copyright: Kia Media
Previous Post Kia Motors and Hyundai Use MoceanLab to Benefit the Community Next Post 2021 Kia Sonet Revealed for Global Release