Highlights of the 2020 Kia Seltos SUV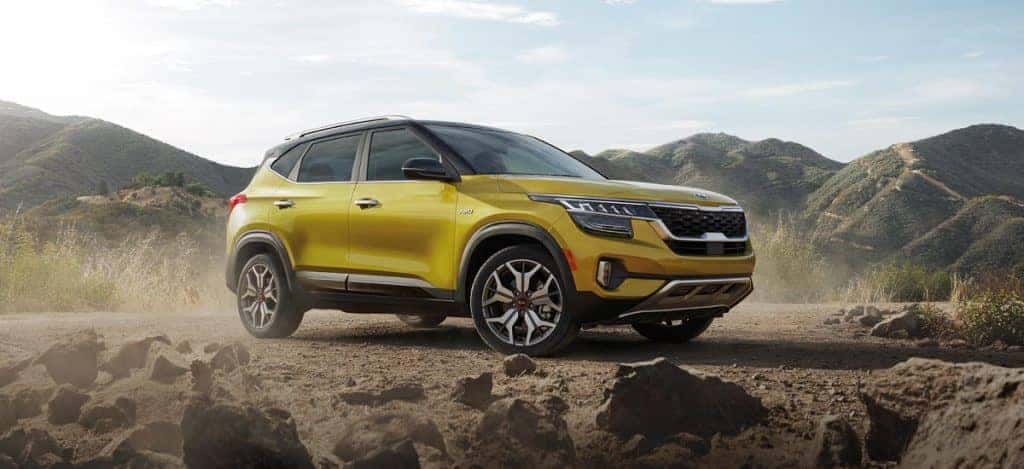 With many places in South Florida in lockdown until mid-April, it may seem a bit tough to find anything to look forward to. For those that are binge-watching shows, or streaming with commercials, some consumers may have seen another type of commercial playing that doesn't remind us of how grim things look. Kia Seltos commercials are continuing to play to show off everything this vehicle has to offer and highlights many of its great features. Some of which is its safety, other commercials highlight the all-wheel-drive (AWD) capability of the 2020 Kia Seltos, like the ad below. Think of it as a mental escape.
Seems great, doesn't it? A Dynamax AWD system with a lock mode can be found as the standard drivetrain setup on most 2020 Kia Seltos trims. The S trim is the only trim to come standard with Front-Wheel Drive (FWD) but consumers can still upgrade to get AWD if they so choose. Now that we know how easy it is to get an All-Wheel Drivetrain, let's look at the engine options that will be supplying all that torque that makes AWD worth it.
The first three trims of the 2020 Kia Seltos lineup (LX, S, and EX) come with the base engine, a 2.0-liter DOHC four-cylinder engine able to generate 146 horsepower and 132 lb-ft of torque. These three trims also come with an intelligent variable transmission (IVT) transferring all that power to all four (optional on the SX) wheels. The 2020 Kia Seltos S Turbo and SX Turbo trims come equipped with a turbocharged 1.6-liter DOHC four-cylinder engine, optimized with gasoline direct injection (GDI) for faster combustion, and able to generate 175 hp and 195 lb-ft of torque. These two trims come with a 7-speed quick-shift DCT automatic transmission to keep that torque under control.
Going off-road is obviously a given for the 2020 Kia Seltos, but what about handling the road? We mentioned there were some safety features to look forward to when it comes to this compact SUV. On all trims past the base (LX), many safety features come standard. Helping drivers and passengers stay safe on the road, these features consist of forward collision avoidance-assist with a camera, lane-keep assist, lane departure warning, lane following assist, and a Driver Attention Warning system that alerts the driver if the system detects unusual driving behavior patterns, like possibly drowsy driving, when compared to regular patterns of the driver. The 2020 Kia Seltos EX, S Turbo, and SX Turbo also come with blind-spot collision avoidance assist-rear and rear-cross traffic collision avoidance assist. SX Turbo gets a little extra, with safe exit assist, forward collision avoidance-assist fusion, and adaptive cruise control with stop and go.
We can see the SX Turbo is the leading trim of the lineup, and that's because the 2020 Kia Seltos is also viewed as a luxury compact SUV from Kia Motors, but the starting MSRP for the SX Turbo is much more affordable than one would price a luxury vehicle. With a starting MSRP of $27,890 (plus destination fee) for the 2020 Kia SX Turbo, consumers get UVO link on a 10.25-inch touch screen with remote connectivity, voice-command navigation, SiriusXM Satellite Radio, Android Auto and Apple Carplay capability, and for the first time on a Kia vehicle, a Bose Premium audio system with a sound connected mood lamp. The interior upholstery even has a luxurious feeling, trimmed in a new fabric called SOFINO, a type of synthetic leather that will make the drivers and passengers feel like they're in a pristine and elegant environment as they cruise down the road.
Learn more about the 2020 Kia Seltos by checking out our research page on MiamiLakesAutomall.com You can also learn more about Kia Motors vehicles when you follow us on Miami Lakes Kia social media .
Photo Source/Copyright: Kia Motors
Previous Post 2020 Kia Telluride Wins Automobile All-Stars Award Next Post 2020 Kia Telluride Named on Autotrader Best New Cars of 2020 List