All the Official Specs for the New Kia EV9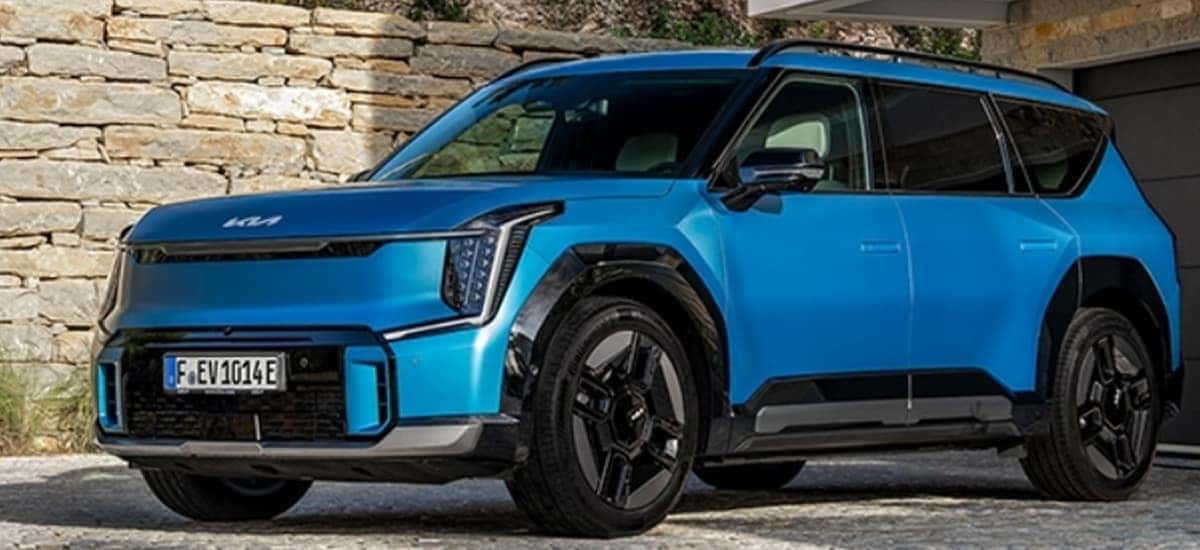 Kia Corp is busy making new battery-electric vehicles (BEVs), releasing the Kia EV6 last year (2022) and the Kia EV9 this year (2023). We've already seen new concepts, such as the Kia EV5, and the Kia EV4 and EV3 showing up at auto shows overseas. Now that the EV9 is hitting dealership lots, the official specs have been released. Check out all the features for the new Kia EV9.
Powertrain Options
Riding on the Hyundai Motor Group (HMG) dedicated BEV platform, the Electric Global Modular Platform (e-GMP), the EV9 shares a strong underbody structure with the EV6. Set up to be the platform for most future BEVs, expect many Kia BEVs to feel similar in terms of driving dynamics. Also, like the EV6, the EV9 offers several powertrain options. Available with rear-wheel drive (RWD) and all-wheel drive (AWD), both versions come equipped with a 99.8 kWh battery, designed using fourth-generation battery technology from Kia.
The RWD option is a 149.5 kW motor capable of generating 350 Nm, or 258 lb-ft of torque. Able to accelerate from 0-60 mph in 9.4 seconds, the EV9 has a top speed of 115 mph and an all-electric driving range (AER) of 350 miles. If consumers choose AWD, powered by twin 141 kW electric motors, the EV9 transmits 250 Nm (185 lb-ft) pf torque for the front and 350 Nm of rear torque for the base AWD setup. For the GT trim, both motors generate 350 Nm for the front and rear axles. The base AWD can accelerate from 0-60 mph in 3.7 seconds, whereas the GT can accelerate from 0-60 mph in 5.3 seconds. The AWD base has an AER of 318 miles and 313 miles.
Capable of 800-volt ultra-fast charging, consumers can charge for 15 minutes and easily get 155 miles for the RWD setup and 140 for AWD. The EV9 can also act as a portable battery, featuring bi-directional charging technology, such as Vehicle-to-Load (V2L), Vehicle-to-Building/Vehicle-to-Home (V2B/V2H), and Vehicle-to-Grid (V2G). Consumers can power appliances using the EV charging port, transfer energy back into the home grid, or store it in case of a power outage. Basically, think of the EV9 as a generator for keeping energy powered up.
Equipped with four different drive modes, consumers can also pick the mode that fits their preferences, able to choose from Eco, Sport, or Normal for pre-fixed settings, or completely customize performance with My Drive. New Multi-Link suspension creates a smoother ride, and the new tires help reduce noise, vibration, and harshness (NVH) of the drive. The near-silent motor also creates for a quiet and peaceful time on the road. A Terrain Mode Select system is also available for improving driving in Mud, Sand, or Snow to distribute torque efficiently in various driving conditions.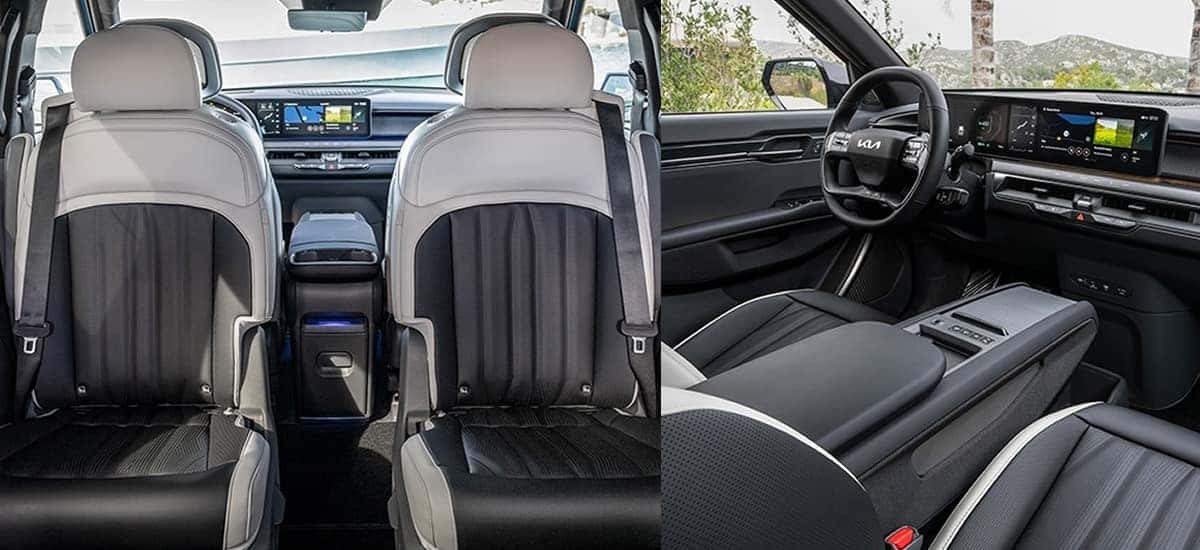 Opposites United Design
The new design philosophy of the Kia Corporation is called "Opposites United", known as a combination of nature and machine to shape the way future Kia models look. This also means a lot of eco-friendly choices go into the construction of the SUV inside and out. Just look at all the sustainable materials used when producing the Kia EV9.
When it comes to style, the front fascia wears with the new Kia Digital Tiger Face, versus the "Tiger Nose" of the old days, plus vertical LED headlamps (cubes for the GT-Line). In the rear, we're reminded of the sky above with a unique star map lamp graphic fount within signature LED taillights. Active air flaps create an Air Curtain for aerodynamic efficiency, and the ride is smooth with 19 or 21-inch noise-absorbing tires. A little more modern, the exterior also features digital side mirrors and pop-up type auto flush door handles, For the paint job, consumers have the choice of Snow White Pearl, Aurora Black Pearl, Flare Red, Pebble Gray, and Iceberg Green, plus Ivory Silver glossy or matte for the baseline, Ocean Blue glossy or matte for the GT-Line.
Inside, the EV9 can fit up to six passengers comfortably. Created with lounge-style comfort in all three rows, consumers can choose between comfort and functionality. Relaxation seats in the first row can recline and come with a footrest. The second row can come with wing-out headrests or reclining seats, and the third row comes with bottle and cup holders. Another option is to equip the second row with swivel seats to offer an option for social interaction between the second and third rows.
Additional relaxation comforts come in the form of first- and second-row ventilated seats and a Triple Panoramic Display. Oh, and don't forget the ventilation, a separate system for the front and back to improve all sorts of heating and cooling for passengers when they want it, or when the rear seats are empty to save energy. There's also plenty of storage space, offering three cubic-feet in the front trunk (frunk) when equipped with RWD, 1.8 cubic-feet with AWD, plus 30 cubic-feet behind the second row with the third-row down, or 11 cubic-feet behind the third row.
Technology
Kia is making it easier for consumers to plan ahead, especially when it comes to keeping the BEV charged up. Thanks to the Kia EV Route Planner, consumers can find available charging points along their route. The built-in navigation system will detect battery charge, and if insufficient for the drive ahead, will automatically recommend a charging point along the planned route. No more anxiety for drivers wary of BEVs and recharging. Don't forget, Kia BEVs are also capable of ultra-fast charging to spend less time waiting and more time driving.
The interior and center console have been simplified and refined, starting with a Panoramic Wide Display that consists of a 12.3-inch instrument cluster, a 12.3-inch infotainment screen, and a 5.3-inch applied climate system screen. An optional Head-Up Display (HUD) can also provide some statistics and information the driver may find convenient. Some buttons are hidden and only light up when the car is turned on, but physical buttons can still be found integrated into the steering wheel. The infotainment system offers many features, such as enabling Bluetooth multi-connection to connect two mobile devices simultaneously (with Android Auto and Apple CarPlay functionality), voice recognition, and media and climate control. A new and unique feature is music streaming as an available upgrade. This should pair well with the optional Meridian Premium Sound System with 14 speakers.
Other new features include a Quick Control Screen for accessing frequently used features and a Google Fast Pair Service that makes it easier for Android users to connect their phone to the infotainment system. A new Car Wash Mode makes navigating automatic car wash systems a breeze, if anyone still uses them, to make sure all doors and windows are closed, the side mirrors are pulled in, and making sure the auto flush door handles stay hidden in the door. Consumers can also benefit from Kia Connect Live Services that include online navigation as well as real-time information from a variety of sources, including traffic information, parking availability and parking costs, EV charging points, weather forecasts, and more. The Kia Connect Store also comes with the EV9, allowing consumers to download apps to personalize their driving experience, such as Remote Smart Parking Assist 2, the aforementioned music streaming, and a Boost feature for increased torque.
Safety Features
Kia is always paying close attention to its safety features, and the EV9 comes with an assortment of active driver-assist and safety features. These include Highway Driving Assist 2, a combination of Lane Following Assist 2 (LFA 2) and Hands On Detection (HoD); SCC Smart Cruise Control; Lane Change Assist; a Blind View Monitor (BVM) and Blind-spot Collision-avoidance Assist (BCA); Forward Collision-avoidance Assist 2 (FCA 2); an Intelligent Front-lighting System (IFS); Driver Attention Warning (DAW);  and Intelligent Speed Limit Assist (ISLA). There are also some safety features specifically for when parked and pulling out of parking spots, such as a Surround View Monitor (SVM) or Rear View Monitor (RVM), Rear Cross-traffic Collision-avoidance Assist (RCCA), Parking Distance Warning (PDW), Parking Collision-avoidance Assist – Front and Side (PCA-F/S) and Parking Collision-avoidance Assist – Reverse (PCA-R), Remote Smart Parking Assist 2 (RSPA 2), and Safe Exit Warning (SEW) and Safe Exit Assist (SEA). Basically, the safety is top-notch for the Kia EV9.
Want to find the new Kia EV9 electric SUV? Find all new Kia BEVs at Miami Lakes Automall.
Photo Source/Copyright: Kia Media