2023 Kia K5 Wins "Best Car for Teens $25K to $30K" Award from U.S. News & World Report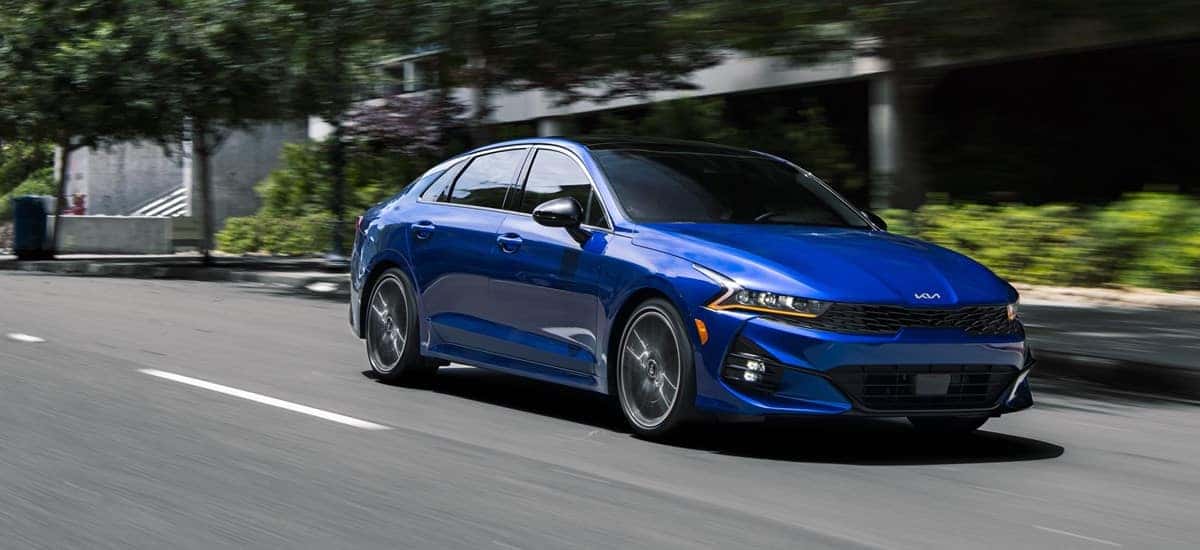 When it comes to shopping for a car for a teen driver, it can be a tricky endeavor. All teens want to drive something "cool" or that they'll be proud to give friends a ride in, but the parent will want something that's safe and won't end up in a drag race. Some of this comes down to how experienced the driver is, trust, and price. When shopping from two different angles, the parent and the teen driver, it can be a little more difficult to land on a good decision. That's why consumers more resources than ever to turn to when they need some professional input. U.S. News & World Report recently finished putting together its "Best Cars for Teens" awards, and the 2023 Kia K5 landed on the list in a pretty good price range.
"The Kia K5 performs exceptionally well in our rankings, and many of the attributes that make it such a great midsize car also bolster its appeal for new drivers…A strong predicted reliability rating and a lengthy powertrain warranty give the K5 an edge when it comes to dependability. At the same time, Kia's advanced driver assistance systems are an effective tool that can help encourage safe habits for those who are still honing their skills behind the wheel." – Jim Sharifi, managing editor of U.S. News Best Cars
Finding the right car for a teen driver strikes fear in the minds of parents. A sports car definitely is not at the top of the list, worried that new teen driver will want to test the speed and performance of their new car. Owning a new style after changing the Optima into the K5, the bold K5 comes available in five trim levels (LXS, GT-Line, GT-Line AWD, EX, and GT), so the parent can choose the level of performance to expect when thinking about buying the K5. Even then, the most horsepower the K5 can generate can be found with the GT trim, powered by a turbocharged 2.5-liter 4-cylinder engine, and only able to generate 290 horsepower and 311 lb-ft of torque. It's not going to win any drag races.
U.S. News & World Report has been around for a while, and just doesn't cover cars. As the title says, this publication covers a lot of things, including Education, Health, Money, Travel, Cars, and News. Known for collecting data and converting it into objective rankings, independent reporting, data journalism, and of course, offering consumer advice, U.S. News & World Report is trusted by many consumers, business leaders, and policy officials. When it comes to the "Best New Cars for Teens", there are eight new-car categories and five used-car categories for parents and teens that are a little more budget-conscious. The awards recognize cars that score well in several factors, including dependability, reliability, crash prevention, available features, and those that are highly recommended by U.S. News & World Report editors and based on consumer rankings. All winners come with teen driver controls or available smartphone apps that parents tend to appreciate, such as alerts when the car goes over a set speed, is operated past curfew (or a set time period), or drives past a certain geographic area.
Landing in the 2023 Best New Cars for Teens list, the 2023 Kia K5 won the award for "Best Car for Teens $25K to $30K". Yeah, it's affordable, starting at $25,290 (plus destination fee), and still offers plenty of features for the modern teen. Some examples include the tech features found in the 2023 K5, including a standard 8-inch (available 10.25-inch) color touchscreen with an integrated rear view camera, Apple CarPlay and Android Auto, Bluetooth wireless technology, steering wheel-mounted audio, phone, and cruise control buttons, and a six-speaker sound system. The sound system can be upgraded on the EX and GT with an available Bose premium audio sound system with 12 speakers.
Ready to let your teen get behind the wheel? Find the 2023 Kia K5 at Miami Lakes Automall.
Photo Source/Copyright: Kia Media