The Future of Jeep Looks Bright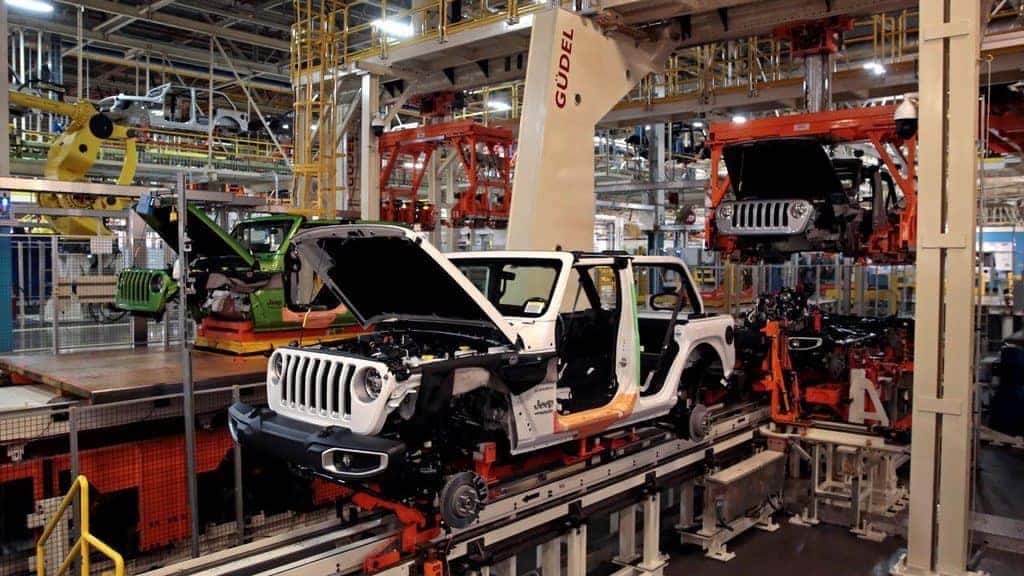 Fiat Chrysler Automobiles (FCA) is closing out this year (2018) with a bang – a shelf full of awards, best-selling SUVs, sales growth, and the introduction of the all-new Jeep Gladiator as a serious pickup truck. As the automaker looks to the future, there are rumors of a seven-passenger SUV in the works for the Jeep brand, while an existing engine plant in Detroit is slated for a renovation and conversion to accommodate future production. While nearby neighboring automakers are closing their own plants in the city, FCA's future plans are proof that the automaker has been ahead of the curve these past few years and is now ready to reap the benefits.
FCA's currently-idle Mack Avenue plant, previously responsible for the manufacture of V6 engines, is slated for a major overhaul in the next 12 to 24 months. Industry insiders claim that the rumored seven-passenger Jeep is set to be unveiled within two year's time so the retooling of the existing plant checks out. The plant is likely to employ 1,800 employees at a minimum, although auto assembly plants often vary from 2,000 to 4,000 workers. Michelle Krebs, an executive editor at Autotrader, appears as if she's onto the automaker's strategy as she stated: "Jeep is growing, and to keep that going they have to feed it product."
Speaking of new product, the rumored vehicle will likely be much larger than any other that's currently in the Jeep lineup. Low gasoline prices and a massive shift in consumer tastes have reformed the industry this past decade alone, with the American populace flocking to SUVs and pickup trucks while leaving compacts and sedans in the dust. Improvements in fuel economy technologies in the last five years have also deeply influenced the market.
By the time 2015 rolled around, FCA announced that their strategy would solely focus on Jeep vehicles, pickup trucks, and minivans for the U.S. market and that they'd essentially cease production of passenger cars, putting them one step ahead of other Detroit-based automakers. While the other automakers vacillated on how to proceed, eventually settling on idling several assembly plants, FCA had a head-start and designed their own future according to industry trends. Automakers concluded that gasoline prices will range from low to moderate for several more years, making it safe for FCA to bet on larger vehicles.
FCA is planning to add at least three new Jeep models to the lineup by 2022, including the recently-unveiled Gladiator pickup truck that's slated to go into production early next year (2019), as well as several battery-powered and diesel-fueled variants. A majority of Jeep vehicles are produced and assembled at two plants in Toledo and another one in Detroit – all three are currently operating at nearly full capacity, with the latest one in the works eventually bringing that total to four.
The Jeep brand is FCA's biggest moneymaker with 892,000 units sold in the first 11 months of this year (2018) – an 18 percent rise from the previous year. Additionally, the Jeep brand is also among the few brands that are consistently growing in the U.S. While the overall domestic market remained flat, FCA's total U.S. sales were up eight percent. FCA is on track to sell a whopping total of two million Jeep vehicles worldwide in 2018, up from just 730,000 units in 2013, proving that it pays to innovate and produce side-by-side with automotive trends.
The automaker declined to make any statements on the matter as is customary when a project is in the works. It's likely that more information will be made available as we near the upcoming 2019 auto shows. Follow Miami Lakes Jeep on social media to stay up to date with the latest Jeep news.
Photo Source/Copyright: New York Times/Reuters
Previous Post The all-new Gladiator Gets the Mopar Treatment Next Post Here's why Vehicle Protection Plans are Worth Buying