Spied 2018 Jeep Wrangler – What's Different?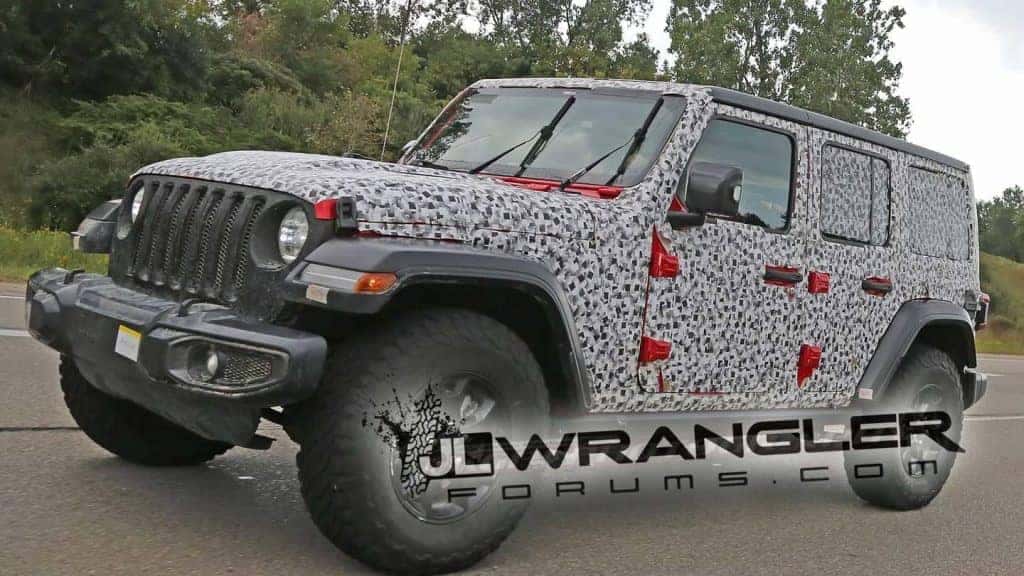 Finally, a nearly "naked" 2018 Jeep Wrangler was spied and now we have a much better idea of what's new on the next generation 2018 Jeep Wrangler JL, which is debuting at the Los Angeles Auto Show in December 2017! JL Wrangler Forums posted plenty of photos of the latest "naked" spied model and everyone is loving it!
In the photos you will see the Jeep is still covered in camo to hide new changes. However, according to _ The Drive _ it is closest anyone has been able to get to a non-covered up model (hence why they are calling it naked). As you can see in the photo the front grille isn't even covered! These are some of the most obvious things spied on the model!:
The new JL design has a different bumper design (both front and rear) than the Wrangler JK. The grille appears to be more minimal than previous models, which would allow for more ground clearance.
The vehicle's headlights and the taillights seem to be LED (this has only been an option in the past).
The grille and windshield seem slightly altered in the way that they are more angled and aerodynamic which could be beneficial for fuel economy.
Models have been seen with true rails on the roof like the ones on the Colorado ZR2.
There are also now fender lighters which is a new feature for the Jeep.
These are the only major differences that can be seen as of now. However, soon enough the we will be able to see the Jeep without any camo or covering and will know the facts! We don't know about you, but we can't wait for the new Jeep.
*
For now, check out our huge inventory of Wranglers at Miami Lakes Automall here ! Be sure to follow us on social media to keep with all things Jeep news. *
Previous Post Winches for Jeep Vehicles and How to Use Them! Next Post Retractable Roofs – From Stadiums to Minivans