Jeep Trailhawk Models – Off-road Ready!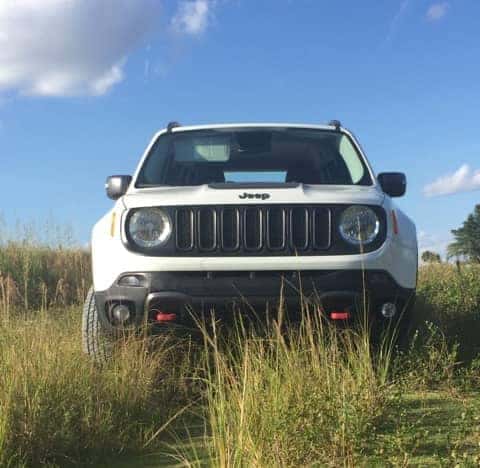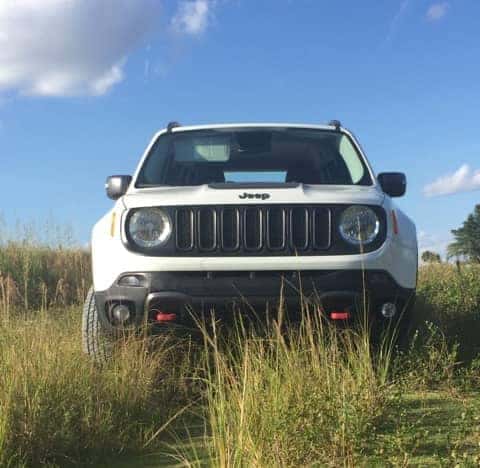 If you want a Jeep model that is not as traditional as the Jeep Wrangler, but don't want to lose the ability to off-road, Miami Lakes Jeep has you covered. We have a large collection of the Jeep Trailhawk models, which are a trim specifically created for off-roading and have their own style.
Currently, the Jeep Trailhawk trims include the Renegade Trailhawk, Cherokee Trailhawk, and Grand Cherokee Trailhawk and the anticipated all-new Jeep Compass Trailhawk (coming early 2017). Here are some features of Trailhawk vehicles that make them different than the other Jeeps in the lineup and add to off-road capability.
Trail-Rated Badging
Trail Rated badging is common for Jeep models, especially on the Wrangler lineup. All Jeep models are not Trail Rated, but all Jeep Trailhawk models have earned the title. A Trail Rated Jeep basically means the SUV is designed for a variety of off-road obstacles, terrains and that it is safe to take off-road. Special elements on Trail Rated models include enhanced traction needed to grip and ride through any terrain, a higher ground clearance and water fording capability.
Off-Road Accessories
There are many off-road accessories which come with Trailhawk models and two of the most notable are the extra skid plates and signature red tow hooks. Both features are included to assure the utmost safety for off-road drivers, but also add a unique and aggressive look to Trailhawk models.
There are two red tow hooks in the front and one in the rear. The red color is great because not only does it look cool, but it is easily visible when needed (especially if the car is a bit dirty!). The rear hooks can be used for towing, and the front hook is used to pull the Trailhawk out if it gets stuck, or to help a friend pull their vehicle out if they get stuck. Skid plates protect a vehicle from debris and damage when riding on uneven land. The Trailhawk models have skid plates on the front suspension, fuel tank and underbody.
Suspension and Tires
Trailhawk trims come with larger wheels and tires, as well as an upgraded suspension compared to the non-Trailhawk trims. These features are important for off-roading vehicles because they help to provide the smoothest and safest ride through all types of situations.
4X4 Off-Road Systems
If all of that wasn't impressive enough, Trailhawk trims have several off-road systems to help it out with traction, braking, and other safety concerns off-road. Each Trailhawk vehicle comes with hill descent control, which is a system in place to help control speed when going down a steep hill or incline. The system does so by delivery braking an extra traction to whatever tire(s) need it the most depending on the incline.
The Jeep Renegade Trailhawk is equipped with the Active Drive Low 4X4 system. This system comes fully equipped for off-road rides with features like traction control, a 4×4 low activation button, and a 20:1 crawl ratio for those who like to rock crawl or ride up steep hills. The Cherokee Trailhawk comes with a similar system known as Active Drive 4X4 Lock system. This system has all of the same features previously mentioned, as well as a rear axle lock system to prevent flipping.
The Grand Cherokee Trailhawk comes with a system called the Quadra-Drive 4X4 system with rear ELSD. This system allows for good traction control and a safe ride through tough terrain like the other two systems, but also has some features of it's own like a electronic slip differential and a Quadra-Lift air suspension.
If you are interested in one of the Jeep Trailhawk trims, come down and test drive one, or check out our entire Jeep Trailhawk inventory here.
Previous Post New Jeep Renegade Altitude + Deserthawk Models Coming Soon! Next Post Jeep Expanding Diesel Engine on Future Jeep Lineup